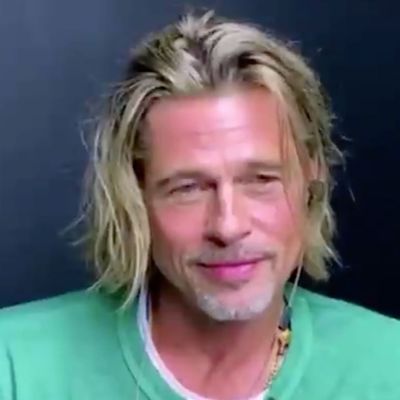 Jennifer Aniston and Brad Pitt.
Photo: Twitter
Seeing Brad Pitt and Jennifer Aniston interact usually invokes a state of immense emotional crisis and delight. Remember the famous SAG Awards wrist-grab? And Brad's longing gaze as Jen walked away? Well, last night brought us one of our most thrilling offerings yet: Jen cooing, "Hi, Brad. You know how cute I always thought you were. I think you're so sexy. Will you come to me?" to Brad, over Zoom, while he blushes and fights off a smile.
Okay fine, this wasn't an unscripted intimate moment. It was part of last night's celebrity-packed table read of Fast Times at Ridgemont High, in which Brad conveniently played the character Brad Hamilton, who's overwhelmed with horniness for Linda Barrett, played by Jen. But still, just try to watch the famous exes recreate the cult teen comedy's spiciest scene and feel unmoved.
The scene in question is a fantasy sequence, in which Brad's character imagines Jen's character emerging from the water wearing a sexy red bathing suit. But, really, did Brad have to do quite so much here? Just look at his tender gaze! Look at him trying to fight off a smirk!
The other celebrities participating in the table read seemed unable to keep it together: Julia Roberts couldn't stop giggling. At one point, Matthew McConaughey nodded approvingly. When Morgan Freeman, acting as narrator, described Jen's character unstrapping her red bathing suit, he paused and muttered, "Lord have mercy." Indeed.