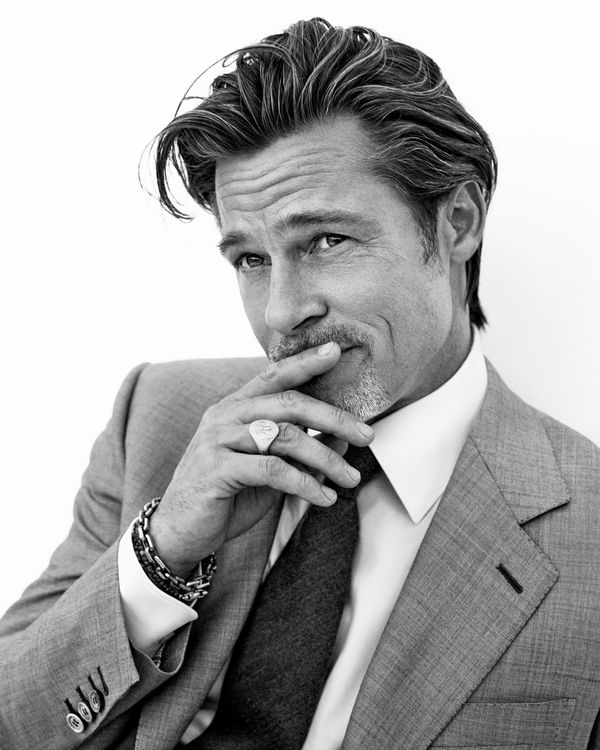 Photo: Courtesy of Brioni
Let's face it: What Brad Pitt is doing to us, collectively, as a society — not to mention me, personally, as a fan — is unfair. The guy is very hot at 56, his outstanding acting career has basically been on cruise control for at least a decade, and he's recently begun an emotionally dexterous relationship with a married model in an open marriage.
All of this comes to bear in Pitt's new ad campaign with menswear brand Brioni. If you have any inclination toward men and this isn't the part-time boyfriend of your dreams, then I don't know what to tell you. The man candy is placing finger to lip, sensually rubbing his tummy, pouting with his chiseled forehead wrinkles. The coats in their trim yet slouched forms scream: I like a little structure, but not too much.
The images are for Brioni's fall/winter 2020 campaign titled "Tailoring Legends," shot by photographer Mikael Jansson. The Italian label has worked with Pitt for several years and is celebrating its 75th anniversary. According to Brioni's press release, the campaign features Pitt's "personal and laid-back interpretation of Brioni's style" and "reflects Brioni's concept of a timeless wardrobe, composed of effortless essentials combining the House's sartorial heritage with a contemporary appeal."
Couldn't agree more. This season's effortless essential is clearly a well-attired boyfriend with a hint of gray stubble, the kind you wouldn't feel embarrassed showing off around your husband.