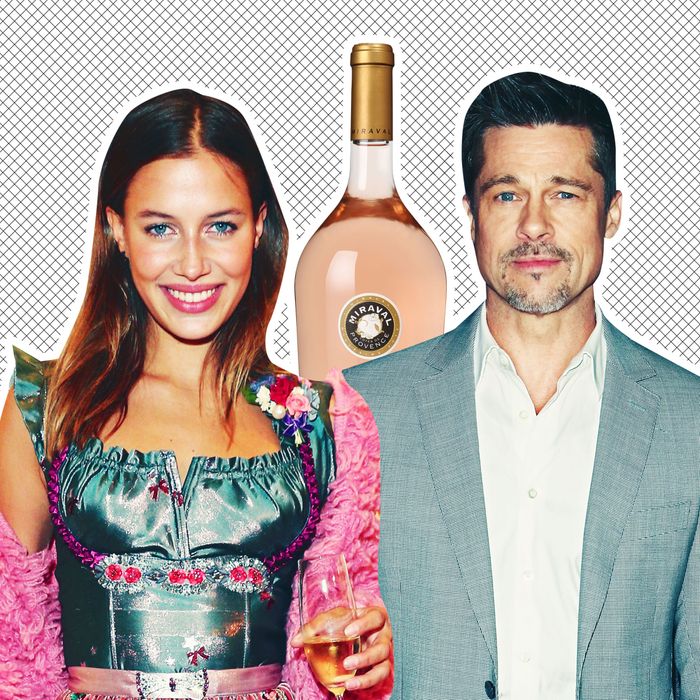 Photo: Getty Images, Miraval
The intrigue around Brad Pitt's new relationship has further deepened this Thursday afternoon. Last week, it was reported that he was dating German model Nicole Poturalski, and that the two had arrived in France in order to spend some time at his chateau. This week, after I guess ruminating on it for a while, the tabloids have noted that the French pied-à-terre in question is Chateau Miraval, the estate and winery where Pitt and Angelina Jolie were married in August 2014.
To complicate matters, ownership of Miraval (and its fantastic rosé and upcoming Champagne) are one of the many things Jolie and Pitt are still hashing out in their divorce proceedings. Perhaps the worst part is that Pitt's getaway with his new paramour comes at what would have been his sixth wedding anniversary with Jolie. A source tells Us Weekly of this development: "Brad knows exactly what he is doing and the reaction it's going to get from Angelina. He just doesn't care if Angelina is going to lash out."
All of this comes after a barrage of reports about Poturalski's enviable-seeming relationship. The 27-year-old is reportedly in an open marriage to 68-year-old German restaurateur Roland Mary, with whom she has a son. Mary is apparently not only aware that his wife is dating Pitt, but remains totally unbothered by the situation. As a friend put it, Roland Mary "is not interested in negativity or jealousy," because he has already been married several times and is busy with other stuff.
Is the drama hanging over the trip? Hard to say. But according to at least one Angelina Jolie fan account on Instagram, Poturalski has been watching its Instagram Stories.