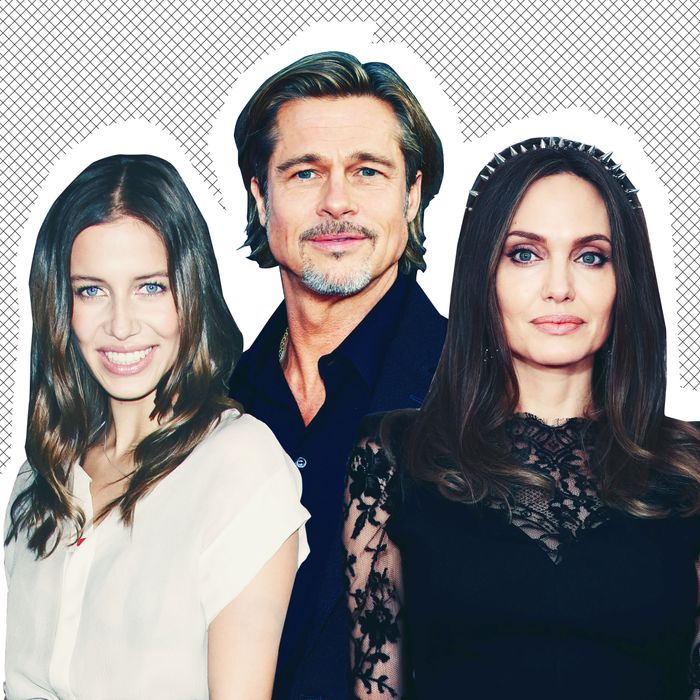 Photo: Shutterstock/Getty Images
There's plenty to complain about these days, but it's hard to imagine how Brad Pitt's married girlfriend's Instagram should be among them. The page is a spotless shrine to positive thinking. The sunshine, the selfies, the platitudes all profess an influencer aesthetic we should by now all be familiar with. A typical caption reads, "Never stopping embracing life, laughing, making memories and try to see the good in people." Is this the energy of a bitter subtweeter? Not if you post this message every day it isn't.
Nonetheless, multiple gossip sites reported on a spat between the 27-year-old model and a commenter who implied that a recent Instagram post contained a hidden reference to Pitt's estranged wife, Angelina Jolie (they've been separated since 2016 but their divorce proceedings have been notoriously interminable). On Tuesday, Nicole Poturalski posted some images of herself wearing an orange dress and sunglasses, to which she attached the caption, "Happy people don't hate," followed by orange heart emoji to match the outfit.
This didn't sit well with the Daily Mail, which called the caption "cryptic," nor with some random person who replied, "If so, then why [do] you & Brad hate Angelina. Practice what you preach girl." Probably Poturalski — who's rumored to have been seeing Brad for at least a year but only somewhat publicly since the two decamped to France in August — receives this sort of message all the time now. The difference is she responded to it, writing, "Not hating [on] anyone." Then another commenter wrote, "Louder for the people in the back …" and the model replied once more: "WE LOVE. WE SUPPORT. WE SMILE. LIFE IS BEAUTIFUL. BIGGEST KISS." Seems perfectly harmless to me.
At most, Poturalski is shading the entire human race in general, since she is dating Brad Pitt and we're merely stalking her Instagram.