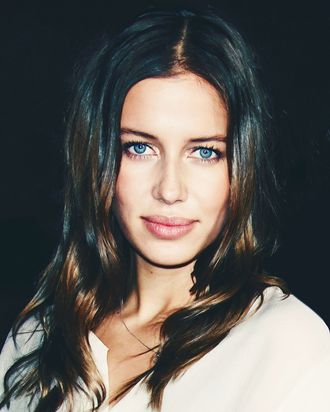 I like this bitch's life.
Photo: CLEMENS BILAN/EPA-EFE/Shutterstock
Time and again, we have posed an extremely worthwhile question re: husbands, which is Why bother getting one if it isn't Jason Momoa? Still a valid query. However, recent events have pushed us to expand the scope of our investigation, those events being the tabloid revelation that Brad Pitt is dating German model Nicole Poturalski, who is in an open marriage — truly a situation that resets the bar for ethical non-monogamy at an enviable new height.
Last week, news broke that Poturalski, 27, has been dating Pitt, a perennial Hotman currently enjoying a sexiness renaissance in middle age despite his extremely Hollywood fondness for unfortunate little caps. It's possible the pair have been involved for nine or so months, which makes the second part of this developing story all the more remarkable: Poturalski is married — to 68-year-old German restaurateur Roland Mary, with whom she has a son.
Apparently, Mary is very aware that his wife is dating Pitt, seeing as they've known each other for years, and Pitt actually met Poturalski in Mary's Berlin restaurant, Borchardt. Mary and Poturalski reportedly have an open marriage, and Mary is said to be unbothered by such petty emotions as envy. Per a friend, he "is not interested in negativity or jealousy," because he has already been married several times and has his own shit going on. If that's the case, it may well be an ideal arrangement for everyone involved.
Imagine, if you will, a scenario in which you jet off to the south of France with your boyfriend, Brad Pitt, and as the plane touches down on the tarmac, you turn on your phone to a breezy check-in text from your husband: You and Brad are arriving safely, Schatz? How comforting to be partnered with someone secure enough that they don't mind your dating Brad Pitt; maybe they even see it as a sort of vicarious "hell yeah" because dating Brad Pitt doesn't fall outside the terms of your agreement and they can see the appeal without having to squint. And then how cute to have a boyfriend who is attentive yet also discreet and maybe sometimes brings you a little vase he made at boys' night.
Granted, this may not be the harmonious marital triumvirate I'm envisioning, but regardless, I think congratulations are in order for Poturalski, possibly the only person who currently gets to say this: "Oh, no, you're thinking of my husband — he's on child-care duty in Berlin this weekend. I'm here with my boyfriend, Brad Pitt."