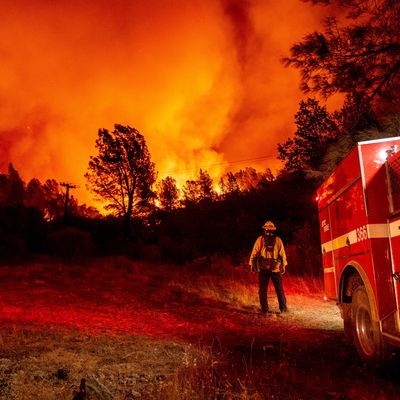 Photo: AFP via Getty Images
Wildfires are currently scorching the West Coast at unprecedented levels. At least 35 people have been killed so far; hundreds of thousands have been displaced, half a million fleeing their homes in Oregon alone; and more than 17,000 firefighters have been deployed to battle blazes that have spread at never-before-seen rates. As images proliferate across social media of cities plunged into an eerie orange darkness due to smoke cover, air quality is extremely unhealthy across the region, affecting millions. Food deliveries and other social services implemented during the pandemic have been canceled, though many people continue to work outside in dangerous conditions. You can find our list of ways to help people affected here.
Even the environmentalists, scientists, and policy-makers who have been sounding the alarm about the threat of the climate crisis for years are stunned by this year's fire season. "We used to worry about one natural hazard at a time," Alice Hill, a senior fellow at the Council on Foreign Relations, told the New York Times. "The acceleration of climate impacts has happened faster than even we anticipated."
Here's everything we know about the fires on the West coast:
Where are the fires burning on the West Coast? How many are there?
Oregon, Washington, and California are enduring the largest fires, but wildfires are also burning in Utah, Nevada, Arizona, Wyoming, and Montana. Fresh evacuations have been issued in Idaho, where a major fire is burning through 27,000 acres.
As of September 14, there were 28 major wildfires burning across California, according to CalFire. So far this year, 3.3 million acres have burned, an area larger than the state of Connecticut, with over 4,100 structures destroyed. The August Complex Fire in Northern California, in the Mendocino National Forest, is now the largest on record in history; it is less than 30 percent contained. The other largest fires include the SCU Lightning Complex outside the Bay Area; the LNU Lightning Complex in Napa and Sonoma Counties; the North Complex near Oroville; and the Creek Fire near Fresno.
In Oregon, 36 active fires are burning more than 1 million acres up and down the western coast of the state, according to the Oregon Office of Emergency Management. To the south, the Obenchain and Alameda fires devastated whole towns. The Riverside Fire in Clackamas County, near Portland, and the Beachie Creek Fire in Marion County are burning within a mile of each other but are no longer expected to merge, as officials feared. Because the fires are located near the state's most populated areas, they have the potential to do more damage to personal property and to cause more loss of life than any fire in the state's history, says Governor Kate Brown.
Dozens of fires are burning in Washington State on both sides of the Cascade mountains, scorching 480,000 acres already. Officials are bracing for a "supermassive" smoke plume in Seattle, caused by fires burning in the south of the state and traveling north.
How many people have been displaced? How many have died?
In Oregon, 500,000 people have been displaced as of September 10. That amounts to 10 percent of the state's population, according to officials. USA Today reports that as of September 14, ten people have been killed in Oregon, including a 12-year-old boy and his grandmother, while searches for the missing are ongoing.
Twenty-four deaths have been reported in California. In Butte County alone, where the town of Paradise was destroyed by the Camp Fire in 2018, at least 14 people have died in the North Complex Fire. At least 20,000 people are under evacuation orders in Northern California. "The school is gone, the fire department's gone, the bar's gone, the laundromat's gone, the general store's gone," one 50-year resident who fled the town of Berry Creek told the Sacramento Bee. "I'll never go back … I never want to see California again." Donald Trump flew to Sacramento on September 14 to appear at a press conference addressing the fires, during which he rejected climate change science. He told reporters that forest management was to blame for the blazes, and that he doesn't "think science knows what is actually happening."
A 1-year-old boy was killed in the Cold Springs Fire in northern Washington when his parents were trapped fleeing their campsite. Thousands have been evacuated and hundreds of buildings have been lost, including almost the entire town of Malden, Washington.
What started the fires?
Many fires were started because of human causes, including most of the fires in California. The El Dorado Fire in Southern California's San Bernardino County was started on September 5 by a pyrotechnic device at a gender-reveal party in El Dorado Ranch Park, just 80 miles outside Los Angeles. In Oregon, officials have opened an arson investigation into the Alameda Fire, which is responsible for multiple deaths and has destroyed hundreds of homes.
However, some of the fires, including the August Complex Fire, were caused by lightning strikes in extremely dry areas. Others in Oregon and California were started by downed power lines. Unusually strong winds in Oregon have helped spread the fires rapidly there while typical winds in California were made even worse by a sudden winter snowstorm in the Rocky Mountains, which sent cold air blasting into the Sierra and Cascade mountain ranges.
Multiple far-right and conspiracy websites have been spreading misinformation about the origin of the fires, on Facebook and YouTube especially. They claim, with absolutely no support, that they were set by members of antifa and Black Lives Matter. Websites the Gateway Pundit and the Post Millennial have claimed without evidence that Jeff Acord, a 36-year-old man arrested on charges of starting a fire in Washington, was an "antifa militant." Many of the rumors have been amplified by self-professed QAnon supporters.
How long are they expected to burn?
Oregon has seen some small improvement in conditions, as firefighters have contained more of the blazes, and smoke and fog have kept temperatures down. Some evacuation orders have been eased in the metro Portland area, and the Alameda Fire is 70 percent contained.
Red flag warnings remain in south central Oregon, however, as they do in Northeastern California, where reports predict extremely gusty winds and low humidity, creating extremely dangerous scenarios for fire. In Southern California, the Bobcat Fire in the Angeles National Forest has dropped in containment from 6 percent to 3 percent, and is threatening the 116-year-old Mount Wilson Observatory.
A forest ecologist told the New York Times that it could be several weeks until the fires stop burning.
How unprecedented are fires in California and elsewhere?
According to CalFire, six of California's ten largest fires in history are currently burning right now. Newsom tweeted statistics that show how much worse the fires are even compared with 2019's: Last year, 4,927 fires burned 118K acres. So far this year alone, at the time of his tweet, 7,606 fires have burned 2.3 million acres (now those figures are even higher).
Oregon governor Kate Brown described the fires there as a "once-in-a-generation event" and potentially "the greatest loss of human lives and property due to wildfires in our state's history."
"We have never seen this amount of uncontained fire across our state," she tweeted. "If you're advised to evacuate, do so immediately. You may not get a second chance."
Daniel Swain, a climate scientist at the Institute of the Environment and Sustainability at UCLA, told the New York Times, "I've spoken to maybe two dozen fire and climate experts over the last 48 hours and pretty much everyone is at a loss of words. There's certainly been nothing in living memory on this scale."
How bad is the air quality?
Four cities on the West Coast are now among the ten most polluted places in the world, with Los Angeles, San Francisco, and Seattle ranked eighth, sixth, and third, respectively. As of September 13, Portland had the worst air of any big city on the planet. Because of the many factors affecting air quality, it's difficult for experts to predict how long the awful smoke-filled skies will last beyond a few days out. One meteorologist told USA Today that air-quality conditions may not improve until October.
What is the role of the climate crisis in more destructive fire seasons?
Scientists agree that these fires are a product of the cascade effect of multiple runaway climate extremes that trigger and amplify one another: An unusually dry season combined with record heat and strong winds has created conditions for infernos that are nearly impossible to contain. "You're toppling dominoes in ways that Americans haven't imagined," Roy Wright, a former FEMA director, told the New York Times. "It's apocalyptic." What's more, the fires are spawning their own environmental hazards, including not just toxic air but chemicals leaching into water supplies.