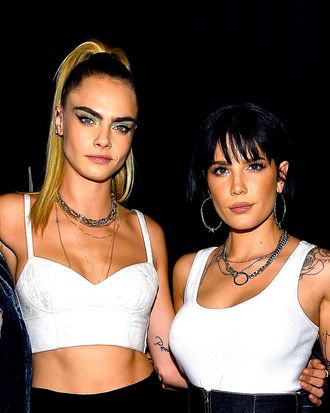 Cara Delevingne and Halsey, lovers?
Photo: DIMITRIOS KAMBOURIS/Getty Images for DKNY
Unfortunately, it now seems extremely apparent that G-Eazy and Ashley Benson are indeed dating, and probably have been since May or so. Disappointing, given that Benson and her possible secret wife, model Cara Delevingne, had only broken up around April, about a year after buying their first sex bench together (a milestone). Now, however, a satisfying rebuttal to the G-Eazy blow may be in the works: Apparently, Delevingne and singer Halsey — who just so happens to be G-Eazy's ex — may be "hooking up." The plot thickens!
A source allegedly close to Delevingne told the Sun that "Cara has kissed [Halsey] in front of friends and stuff," which is "not a big deal for either of them," as they've just been "having a laugh together" for "the last few weeks."
"It's all very casual and just a bit of fun. Neither of them are particularly keen to be tied down and they're fine about seeing other people," the tabloid's source reports. "They've both been very open about their sexuality and just want to enjoy themselves." Because "they've both been stuck in L.A. in recent months," due to the pandemic, "it's given them a chance to see each other," this person explained, adding: "It's actually just funny to them that their exes are together now, and there's no hard feelings."
Halsey, whose real name is (confusingly) Ashley, split with G-Eazy in October 2018. A few months later, Delevingne appeared in Halsey's "Nightmare" music video, and a few months after that, she and Halsey were photographed together, with Benson, at a DKNY party during New York Fashion Week. Benson and G-Eazy, meanwhile, collaborated on a cover of Radiohead's "Creep" in April. It's a tangled and mildly chaotic web this group weaves, but at least these two seem to have a nice time: