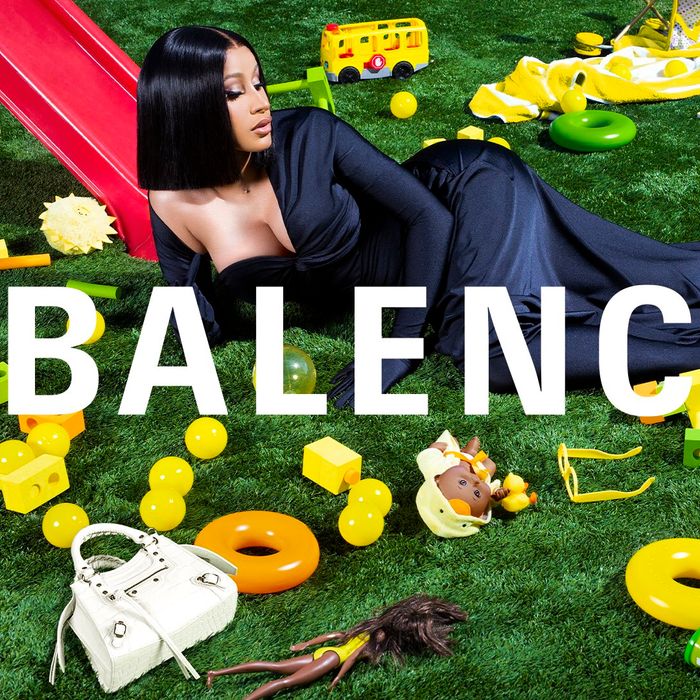 Back in 2018, Cardi B told us some of the things she likes: dollars, diamonds, stunting, shining, million-dollar deals, and those Balenciagas (the ones that look like socks). Two years later, she's gotten everything she wanted — plus a Balenciaga billboard on the side of the Louvre.
Cardi B's photo is one of many in Balenciaga's fall 2020 campaign, which began rolling out in July, but it's still an occasion of firsts: creative director Demna Gvasalia's first use of a celebrity in a campaign since taking the helm in 2015 (he's largely casted friends and lesser-known models) and Cardi B's first time starring in a campaign for a major fashion brand.
The campaign was self-styled and self-produced during lockdown by the brand's frequent collaborators. Gvasalia himself selected Cardi B's look — a liquid-y black evening gown with an asymmetric neckline, built-in gloves, and, of course, shoes that look like socks to match. It's all topped with a sharp and shiny bob. According to the brand, the "WAP" rapper actually shot the image herself in Los Angeles during lockdown in a familiar domestic setting. She's lounging in a backyard surrounded by toys and a single white Balenciaga Neo Classic handbag.
While the Louvre billboard will be up for all of September, it'll also be displayed throughout Paris and in Taiwan, China, South Korea, Singapore and Thailand, a spokeswoman told WWD. We truly don't deserve all this WAP that Cardi B has to give.