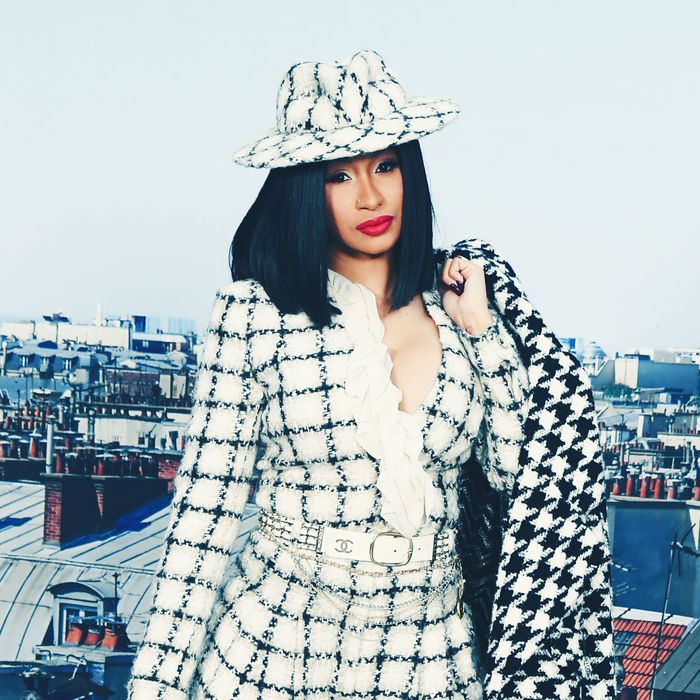 Cardi B
Photo: Stephane Cardinale - Corbis/Corbis via Getty Images
Last night's presidential debate was completely unwatchable, so much so that it's difficult to eloquently convey the uniquely miserable viewing experience. Donald Trump went characteristically rogue and spewed dangerous lies, and Joe Biden, who attempted to remain levelheaded and stick to fact-based answers, struggled in the face of such a ruthless bully. For more commentary on just how maddening it felt to watch this disastrous event unfold, allow us to direct you to the Instagram page of Cardi B.
Cardi kicked off what would become an 11-video series with the fervor of a high-school basketball coach, offering Biden — who was not her first pick but who has her support — an impassioned pep talk. "Don't let this man pick on you; he just wants to do his show," she encourages Biden, before leaving him with her main piece of advice: "You better get spicy! SPICY!"
As the debate instantly goes off the rails, Cardi becomes increasingly indignant. "That's the wrong answer!" she screams at Trump after he disputes that he did not, as a staggering New York Times investigation recently found, pay only $750 in federal income taxes the year he was elected. "Trump don't give a fuck about the environment!" she growls when the subject turns to climate change and Trump dodges the question of whether he believes in the science behind it. At multiple points, her high-decibel screams of frustration become entirely indecipherable.
By the end, she's exhausted, filming her last video — a final recap — in bed, inexplicably using Instagram's anime filter. "I'm not even going to front. I really felt really bad when Trump came for Biden's son like that," she says, referencing Trump's personal attacks against Hunter Biden, who has struggled with addiction. "I feel like that was very unnecessary."
She adds: "I wish that fucking Joe Biden would've spoken to me before he did that debate because I would've told him he better roast his ass, and I've got mad jokes under my belt." Well, there's always the next debate! (Oh God.)