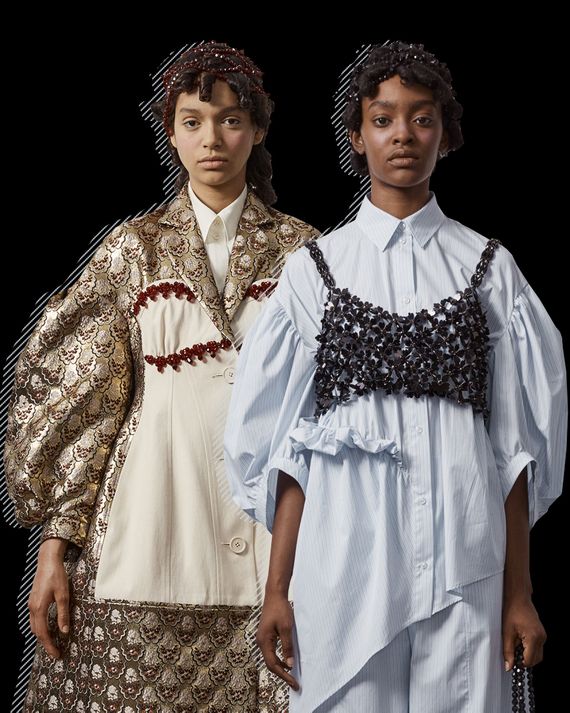 Photo: Courtesy Simone Rocha/SIPA/Shutterstock
Yesterday, before talking to the London designer Simone Rocha on Zoom, I turned the last of the summer tomatoes into sauce. Later, between emailing several publicists in New York and Paris, I staked some new trees in the yard. In the past, during the collections, we were lucky to find 30 minutes for lunch or a break in the schedule to see an exhibition or a hairdresser; we almost prided ourselves on our ability to whisk off emails or speak to the office while being driven around those cities in cars or taxis. And we complained that it was all too much.
So now the future we imagined is here. Instead of rushing to a show and pushing through a mob of onlookers, we can roll up to our desk or plop down on the sofa and watch whenever we like. Thanks to podcasts, videos, and Zoom calls, we can learn much more about a designer's creative process than we could in a typical backstage chat. And because most of us are grounded, we have more freedom (in theory) to control our work-life balance. Maybe I'll chop down that hedge today.
I can see how the radical adjustments of the past few months have been good for designer businesses. For instance, just about everybody has opened digital showrooms for buyers. "I have to admit," Rocha said, "it's a game changer. It's like doing your grocery shopping online."
But it's already clear that this provisional system of digital shows, along with a schedule that sprawls into late November, is not good for fashion. In short, the future sucks.
A concentrated schedule rivets your attention. A live show, whether in a gallery or a huge hall, engages most of your senses, and I think you're more likely to retain what you saw or felt. Of course, many fashion fans are used to watching shows online, so this setup isn't new for them. On Thursday, at 2 p.m. Central European Time, huge numbers of people across the world will be watching Prada to see the first joint collection of Miuccia Prada and Raf Simons. (Knowing that Americans will be watching the show at 8 a.m. ET, the brand sent some editors a box of breakfast treats from Marchesi, its pastry shop in Milan.) I'm certain fans will want to see the digital production when it goes live, not catch it later. But for the industry as a whole, the digital experience tends to make things feel fragmented and ephemeral, and that's a distinct problem for fashion.
As Rocha told me, having a mix of digital platforms will always be important for a brand, but "I think it will ultimately lead to more people craving physical intimacy." If a brand shows only digitally or presents to buyers in a digital showroom, "the weight of it won't hold as long."
Rocha decided to hold a small live presentation at the Hauser & Wirth gallery. She had between 20 and 30 editors and buyers scheduled at intervals. "I'd rather show ten actual looks to two people at a time for ten minutes than not being able to show anything at all," she said. "It felt really important to do that, and in a way that people still felt comfortable. I didn't want the clothes or the hard work that we put into them to not have their full potential." (She also sent me a box of a dozen fabric swatches, including the embellishments she had used.)
The collection benefited from a sharp focus on Rocha's tried-and-true feminine shapes — cocooning coats, full-skirted dresses, ruffled cotton shirts — and a considered pruning of details. Like many designers, she tried to use her stock fabric. Cream cotton poplin, for example, was used for a lovely and simple monogram-style embroidery, in red or black, that her design team had done in Portugal once the lockdown was over.
"When we were developing the collection, what we really honed in on — it kind of kept us going, to be honest — was an energy," she said. "It was like, 'We have to keep moving forward. We can't let things get on top of us.' The main thing we discussed was the economic downturn that is coming for everybody — the drop in revenues."
"Internally," she added, "we kind of stripped away all the bullshit, and we were like, 'What's it all about? What are the kinds of clothes we want to wear?' They should be feminine, they should be strong, they should be practical. And that doesn't mean it has to be yoga pants. Let's translate this cotton into beautiful poplin trousers, or maybe we do ones that are slightly more ergonomic."
"I don't think we can suddenly make a collection that reacts to the pandemic, Black Lives Matter, politics," Rocha told me. "We're in it so intensely right now. I also think that everyone is slightly in survival mode and honing in on what we are, why we want to do it."
Other designs that caught my eye from London, in part because they showed a similar conviction and sometimes, as well, a big element of risk, were the patchwork pieces (some in Liberty prints) by Preen; the striking denim, khaki, and black leather trench coats at Burberry (ditto the denim-blue leather trench and anything in the hazmat orange); the spectacular, painterly prints from Christopher Kane; and the barn jackets, rough sweaters, and dreamy, full skirts in country shades of brown and olive from the unflappable Margaret Howell.