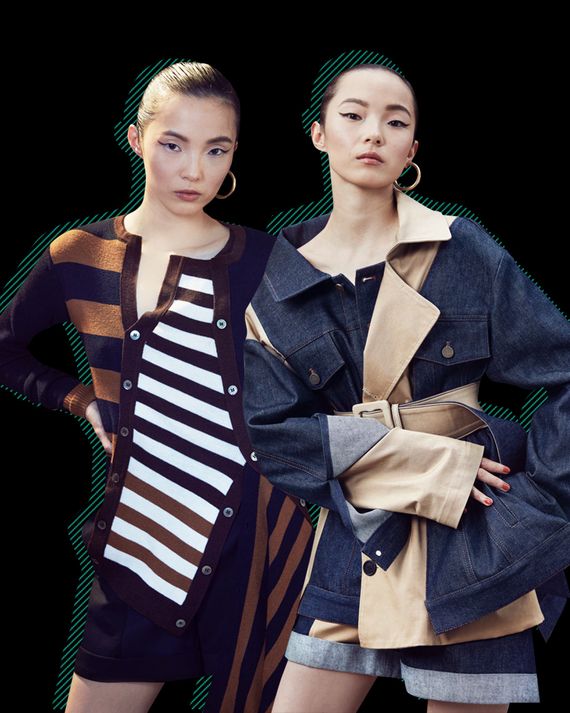 The other night, on the roof of Spring Studios in Tribeca, Laura Kim and Fernando Garcia held a cocktail party for their label, Monse, as part of New York Fashion Week's brave-new-world format. Protocols were observed —rapid COVID-19 tests for staff in the days preceding, questionnaires for guests to fill out, masks for everyone, capacity limited to 50 visitors at a time. Though the party was billed as a shopping event (a chance to move fall merchandise and thus reduce inventory), it also coincided with the release of images of Monse's new resort collection.
"We felt we weren't ready to look at a fashion show," Kim said. "We're really targeting our customers."
And trying to be creative about business. The resort clothes were actually done at the end of June, but Kim and Garcia decided to keep them under wraps until closer to when they'll be delivered to stores (beginning next month). In the interim, they gauged interest from various editors and celebrities to see who might promote different looks this fall. "When you focus on the editors and celebrities closer to the ship date, it just makes sense," Garcia said. They also got feedback from various merchants. For instance, the designers did not plan to include a blue-and-white-striped cotton shirtdress in the digital lookbook, thinking it seemed pretty basic. But buyers insisted it would be a big seller.
Produced mostly from fabrics the designers had on hand, the collection is indeed smart and sharply focused, with two-tone tailored looks in denim and khaki; some asymmetrical sweaters in navy, brown and white stripes; and an olive anorak glammed up with gold-sequined panels — "a 'going to get your coffee' look," Kim joked.
She and Garcia, who are also the creative directors for Oscar de la Renta, say the COVID-19 crisis has given them time to think about how they manage their own scrappy brand in a world that's changing rapidly. They miss the coherence of Fashion Week, but, as Garcia says, "We all have to pay attention to what's important to our individual businesses. In a way, it pushes us to think more creatively."
And, as Kim noted, the past few months have been great for building relationships. Among those who turned out for the rooftop party were the designers Phillip Lim and Prabal Guring.