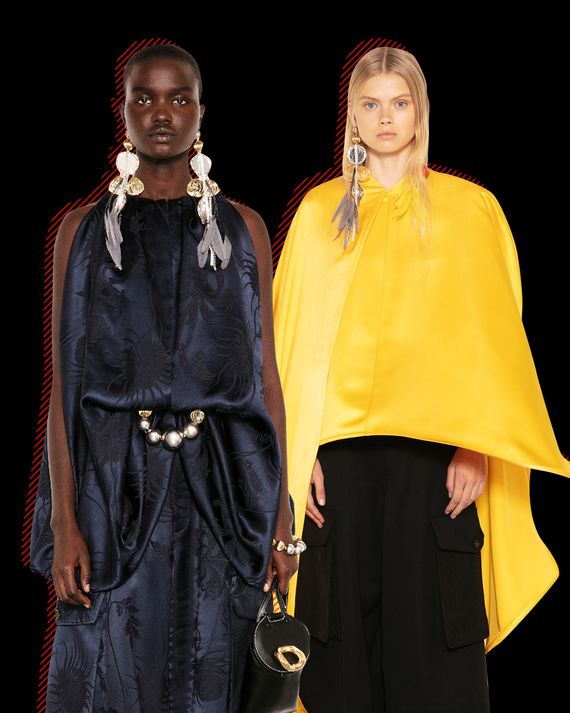 Photo: Courtesy of JW Anderson
"I don't think it really matters if you do a show, if you do puppets, whatever you want to do," Jonathan Anderson said. "Because ultimately we're kind of working in a coronavirus-political bomb that is so loud that no matter what goes into it, it's going to get —" He made a slight whooshing sound, like my vacuum cleaner.
Anderson, speaking from London about his spring JW Anderson women's collection, was explaining why he created a scrapbook of model images and backdrops of nature scenes that can be cut out and played with. Or arranged on a wall. A sequel to the "show in a box" he made in July for his men's clothes, it made me think of paper dolls or, indeed, toy soldiers — soldiers of fashion's new order — that you could set up on the lawn or kitchen table. Or give to your kids. He sent the bound books (in a box) to journalists and clients.
To be sure, the eclectic pace of the season — with some designers doing live shows, others sticking with digital, and everybody talking on Zoom — has given Anderson pause. "You start to feel, Am I being left out? Or Am I leaving press out? Ultimately, it's just a fight now for PR market share." He likes his choice, though.
"We're about escapism and beauty and ideas," he said of the industry, "but there is this overwhelming reality you get when you come to work and see empty streets. Or I just have to turn on the news and see another 100,000 people have lost their jobs. It's very difficult to justify the reality" of fashion. "I would rather do a box like this to the best of our abilities than use the money to do a show — money that could be used to keep people employed."
Anderson added, "But in a way, fashion doesn't want to talk about that. It wants to hold on to the fantasy — because if we were to let go, we might lose control of the idea of fashion. But maybe, in this moment, it might be good to lose control and to clear out the dust."
To me, the collection was a great melding of Anderson's previous two seasons — the sophisticated shapes of fall 2020 and the casual elegance of spring — with many fewer details that now seem pointless. What you notice about the new collection is the naturalness of the volumes: an orange circular knit dress with an airy puffball skirt, the draped folds of fairly simple dresses. Just as strong are the irregular bits — for example, those loose, poncholike tops worn with Anderson's version of board shorts. The tops are suede and could be worn with just about anything. That versatility relates back to the box of paper outfits and DIY scenes, taken in Brittany by a photographer named Lewis Ronald.
Anderson recalled the aftermath of Harry Styles's appearance (last February on a TV morning show) in the designer's rainbow patchwork cardigan. After the company put the knitting instructions online, the cardie became something of a lockdown phenomenon.
"Literally, every day I'd get a new picture of a dog sweater," Anderson said, "or the entire family wearing this sweater." He laughed. "People have this innate desire to be involved in a physical way."
And it's so much more inspiring than staring at a computer screen.