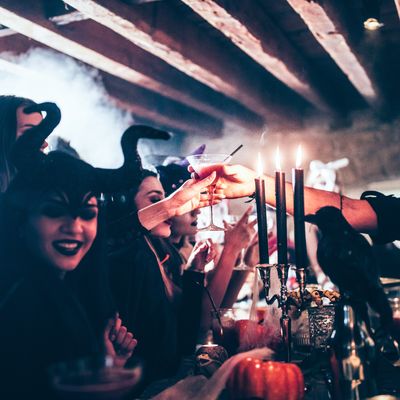 Good-bye to all that.
Photo: wundervisuals/Getty Images
Our condolences to children and maybe mostly the celebs, the two groups most likely to be affected by the following news: Due to the as-yet-uncontained coronavirus pandemic, the Centers for Disease Control and Prevention has come down hard against trick-or-treating and parties for Halloween. Or, against in-person parties at least, although I think we all know that those are the only kind that count.
On Monday, the CDC released its first round of holiday-themed guidances, breaking your prospective All Hallows' Eve activities down into risk brackets. Low-risk options include familiar classics such as carving pumpkins, watching scary movies, and hanging creepy decorations with members of your household. But if your Zoom hangover has eased up over the past six months, you might also try a "virtual Halloween costume contest," for example. Or, you could engineer some kind of outdoor scavenger hunt "where children are given lists of Halloween-themed things to look for while they walk outdoors from house to house admiring Halloween decorations at a distance," per the CDC's suggestion.
Unsurprisingly, the CDC does not recommend that people engage in traditional trick-or-treating or "trunk-or-treating" (a modern twist on the original involving cars in large parking lots), nor does it want you to go to an indoor party, nor on a tractor ride with people outside your household, to name just a few examples. Its moderate-risk category is somewhat more complex: "an open-air, one-way, walk-through haunted forest"? Potentially safe enough, provided masks are worn and distance is maintained. Wearing a rubber Scream mask as a substitute for, or even on top of, your day-to-day mask? Hard no from the CDC, which asks you to simply "consider using a Halloween-themed cloth mask" instead.
Particularly in light of Los Angeles's Halloween guidelines, issued earlier this month, all of this feels more or less expected. Halloween, like so many other occasions that rely on people gathering together to swap snacks and stories and possibly also spit, presents some clear logistical difficulties. Which doesn't mean you can't still have fun; the CDC just asks that you do so responsibly while also setting realistic expectations for your spooky agenda. Remember: "If screaming will likely occur, greater distancing is advised. The greater the distance, the lower the risk of spreading a respiratory virus."