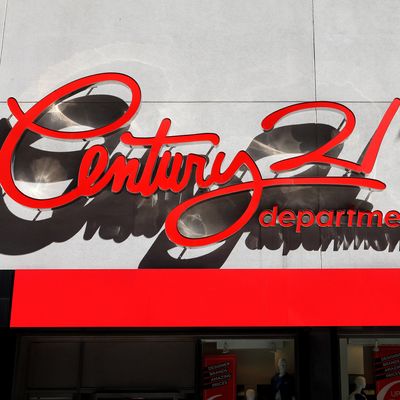 Photo: Raymond Boyd/Getty Images
On Thursday, it was announced that Century 21 has filed for bankruptcy and will be shuttering all of its stores — the latest domino to fall in a string of retail casualties since the start of the pandemic. For New Yorkers, this one hurts.
Century 21 was founded by the Gindi family in 1961 in Bay Ridge, Brooklyn, and currently has 13 stores nationwide. It was a discount mecca: a treasure trove where, if you were willing to spend hours digging (and maybe get into a fight), you could find a holy-grail luxury item at something like 99.99 percent off. On a recent visit to its downtown flagship near the World Trade Center, for example, I found Old Céline boots in the basement after opening every single shoe box. Eureka!
And I'll never forget the old communal dressing rooms. The image of a bunch of nonnas stripped to their nude, high-waisted slip skirts speaking a million different languages at once will be seared into my brain forever. It was a New York institution, through and through.
In recent years, Century 21 tried to attract younger customers with Next Century, its curated (read: more organized, sterile) millennial-leaning store-within-a-store. It also collaborated with the New York–based brand Telfar in February of 2018, opening its doors for a late-night FiDi rager during Fashion Week. Designer Telfar Clemens was a longtime customer himself, and has said that he decided to attend Pace University in part because of its proximity to the store.
Century 21's final days will be bittersweet and possibly contentious; in fact, its leadership says they could have been avoided entirely. In a statement, co-CEO Raymond Gindi, son of co-founder Al Gindi, said that the company had "no viable alternative" to shutting down after its insurance providers failed to pay some $175 million in business interruption claims. "[They] turned their backs on us at this most critical time," he continued. "While retailers across the board have suffered greatly due to COVID-19, and Century 21 is no exception, we are confident that had we received any meaningful portion of the insurance proceeds, we would have been able to save thousands of jobs and weather the storm." According to Bloomberg, the company has sued several of its insurance providers already.
The only silver lining is that all Century 21 stores plan to hold what are sure to be mind-boggling going-out-of-business sales.