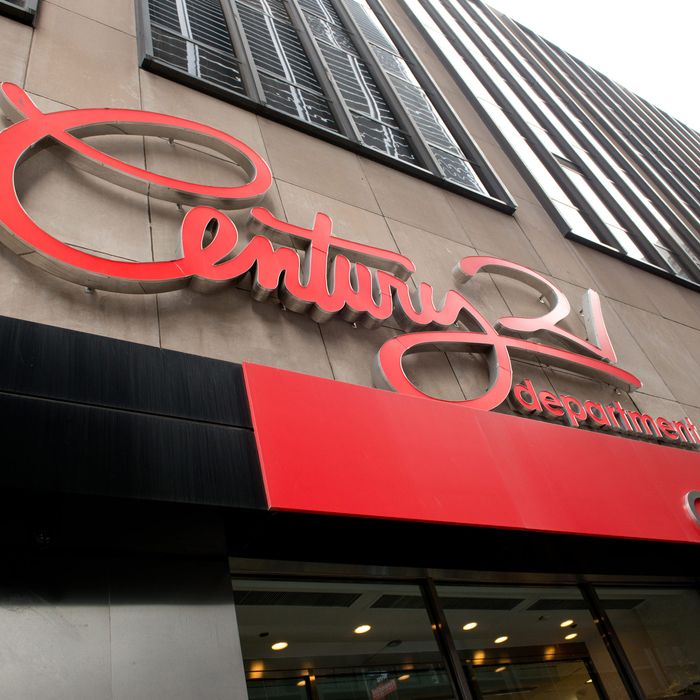 Photo: Noam Galai/WireImage
The messages of condolences started coming in before I'd even had my first cup of coffee. "I'm so sorry" and "I know what a loss this is for you." Each text and DM was sent with some version of the same story attached, ever since the news broke on Thursday: Century 21 is filing for bankruptcy and closing all of its stores. And, before I begin reminiscing, I won't lie, I cried.
It isn't hyperbole to say that I came of age — sartorially and otherwise — between the racks at Century 21. Growing up in working-class South Brooklyn, Manhattan and all of its glamour felt far more than a subway ride away. I was raised by a janitor and a lunch lady for whom "the City" was a foreign land. Visiting it, a special occasion. But we lived near a subway stop, and in the evenings I would look out the window and notice them: the "Working Girls." The ones who ventured out of Brooklyn every morning to sit in offices high in the skies of Manhattan. They wore suits and dresses and chic wool coats, lipsticked and glamorous. And always, it seemed to me, carrying that big, clear Century 21 shopping bag.
By the time I reached junior high, the Bay Ridge location on 86th Street became a part of my regular Saturday routine. My best friend and I would don our coolest clothes, hop on the B63, and spend hours browsing the racks of the discount department store. I hadn't bought a Vogue yet, but I had touched Chanel suits, seen Donna Karan dresses and Norma Kamali coats. My fashion sense wasn't formed from staged photo shoots on glossy pages or, in todays' variant, lewks on the 'gram, but by watching the real women of New York, from all walks of life, tailoring their unique styles in the Century 21 dressing rooms, one garment at a time.
Of course, in Brooklyn we didn't call it Century 21, or even Century, but, inexplicably, the pluralized "Centuries." Where'd you get that jacket? This? I got it at Centuries. A good purchase there was more than a bargain; it was a signifier. It implied aspiration, it implied a knowledge of fashion, it implied your innate ability to spot the needle in the fashion haystack. How fly, how dope, how hot was your taste? Your Centuries finds said it all.
College marked my first real time away from Brooklyn. Brown was only four hours by car, a lifetime by way of cultural journey. I had dreamt for years of escaping the concrete of Brooklyn for reasons I couldn't really ever put my finger on. Wanting to be sartorially prepared for my first semester, I headed to Centuries, where I spent all of my savings on what I thought were "New England"–looking clothes. Button-down Polo shirts, lots of cable-knit sweaters. None of which I actually wore once I got to college, since no one actually dressed like that — instead, the campus was full of people in Dead T-shirts, cargo shorts, and Tevas often coupled with socks.
It was an unmooring experience, that first year of college. Culture shock, to say the least. The summer after my first year, I returned home, tail between my legs, having been unable to find a paid internship in any field that remotely interested me, not enough money to visit my new friends who were all spending their summers around the globe. Yet I often tell people it was that summer when I truly fell in love with my hometown, when I understood the power and pride of being from Brooklyn. I no longer wanted to escape but was eager, desperate even, to be back home. Unsure of what to do with myself, I applied for a job at Century 21. The discount: a paltry 10 percent; the memories: priceless.
New York is not without its problems. From almost every angle, it's a striated, classist, segregated city. But from the floor of Women's European Fine Shoes at the Bay Ridge Century 21, I often saw something else. Women whose Brooklyns might never otherwise mix were helpfully opining on the shoe selections of strangers. Camaraderies, fleeting though they might be, were born when someone got truly lucky in Lucky Size. Among us staffers, too, confidences shared over too-quick lunches connected us to women we certainly would not otherwise have met. There was something comforting in seeing women from myriad, disparate New Yorks come together under one roof in the name of bargain fashion.
When college ended, I moved back to Brooklyn, got a job in a big tall office building, and became one of the Working Girls I used to admire, the stuffed Century 21 bag a regular part of my commute home. It was 1999, and I thought myself the Latina Carrie Bradshaw. I'd spend hours every weekend with my girlfriends on the hunt: for the right DVF dress or DKNY high-heeled ballet shoe or Vivienne Westwood denim balloon skirt. (Each of these genuine acquisitions I made.) In those days, I went places almost as much to show off my clothes as to have fun.
One morning in September, en route to work with my roommate at the time, we contemplated but ultimately decided against an early-morning pit stop at the Century 21 location in lower Manhattan. Instead, I hopped on the N train, and by the time I exited on 23rd Street, I looked down Sixth Avenue to see the first tower on fire. In the days afterward, back home in Sunset Park, when we were done crying and being stunned, an only slightly less insane Giuliani told us to help the city by shopping. Dutifully, we schlepped to the Bay Ridge Centuries. The lower Manhattan location was so close to ground zero it was closed for nearly six months as the area was cleared.
No matter the turns life took, expeditions to Centuries were always a part of the route. When I got married, some of my bridesmaids got their shoes in the Lucky Size. When, a few years later, I was on my way to being a young divorcée, my first risqué texts were sent from the lingerie section of the downtown store. My first big New York City gala, my last major job interview, even the dress I wore to my grandfather's funeral: Removing a Century 21 tag marked these and many other occasions.
Recently, at the tender age of 42, I sold my first novel. There's something about achieving a lifelong, seemingly impossible dream that makes you feel you've "made it." I'm in grad school in Iowa right now, but I'd always imagined marking such an occasion by making it rain in the Designer European section; purchasing something pricey, but still a bargain. In my fantasy, I'd ask the salesperson to unlock the wire tying the item to the rack. Then, when someone complimented my fake-fur Gucci coat or my sequined Lanvin evening gown or whatever other miracle this section always seemed to hold, I could proudly say what I've said many times before. "This? It's from Centuries."
Xochitl Gonzalez is the author of Olga Dies Dreaming, forthcoming from Flatiron Books.