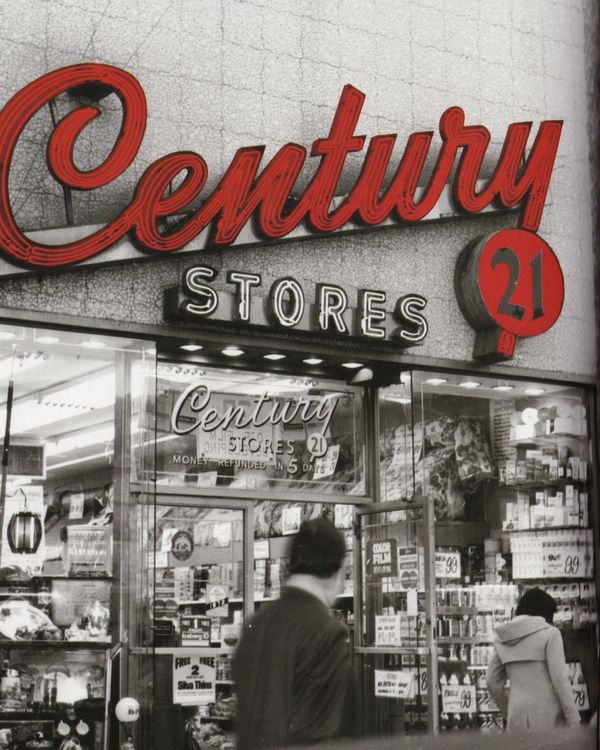 The Century 21 storefront in the early 1960s.
Photo: Courtesy Century 21/Century 21
Live in New York City long enough and eventually you will come to know a Century 21 bride, just as you will a rent-control lifer and the original Original Ray's. I know two, women whom no aisle could cow into paying full price. It was a New York place for New York people — those who live here and those who only visit — a "secret handshake," in the words of my colleague Christopher Bonanos, for those too in the know to overpay. The discount chain, founded in 1961 by Al and Sonny Gindi, Syrian American cousins from an émigré Jewish family, had grown into an empire stretching as far south as Florida and west to Philadelphia and Jersey. But its heart and roots were in New York, especially its sprawling, congested Cortlandt Street store, which the September 11 attacks enrubbled but couldn't destroy.
What 9/11 couldn't do, the pandemic, and the ongoing retail devastation it wrought, did. On September 10, the company filed for bankruptcy and announced it would close all 13 stores. "We now have no viable alternative but to begin the closure of our beloved family business because our insurers have turned their backs on us at this most critical time," Raymond Gindi, Al's son and the co-CEO, said in a statement.
Not every New Yorker was a Century shopper — "I was never a discount queen," one legendary New York designer said — but for those who were, a fraternal order of the young, broke, or merely bargain obsessed, the store was a temple, a grand Deco dowager in shabby dishabillé. It dressed down dress-up clothes: At discounts like these, you had to mine for your treasures in dusty piles and jammed racks. But Century rewarded those exertions.
"I can't remember a time when I didn't go there," the artist Laurie Simmons said; she began shopping there as a young arrival to New York in the 1970s, living in a loft in still-scraggly Soho and haunting Century with her friend and downstairs neighbor, the artist Jane Kaplowitz, who would clomp up the fire escape to Simmons's loft in a pair of platforms. "It was like a break from reality," Kaplowitz told me. "We were really poor. We lived a single, grinding life, not a Sex and the City life. I remember having onions for dinner one night. It was a way to move into another stratosphere with not that much money." (The store famously did appear on Sex and the City — Carrie Bradshaw shopped while on jury duty, a fact the company marketing team was only too happy to play up ever after.)
But they kept going — through success, marriage, and maturity. Simmons remembered finding a Gaultier evening gown that she wore to her sister's wedding, and a red velvet Romeo Gigli jacket that Gigli himself crossed Indochine one night to compliment her on. For years, she went so often — her studio was nearby — that on September 11, when she went to pick up her children, Lena and Cyrus Dunham, from school, they were terrified she had been shopping there when the towers fell. Last year, doing press for "Big Camera/Little Camera," a museum retrospective of her work, she gave interviews by phone while browsing La Perla bras in the lingerie section.
It was a place not only of discount but discovery. It had everyday athleticwear and high fashion, jeans and underpants and gowns. "That Gucci thing with a pair of Levi's — that's the way they dress today," Raymond's cousin Isaac, a partner in the business, told me in 2017. Major European designers and obscure ones alike hung, often without much ceremony, on Century's racks and rails. For many in fashion, it was an education. "It was like study hall," the designer Rachel Comey said. "You could see all the most unusual things and get up close and personal with them and try them on upside down or inside out or whatever. They had so many good experimental pieces that weren't even carried anywhere in New York." (She bought a pleather Moschino dress there that had been so haphazardly treated that its succession of discounted price tags melted into the material of the garment.) For Telfar Clemens, the Queens-born designer now famous for creating the "Bushwick Birkin," it was his first experience of Margiela, Comme des Garçons, and Vivienne Westwood. "I discovered fashion, basically," he said. "And I could also afford it. For people in 'fashion' — I'm using air quotes — it's a bad thing to be in a discount store. But for me, that's where I thrive. I grew up in that." In 2018, the Gindis invited him to host a pop-up shop there. He proudly sold his own collection and mashed together his logo and Century's for a collection of merch and tote bags.
The store's culture could be off-putting to those used to the white-glove service of a Bergdorf Goodman or a Barneys. You had to hunt — and sometimes fight — for what you wanted; such niceties as dressing-room doors were a latter-day addition. Those who knew would game the system, buying an expensive outfit, wearing it for a day or a night, and returning it the next day. "You could do that at Century 21," said the writer Cat Marnell, who did. The atmosphere could be grating. "You have to take a lot of Adderall to go to places like that," she said, laughing. It exerted a magnetic pull if you happened to find yourself in the area: Marnell went to check out Occupy Wall Street in the heady days of the last recession and ended up finding refuge (and a pair of white-and-gold go-go boots) at Century instead. "You know what I always bought there? Fucking Dolce & Gabbana," she said. "You could always get a good leopard-print camisole."
The photographer and fashion consultant Mordechai Rubinstein, who grew up Hasidic, knew it as "the go-to place for a Shabbos suit" from his youth, but he loved it and graduated from High Holidays formalwear to fashion that horrified his parents: After one haul, he came back with bright-green jeans from the Antwerp maximalist Walter Van Beirendonck's "Wild and Lethal Trash" line; they had an orange lightning bolt on the fly. When he was working on costumes for Uncut Gems, the Safdie brothers' Shakespearean tragedy of schnorring, he shopped for Adam Sandler's Howard Ratner there: his Versace tie, his godawful gold-and-black polyester shirt. The place was a boon for costume designers: Mel Ottenberg, the creative director of Interview magazine and a stylist to Rihanna, remembered buying armfuls of multicolored print dresses there to cut up and reassemble for the backup dancers on the singer's 2011 Loud tour. He beelined back to the store he knew well from his yeoman days as a stylist, scouring the racks for clothes for magazine shoots when no one would lend to him, and returning them afterward.
Century could supply you for an occasion — Ottenberg remembered going there in the late '90s with a roommate and finding her a runway Alexander McQueen dress to wear to a party that night, only to arrive and find that another partygoer had the same thought and showed up in the same dress. But it could also be an occasion. Rubinstein brought his wife there on one of their first dates, to buy sheets in the home section.
On a recent Sunday afternoon, with news of the coming closure still ringing in shoppers' ears, a socially distanced line stretched halfway around the store. The crowd was the usual mix of locals and tourists; the former begrudging the wait, the latter happy for the opportunity to capture every angle of the Oculus. Inside, the space was the cleanest it had ever been and noticeably more sparse than usual. But otherwise, it was a familiar scene: "Does anyone actually verk in this place?" grumbled a large bald customer in a heavy European accent while pacing around a carousel of Italian belts. Red shopping carts overflowed with clothes, shoes, and bags, all marked down an additional 10 percent. A highlighter-green sweater by the small New York–based label Sies Marjan — another recent casualty of the pandemic — could be yours for $207, originally $695. "I'm very sad," said one woman who lives nearby. She and her mother, dressed in a Chanel tweed jacket, left the store with four bags each.
*This article appears in the September 28, 2020, issue of New York Magazine. Subscribe Now!