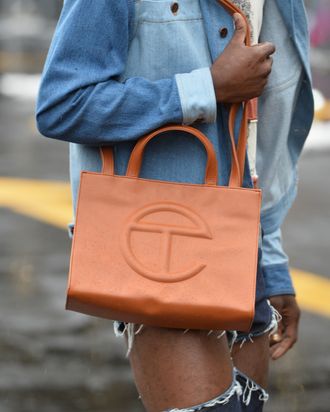 The annual CFDA Awards are like the Oscars of fashion; each year, top designers are anointed and style icons honored. As with the Oscars, there is also a growing sense of ambivalence toward their relevance. Will the same old names win again this year? Or will we see change at a time when customers and those within the industry are calling for it most?
Because of the pandemic, the ceremony was forced to take place virtually on Monday, with CFDA chairman Tom Ford rattling off winners in a prerecorded video presentation that lasted about ten minutes. It wasn't exactly exciting — there was no J.Lo or Rihanna to liven things up the way there have been in past years. But the winners themselves arguably represent an optimistic future for American fashion, and something to celebrate.
Gabriela Hearst won American Womenswear Designer of the Year, beating Mr. Ford himself, as well as other frequent nominees like Marc Jacobs. Kerby Jean-Raymond of Pyer Moss won American Menswear Designer of the Year (also beating Ford). Telfar Clemens of Telfar won American Accessories Designer of the Year, finally beating the Olsens, who've won two years in a row now. Christopher John Rogers, who is just 26, won American Emerging Designer of the Year. Pierpaolo Piccioli of Valentino won International Women's Designer of the Year. And last but not least, Kim Jones, who was recently appointed the artistic director of Fendi, won International Men's Designer of the Year.
The winners this year are the most diverse group in the awards' 39-year history. This is the first time that three Black designers have won top prizes in a single year (Kerby Jean-Raymond, Telfar Clemens, and Christopher John Rogers). Jean-Raymond is also the first Black designer to take home the menswear prize since Maxwell Osborne and Dao-Yi Chow won in 2014. To date, a Black designer has never won the top womenswear award, and Gabriela Hearst is the first woman to win the womenswear prize since the Olsens in 2015.
This group of winners is also, ironically, among the industry players who seem to need the CFDA's validation the least. Gabriela Hearst, for example, decamped for Paris Fashion Week this season, leaving a very sparse NYFW behind. (In a statement, she thanked the CFDA and called the win an "incredible encouragement.") Kerby Jean-Raymond has also previously skipped NYFW seasons and recently started his own talent incubator, although he remains on the CFDA's board of directors. Christopher John Rogers, however young, has already dressed everyone from Michelle Obama to Lady Gaga. And Telfar can't keep its bags restocked fast enough.
Many of this year's winners have won the CFDA/Vogue Fashion Fund in the past (Telfar won in 2017, after over a decade in business; Pyer Moss won in 2018; and Christopher John Rogers won in 2019). But they all used the $400,000 prize money to ensure their future independence. Telfar, for example, put it directly toward its internet-breaking bags, which cost a fraction of The Row's but have generated far more hype. The bag's success over the last few years has raised questions about what makes something a "winning" accessory, and who gets to decide that — is it the titans of the industry, or the people who buy them? If anyone's looking for validation right now, it's arguably the CFDA — and by bringing these designers back into the family, they might bring their fans with them, too.