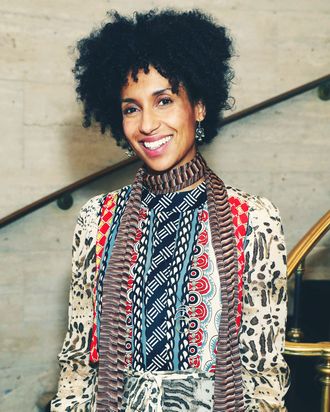 Photo: Darren Gerrish/WireImage/Getty Images
On Monday morning, Anna Wintour informed Vogue staffers that Chioma Nnadi will be the new editor of the magazine's website, effective immediately.
Although it's not to be confused with the top job, which, of course, Wintour still holds "indefinitely," the role is still a big one. Nnadi will lead all of the magazine's digital content, taking over for Stuart Emmrich, who announced his exit in June after less than a year. (He, in turn, followed the departure of digital director Sally Singer.)
Unlike Emmrich, who had a long career in print but no digital experience, Nnadi has served as the website's fashion news director since 2014.
"We all know Chioma here at Vogue, of course," said Wintour in an email to staff. "We know how brilliant she is, what a wonderful writer and editor, and what a supportive colleague. Above all we know her as someone who intuitively understands fashion and brings to it a genuine love of discovery."
Wintour then went on to say that she "absolutely relies" on Nnadi's eye, cosmopolitanism, and taste. (In my opinion, she is always one of the best-dressed editors at fashion week, not to mention a lovely, knowledgeable person.) "Even better, she is forward looking and understands that Vogue needs to reach new audiences and do so in new ways," Wintour added. "She respects our iconic past but is not tied to old traditions. Chioma is an exceptional editor for this role and I couldn't be happier to see her lead us forward."
"Super excited for the road ahead," Nnadi wrote on Instagram.