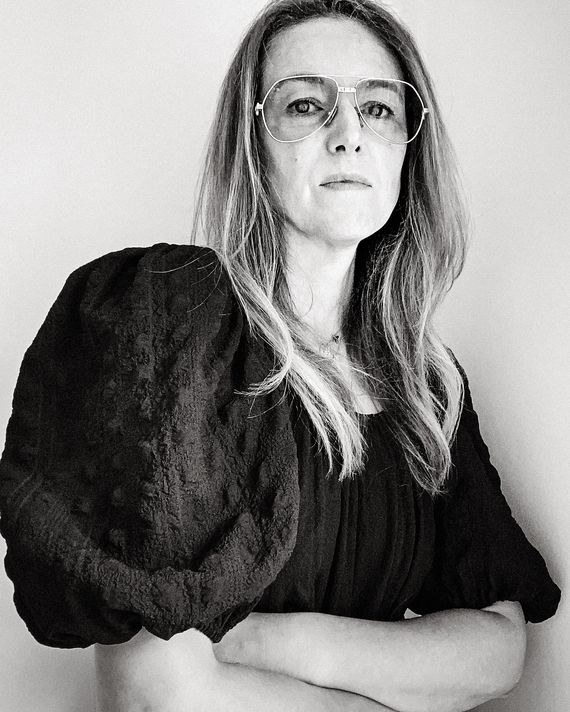 Photo: Christopher Anderson/Magnum for New York Magazine
The English designer Clare Waight Keller is interested in rethinking what, and whom, she's designing for.
"There is a woman who is being left behind. She's late 30s and up. She doesn't feel particularly good about walking around in a hoodie or a sweatshirt all the time. As a woman, you sort of evolve your style and you have over the years a collection of pieces. You're always looking for that one thing — a new coat, a new jacket. You might wear it and then put it away for five years and come back to it and wear it in a different way. Those are the things that are forever and are still relevant. I don't think people are designing for those moments anymore." She ought to know, having worked at Calvin Klein, with Tom Ford at Gucci, and, for many years, as creative director at Chloé. She recently resigned from Givenchy after three years as creative director.
Waight Keller spent the lockdown with her American-born husband and their three children at their home on the Cornish coast. She reveled in the pleasure of having time to think and described so plainly in our conversations this spring why forward-thinking designers actually have a hard time thinking about the future.
"Suddenly, the one thing you used to call a luxury — time — is in abundance. At Givenchy, I traveled between two cities" — London, where her family lives, and Paris — "carving out any moment for myself would feel like a guilty pleasure. I had so much to organize between the two places, and I was quite focused on that. Boredom lets your mind drift. And that's something that everyone is somewhat afraid to say. Because there's this ethos in fashion of constant creative output. But I'm not sure it's always conducive to thinking deeply."
Like many of the designers I spoke with, she worried about the intrusion of analytics into the making of collections. "Things really ramped up about 15 years ago, and just before the recession, there was this whole buildup. It went mental, allowing much more merchandising and economics to penetrate further into the creative process. Even if 2008 was a bit of a reset for the industry, everyone was so eager to recover business that we just resumed the pace again."
She recalled her time at Gucci under Ford, when things were simpler: "We would sit with a merchant once the collection was done and just before it hit the showroom. One meeting with one person. We might add, say, eight things to the line. One conversation.
"And then, in the past ten years, it became merchants and charts and all this stuff that we creatives were never really a part of. That is what drives business now. And it changed the way a lot of people approach fashion. It's much more about being analytical, about the numbers and facts from previous seasons. It's not about thinking about the future, and that's the part that is hard as a designer. You have to think about what you want to do next and how you can push yourself forward. It can't be analyzed; it's something that feels right — a gut instinct. It's something that's hard to define, and a lot of people get nervous about that. There's a tremendous amount of conservatism in the industry — not allowing for as many risks as before because so much is at stake.
"You need time to work through an idea. Sometimes ideas do come very quickly, and others take longer. That allowance of time has been reduced so much that, in a way, you become a spontaneous decision-maker." Indeed, Waight Keller did 30 collections in three years at Givenchy — and she did the same number in six years at Chloé.
In the several months since she left Givenchy, she hasn't even been sketching. "I've gone back to reading books, which I haven't done in a long time. [One book is In Praise of Shadows, by Junichiro Tanizaki.] He talks about how even in the 1930s, industrialization was a concern. How, for instance, the effect of bringing lightbulbs into homes changed the way objects were seen. How the mechanization of paper made it feel different, and the fact that everyone appreciates the shiny and new. The writing stays with you, and it makes you look more at what's around you."
*A version of this article appears in the August 31, 2020, issue of New York Magazine. Subscribe Now!