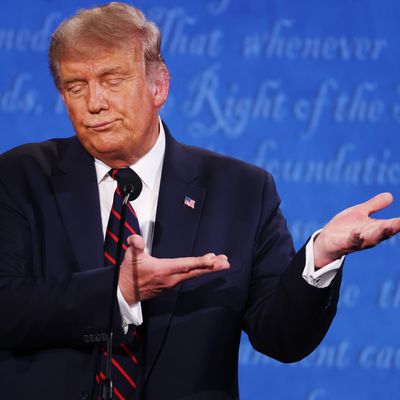 Photo: Win McNamee/Getty Images
If you watched last night's presidential debate featuring Donald Trump and Joe Biden, you know it was historically, supremely unwatchable. It was an interminable hour and a half of chaos, most of it caused by Trump.
The president constantly interrupted, talked over both Biden and moderator Chris Wallace, went off topic, lied, and also refused to condemn white supremacy point-blank. The whole thing was a train wreck. Everyone was left wondering how there could even be any more debates, when one party refuses to adhere to their structure.
That sentiment is now officially not just something you texted your friend at midnight. Trump broke the very debate format itself, according to the public sponsor of the events, the Commission on Presidential Debates. The organization has released the following frustrated-seeming statement:
The Commission on Presidential Debates sponsors televised debates for the benefit of the American electorate. Last night's debate made clear that additional structure should be added to the format of the remaining debates to ensure a more orderly discussion of the issues. The CPD will be carefully considering the changes that it will adopt and will announce those measures shortly. The Commission is grateful to Chris Wallace for the professionalism and skill he brought to last night's debate and intends to ensure that additional tools to maintain order are in place for the remaining debates.
It's unclear what these new moderator tools will be. A spray bottle, like when you spritz a bad cat? A giant foam mallet? A big shepherd's crook to simply haul an offender off? A buzzer like on The Voice? All seem better than whatever we witnessed last night.