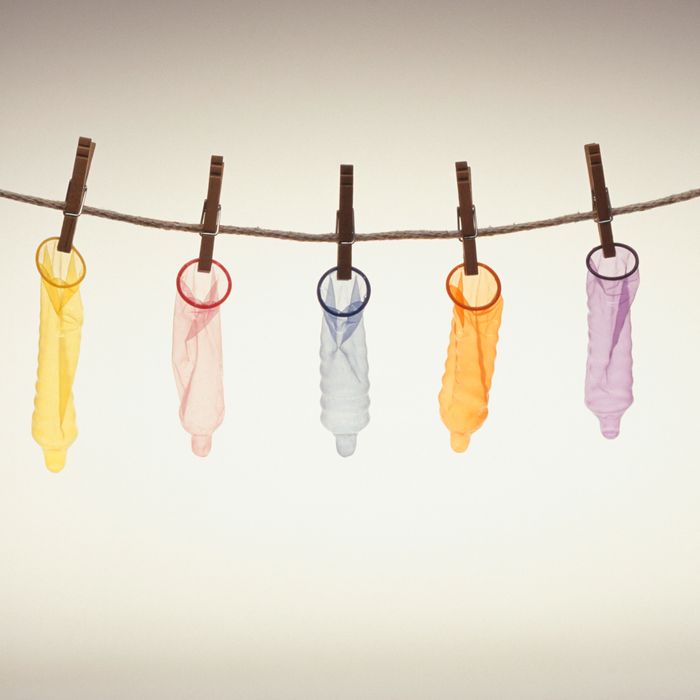 Condoms out to dry.
Photo: Keith Brofsky/Getty Images
"You only live once," horny man Drake famously said once. This goes for people, and really — ideally — for condoms too. According to the New York Times, however, over 300,000 used condoms were almost given a dangerous and ill-advised second chance at life thanks to an illegal condom "recycling" operation in Vietnam.
After receiving a tip from a local resident, police in the province of Binh Duong raided a warehouse on Saturday, where they confiscated nearly 800 pounds worth of bags filled with roughly 320,000 recycled condoms. The condoms had been boiled, dried, reshaped with a wooden prosthesis, and were going to be put up for sale. Officers arrested the warehouse owner, a 34-year-old woman who said she received a monthly delivery of used condoms from an unknown person, and that she was paid 17 cents for every two pounds of condoms that she recycled.
Much about the operation is still unknown, like how long it was in business, how many of the recycled condoms had already been distributed, and who exactly was involved.
The recycled condoms were described as "very dangerous to society" by Anh Nguyen, an obstetrician from Dak Lak, who explained to the Times that reusing condoms could "spread sexually transmitted diseases such as syphilis, gonorrhea and possibly H.I.V." and that this kind of recycling "must be prevented."
Juliet Richters, a sexual health expert and honorary professor at the University of New South Wales, told the Times that while it's "not impossible to wash a condom," she's never heard of it happening "on an industrial scale."
I'm sorry if this story made you, like me, picture a big vat of boiling used condoms, floating and bubbling around like a massive, filthy swarm of jellyfish. Still, while I doubt most of you were diligently boiling and reshaping your prophylactics after each tryst, it's worth remembering that when it comes to used condoms, it's probably best to take a Marie Kondo approach: Thank them for their service, and then let them go.