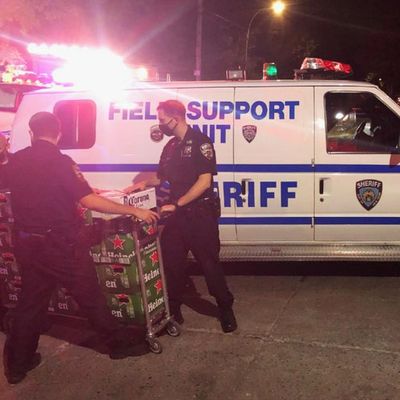 Photo: Sheriff's Office/Twitter
Sadly, doing karaoke indoors in a public place with people all around is still not in the cards for New Yorkers due to COVID-19 regulations. But reportedly some karaoke bars have been sneakily reopening anyway, prompting police crackdowns, fines, and arrests.
Gothamist reports that Brooklyn karaoke bar the Legend KTV has been closed after allegedly flouting safety guidance over the weekend by allowing some 281 people inside the establishment for an evening of "drinking, dancing, and smoking." Investigators with a task force made up of the sheriff's office and the State Liquor Authority reportedly conducted a raid early Sunday morning during which police arrested six people. They were charged with violating social-distancing restrictions, liquor laws, working with unlicensed security guards, and, in one case, endangering the welfare of a child. Officials said the bar was serving alcohol on-site despite it having had its liquor license revoked in 2019. Ultimately, the SLA rescinded the bar's license over unauthorized alcohol sales and "failing to comply with the applicable health, safety, and government regulations."
This is reportedly the third NYC karaoke bar law enforcement shut down in the past two weeks. Gothamist reports that CJ Diamond Café in Queens was raided on September 1. New York City sheriff Joe Fucito said more than 100 people rushed out of an emergency exit as police approached. "Two rooms were still occupied with patrons singing, drinking, and smoking without masks and not social distancing. Several other rooms were found empty with beer and hard liquor setups," Fucito said. Five of the club's managers were reportedly ticketed for violating social-distancing orders.
Another venue in Queens, Soho KTV & Bar, was shuttered in late August after police found 75 people being served food and alcohol indoors. Indoor dining remains banned in NYC's restaurants and bars. Governor Andrew Cuomo has said he would consider relaxing these rules if there was a task force in place to handle enforcement. (It does appear, quite possibly, that this already in some form exists.) In August, the SLA officially banned live entertainment in bars, "such as exotic dancing, comedy shows, karaoke, etc."
In other words, please only sing your pitchy rendition of "Total Eclipse of the Heart" alone in your room or in front of someone who really loves you and can take it, for the time being.