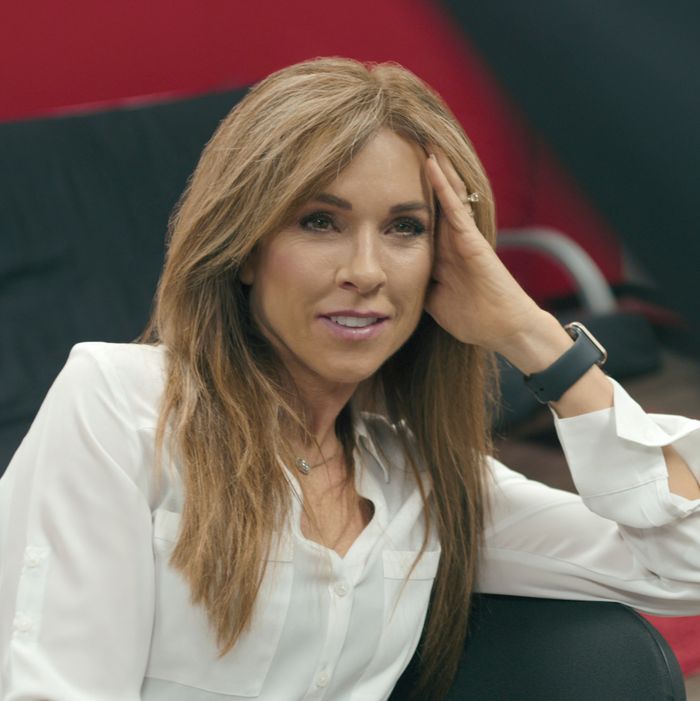 Monica Aldama
Photo: Courtesy of Netflix
On Wednesday morning's episode of Good Morning America, ABC announced which celebrities will be competing on the upcoming season of Dancing With the Stars. Among the newest crew of dancers are former Backstreet Boy AJ McLean; Catfish: The TV Show host Nev Schulman; Tiger King's alleged murderess, Carole Baskin; and Olympic figure skater Johnny Weir (whom I would pick to win, if I were the betting type). The name that really caught my eye, though, was one that filled me with both delight and dread and gave me the sudden urge to land a successful back handspring: Monica Aldama, the superstar coach of the cheerleading team at Texas's Navarro College.
Aldama rose to national prominence earlier this year when she starred in the Netflix docuseries Cheer, about Navarro College's race to win the 2019 National Cheerleaders Association's Collegiate National Championship in Daytona Beach, Florida. She is encouraging but stern, an organized, exacting, and perfectionist leader who demands nothing less than excellence from the kids she coaches. As my colleague Anna Silman described her, "Monica Aldama is the Bill Belichick of cheerleading, if Bill Belichick had perfect square French tips."
While I imagine all of these qualities, along with her experience cheering, will make her a formidable competitor on Dancing With the Stars, I don't know that I can handle the possibility that she will fail, or, worse, be embarrassing. One of the most soothing and engaging parts of watching Cheer was getting the chance to watch someone who is fully, supremely competent. It's comforting to know that someone, somewhere, is that good at what they do. But now, Aldama is going to be appearing on the same stage where former White House press secretary Sean Spicer once performed a salsa number in a neon-green blouse. Will she be able to retain her powerful aura of competence, composure, and dignity? I hope so … I need it.