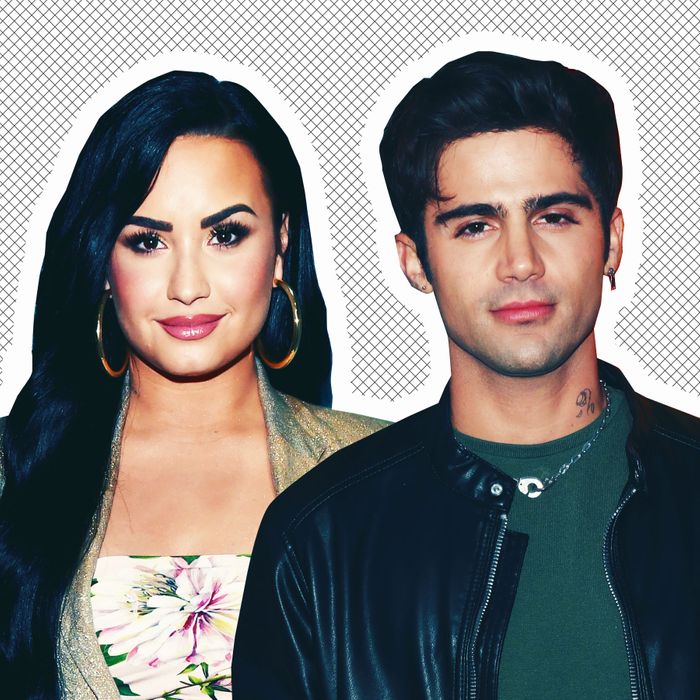 Demi Lovato and Max Ehrich.
Photo: Getty Images
When news broke last week that Demi Lovato and Young and the Restless actor Max Ehrich were apparently calling off their engagement — just two months after their classic beach-at-sunset proposal, which followed four months of dating after the couple immediately decided to isolate together after meeting in March — we weren't exactly surprised. "It was a tough decision, but Demi and Max have decided to go their separate ways to focus on their respective careers," a source told People, the first of a handful of outlets to confirm the news. "They have respect and love for one another and will always cherish the time they spent together."
But in the days since, the narrative has become more complicated, devolving into a bizarre and confusing mess. In the wake of the tabloid headlines about their breakup, neither Lovato nor Ehrich commented publicly on the dissolution of their relationship. Then, on September 26, two days after the People report, Ehrich posted to his Instagram Story, "Imagine finding out the status of your relationship through a tabloid," and added that he learned of the news while he was filming a "biopic movie about a Pastor in a Christian Church whose intention of the film is to help people."
On Sunday night, in a series of Instagram Story posts that he has since deleted, Ehrich wrote, "To this moment… we haven't spoken over the phone… we haven't even officially ended anything to each other, literally." He also addressed Lovato directly in one post, writing, "If you're reading this… I love you always… unconditionally… no matter what."
It's unclear what exactly transpired between the two, though some have speculated that the recent social-media drama involving Ehrich upset Lovato more than she initially let on. Earlier this month, social-media users got ahold of some of Ehrich's alleged old tweets, in which he professed his love for Ariana Grande, Miley Cyrus, and Gigi Hadid — but especially for Lovato's ex-friend Selena Gomez, whom Ehrich apparently wrote that he wanted to "marry." Others accused him of being a "clout chaser." (These tweets were dated before Lovato and Ehrich started dating.) Just over a week ago, Lovato spoke about the uncovered tweets, writing on Instagram that they were "FAKE images to put women against each other." She continued: "Yes, it's easier to tear apart celebrities and their relationships because 2020 sucks and scares the shit out of us all but it's only gonna stay terrifying until we address it all and WORK ON SOLUTIONS TOGETHER."
So, are they actually broken up or what?
This post has been updated.