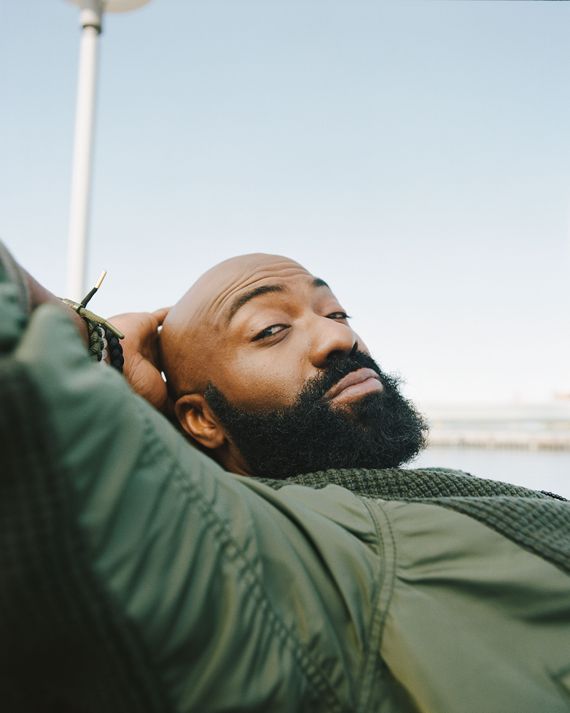 They call him Dark Desus. Well, according to this Reddit thread they also call him the Bronx Celine Dion, Young Hot Take, Desus Ex Machina, and the Fashion Nova Casanova, among 86 other nicknames. You probably know him as Desus Nice, one half of Showtime's Desus & Mero, the podcast turned hit late-night show. He co-hosts it alongside the Kid Mero, with whom he co-authored his first book, God-Level Knowledge Darts: Life Lessons From the Bronx, out now.
Desus and Mero are a fascinating duo: They're both Bronx born and bred, but Mero is a Jersey-based father of four, while Desus, now 39, is something of a notorious bachelor. On their show, Mero has a running bit about eating butt, and Desus has been known to make jokes about shareware PC games from the '90s. It's full belly laughs versus witty wordplay, and Desus is the guy who brings the dark, and sometimes controversial, humor (another alias: Your Problematic Bae).
Speaking of aliases — how do you get to know someone with so many names? Let's start with his real one: Daniel Baker. "Desus" is a combo of Daniel and Jesus, the latter because even as a kid he worked miracles with people's computers.
"I know like six programming languages," he tells me on a September afternoon when we meet for a video date — purportedly his first of the pandemic, because he's not dating right now (more on that later). Computer science was his second major after switching from religion, which he did after his teacher told him he'd lose all faith if he kept studying it. But he was self-teaching himself computers faster, so he switched again, this time to English because writing came easy.
You'll recognize him as a great writer from the outset of God-Level Knowledge Darts, where he warns readers that they may laugh so hard they're liable to choke and die: "You try to yell, but between the food caught in your windpipe and the loud sound of the British cooking show playing in the background on Netflix, no one can hear you."
"I tend to be dark in real life," he explains of the Dark Desus moniker, which appears frequently in the book. "We'll be having a birthday party or something and I'll just be like, 'Hey, you know they never really caught the person mailing the anthrax?'"
Darkness is part of his humor and his character, as well as his personality: It's the college freshman who got sent to the dean's office after writing a story about a woman who cooks her abusive husband into haggis and serves it to her evil in-laws. It's the writer who wants to make a New York horror movie where "you keep swiping your Metro Card and the machine keeps saying, swipe again, swipe again, swipe again, and you're stuck there for the rest of your life."
But real-life Desus is not so dark. In fact, if you've laugh-choked through any episode of Desus & Mero, you'll know he actually spends most of his time making people's days better. Today, he's in his famous sneaker room — a brightly lit, seven-by-seven-foot wall of shoes — with a pressed green juice. He loves and collects sneakers; they're the thing he never got growing up in the Bronx, the child of West Indian immigrants.
The green juice is a new thing, though, as is the Peloton he just bought and his daily yoga sessions. This is Desus 2.0: He says he's the healthiest he's ever been — "I'm working out religiously like some sort of weirdo" — and he's definitely got a certain glow about him, emphasized by his Crest White, kilowatt smile. I wonder, what does a handsome, intelligent, increasingly wealthy and famous bachelor do in lockdown?
He's the level of famous now where he's getting IV drips with Nick Viall from The Bachelor at Coachella and invites to private, COVID-tested islands, but he says he hasn't budged since February. "I'm just happy to go to Long Island," he says, and recalls the first time he was invited to a celeb-y getaway and tried to book a JetBlue flight, only to learn that he'd need a private jet. "Even if I could afford a private jet, I don't have money to just run around on a private island … I'm going to be there with snacks I brought from New York. Everyone else is eating lobster, and I just have a bodega ham-and-cheese like, Yeah, bro."
Instead, it's been "a hard quarantine" with his dog and his cat. (He's a dog person, but an ex left the cat and he couldn't just throw Charlie out.) He's watching a lot of TV: Judge Mathis, I May Destroy You, Selling Sunset, and Golden Girls. When I ask if he's doing outdoor dining, he says he'd rather not "get dirty air from passing buses on me as I'm eating my quesadilla."
But he's an extrovert, so it's been tough. He misses the freedom of the city, his friends, eating crab legs, and "that feeling you get at 4 a.m. on a Friday night in the Second Ave station when you're waiting for the train and the garbage train comes instead."
At its core, God-Level Knowledge Darts is a book of advice, so I ask Desus for some — what sneakers I should buy (Air Max '90s, "a subdued color"), and whether I was wasting my 20s with the same dick. He told me no, and if it doesn't work out I can always "have my ho phase afterwards," which, good point.
After sharing a bit about my love life, I feel like he should return the favor. After all, there's a whole chapter in God-Level Knowledge Darts on relationships (he does preface it by warning readers not to take his advice, explaining that it's based on reading his sisters' Glamour magazines and "watching Sex and the City, which in retrospect was a hot mess and championed toxic relationships.") But he says he's learned a lot in the past few years: "Relationships are not hobbies. It's not just something that you pick up and mess with and then put down. You're both trying to build something, so you should put equal effort into it." He also points out that dating is more complicated in These Times. "Now it's like, Are you ready to shack up and try to survive this pandemic if we have to kill the neighbors for food?"
Beyond that, the best way to sum up Desus's current attitude on love is that his favorite movie is Like Crazy, the famously depressing 2011 drama about two people falling out of love. It reminds him of the time his date stood him up and he hate-watched the film in a theater full of couples thinking, Fuck this, fuck love, and fuck everyone here.
Sure, it's a little bit Dark Desus, but like everything Dark Desus, there's a grain of truth and a funny-sad underbelly. I comment on this, noting that over the years his and Mero's humor has, in general, become much lighter. "When you're in a bad place, your jokes are dark and you want to bring people to that bad place," he says. "If you're in a good place, you want to shine that light on the world."