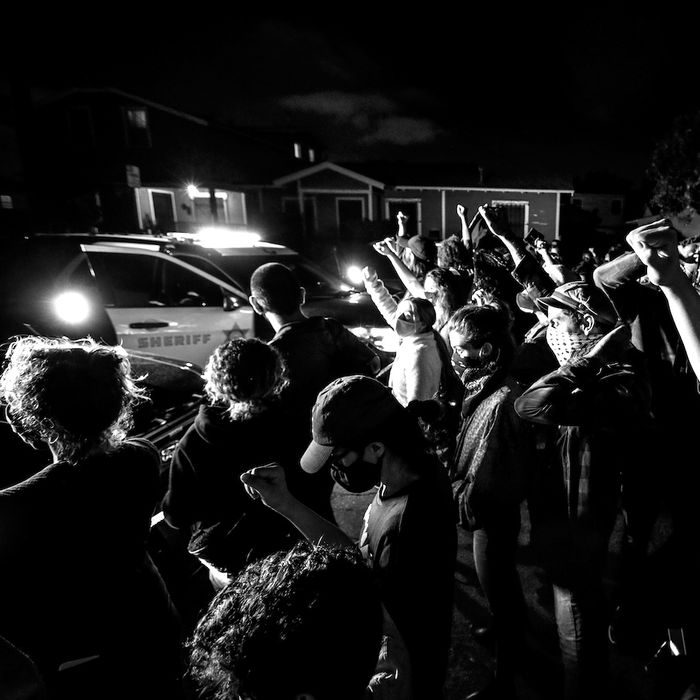 Protests followed the fatal shooting of Dijon Kizzee.
Photo: Robert Gauthier/Los Angeles Times via Getty Imag
On Monday afternoon, Los Angeles County sheriff's deputies shot and killed 29-year-old Dijon Kizzee, who was reportedly riding his bike in Westmont when authorities tried to stop him for an as-yet-unspecified code violation. Deputies say they opened fire on Kizzee after they saw him drop a handgun; according to civil rights attorney Benjamin Crump, Kizzee "didn't pick [the gun] up, but cops shot him in the back 20+ times."
The sheriff's department and the county medical examiner refute that figure, but regardless, Kizzee's body was reportedly left lying in the street for hours after the shooting.
"Right now, I'm sad and I'm mad at the same time," Fletcher Fair, Kizzee's aunt, said at a press conference on Tuesday. "Why us? We are tired. We are absolutely tired."
According to the Los Angeles Times, the sheriff's department says two deputies spotted Kizzee riding his bike "in violation of vehicle codes" around 3:15 p.m. Kizzee dropped his bike and ran when they tried to stop him, the deputies said, adding that when they caught up to him, near West 109th Place and South Budlong Avenue, he punched one of them in the face. In the process, he dropped a bundle of clothes containing a semi-automatic handgun, per law enforcement. The officers said they opened fire when they saw the gun fall to the ground, killing Kizzee. Without disclosing exactly how many times they shot him, Sheriff's Lt. Brandon Dean said Kizzee was hit fewer than 20 times. According to ABC7, audio from doorbell video suggests 15 or 16 shots may have been fired.
Neighbors questioned the necessity of firing on Kizzee at all, seeing as he had already dropped his weapon. "If he reached down to grab it, that's different," Arlander Givens, who lives nearby, told the L.A. Times. "But if it's on the ground, why shoot? That means he was unarmed." And as Congress member Karen Bass, whose district includes South L.A., wondered on Twitter: "What bike violation is so severe that they needed to chase him?"
According to the New York Times, "multiple entities, including the district attorney's office and the Internal Affairs Bureau," are now investigating the shooting. Crump has also called on witnesses to send him any footage of the incident they may have filmed, because L.A. sheriff's deputies are not currently required to wear body cameras.
By Monday evening, a large crowd of Black Lives Matter protesters had gathered at the scene of Kizzee's shooting, CBSLA reports. They eventually marched on the South L.A. Sheriff's Station, where they kept up the demonstration until early Tuesday morning. Some vandalism was reported, but protesters remained peaceful and there were no arrests.
Since the death of George Floyd at the hands of Minneapolis police officers in late May, cities across the country have sustained widespread protests against often-deadly racial bias in law enforcement — even as the police shootings of Black people continue. On August 23, an officer in Kenosha, Wisconsin, repeatedly shot 29-year-old Jacob Blake in front of his young children, leaving him paralyzed from the waist down. On August 15, police officers in Pasadena, California, shot and killed 32-year-old Anthony McClain during a traffic stop.
"The police kill another Black man, another Black person, we're tired of the injustice, we're tired of the police brutality, we're tired of being looked upon as fourth-class citizens," protester Raheem Taylor told CBSLA on Monday. "We're tired of just not being treated equally."