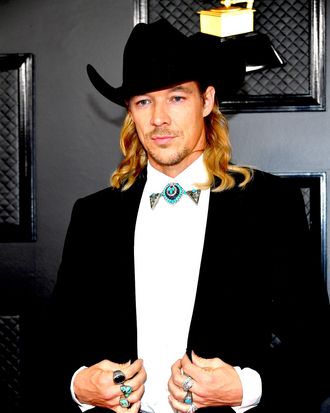 Don't let him down.
Photo: Amy Sussman/Getty Images
At the risk of belaboring the point, we are hurtling toward a critical election; the stakes are just vertiginously high, and each of us has a part to play in the outcome — including Diplo's butt. Yes, I am pleased to report that Diplo's butt has been doing its civic duty, which, in this case, is getting out the vote.
And how does a butt do that? I expect you are wondering. Well, showing is generally said to be more effective than telling, and so we turn to Diplo's Instagram, where the DJ and late-blooming skin-care enthusiast has posted an advisory to fans. The message: "Don't forget to register to vote." The delivery vehicle: Diplo's bare tush, pasty from a summer evidently spent inside li'l shorts, yet also pleasingly toned. Small, but firm. Which, if you have experienced his Calvin Klein campaign, probably comes as no surprise. But even so, I would say it's a welcome reminder.
Because with roughly 43 days until the 2020 election, Diplo's butt is correct to point out that time is of the essence. During the primaries, the coronavirus became a wrench in traditional voting mechanisms, creating long lines at polling sites and generating reports of absentee ballots gone MIA. With an eye toward streamlining the process on November 3, it's critical to get the ball rolling early. Whether you plan to cast your vote by mail or in person, you'll want to hammer out a game plan well in advance, so that you can ensure your absentee ballot is mailed in time to be counted (October 27, per the USPS) and you know where you need to be (and when) on the big day. And as a special thanks to Diplo — who got his dadly little buns out for democracy and for you — don't forget to check your voter registration status here. Howdy, indeed.