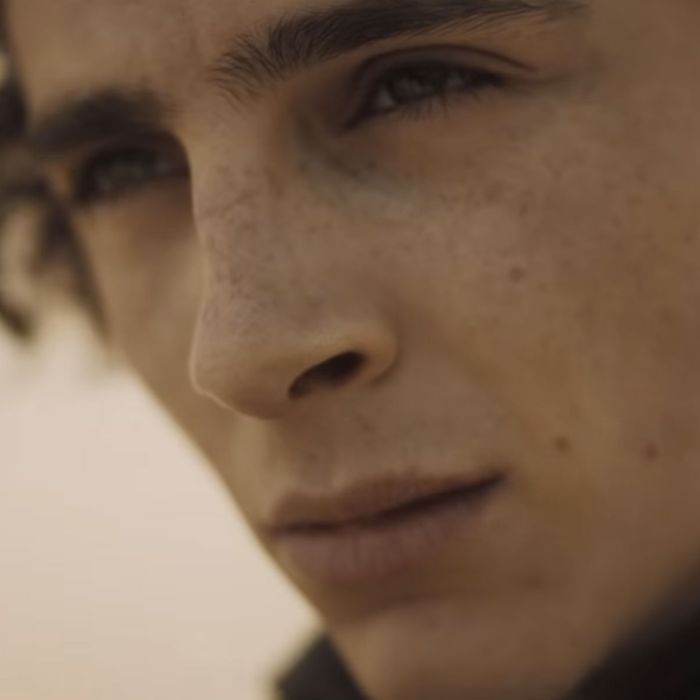 Photo: Warner Bros. Pictures/YouTube
Back in April, I wrote about how very hot Dune looked after Vanity Fair released a handful of teaser photos. The film's first full trailer is out today, which means that it's time to revisit this topic.
Dune (2021? 2022?) is the latest adaptation of the 1965 sci-fi novel, directed by Denis Villeneuve (Arrival, Blade Runner 2049). It tells the story of Paul Atreides (played by Timothée Chalamet), a space prince who must save his space kingdom from ruin.
Probably the most bananas thing about Dune (outside of the butthole worm) is that Timothée Chalamet is not even the hottest person in it. We've also got Zendaya, who plays Chani, a mysterious, blue-eyed woman who haunts Paul in his dreams. (They almost kiss in the trailer, so you should sit down for that.)
And if a Zendaya-Timothée pairing isn't rude enough, we also have a hot major character in Jason Momoa. He plays Duncan Idaho, a sword master who, according to dune.fandom.com, is "very handsome" and "regarded as something of a ladies' man." Momoa unfortunately had to lose his beard for the role, but that's more than made up for by Oscar Isaac, who sports a glorious Zeus-like beard to play Duke Leto (who is Timothée Chalamet's dad).
Man, it's like all we need now is Javier Bardem and Josh Brolin to complete this squadron of gorgeous space daddies. Well! Dune is truly the gift that keeps giving, because Bardem plays Stilgar, a rugged tribe leader, and Brolin is Gurney Halleck, who, according again to dune.fandom.com, is a "ruthless, yet noble and romantic warrior of enormous talent."
I'll end with the same note I did on my last horny dispatch about Dune: Even if you're "not into sci-fi," this story isn't about aliens and stuff. Mostly, Dune touches on many contemporary problems. Want to learn about the pitfalls of capitalism? Watch Dune. Ecological destruction? Dune. Politics? Dune. It's just all a lot easier to swallow when hot space pirates are involved.