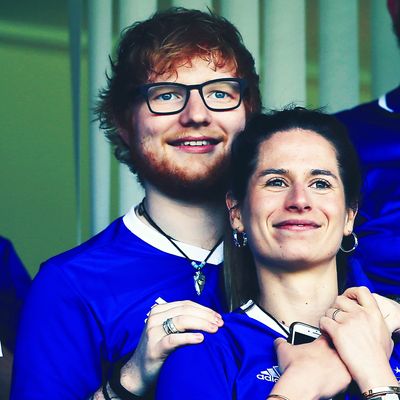 Photo: Stephen Pond/Getty Images
As summer fades into fall, the next generation of children of celebrities continues to be born. This time, it's Ed Sheeran and his wife Cherry Seaborn's turn.
The "Shape of You" singer announced the birth of his and Seaborn's daughter via Instagram on Tuesday. She has an impressive name, even by celebrity-baby standards: Lyra Antarctica Seaborn Sheeran. In Greek mythology "Lyra" refers to the lyre of Orpheus, which he plays in a scene from the ancient Greek epic poem The Argonautica to drown out the hypnotic song of the sirens. It's also the name of a constellation and is usually represented on maps of the stars as an eagle carrying a lyre. So that's a musical name for the daughter of Ed Sheeran. Not sure what the significance of Antarctica is for Ed and Cherry, but if I had to guess I'd say it had something to do with Cherry's love of ice hockey? I'll think about this some more later.
"Ello!" wrote Sheeran in his baby-announcement post. "Last week, with the help of an amazing delivery team, Cherry gave birth to our beautiful and healthy daughter." He went on, "We are completely in love with her. Both mum and baby are doing amazing and we are on cloud nine over here."
Sheeran and Seaborn married in February 2019 in a secret ceremony with only 40 guests in attendance, after dating since 2015. Cherry reportedly works as a senior consultant in a risk-advisory and accounting firm and moonlights as a professional hockey player. This is the couple's first child.