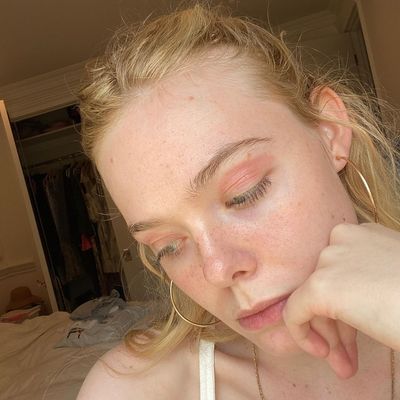 Photo: @ellefanning/Instagram
There is no cure for eczema, but there are ways to live with it: Just take a cue from Elle Fanning. The actress, one of 32 million Americans who suffer from the chronic skin condition, recently posted a filter- and makeup-free picture of her skin on Instagram, visible pores and all.
Captioning it "Eczema but make it eye shadow," she joked about the recent itchy outbreak on her eyelids. Since the patches are unusually symmetrical, they resemble a perfectly-blended-out eye look. It even sort of looks like the red eye-shadow trend we saw in 2018.
Skin diseases allegedly affect one in three Americans and are more common than we think, so normalizing them is a good thing. As stylist Karla Welch bantered in the comments, "My melasma is my blush!" Maybe your rosacea and psoriasis can be too.