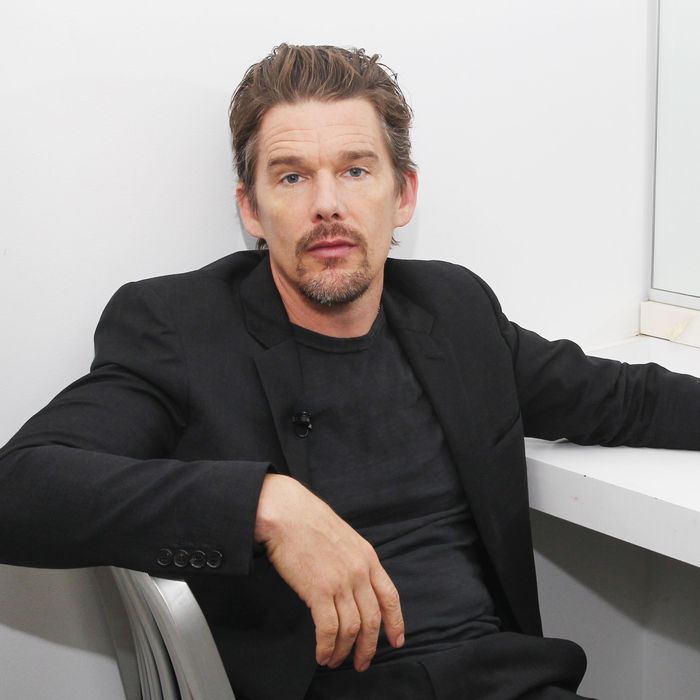 Photo: Astrid Stawiarz/2014 Getty Images
Ethan Hawke is a worthy celebrity crush. I'm not sure how you can argue with that. When he was young, the actor played the kind of guy you meet on a train and he has since matured to play the kind of guy who stuck around wherever the train let him off and had a midlife crisis there. He has boy-band-member hair and one of those rare faces that looks less intelligent in glasses. He's written one novel every decade since the 90s. Now he does voice work for audiobooks of Jack Kerouac and Jack London novels. I fucking love him. And now he's gone and done the hottest thing your celebrity crush can do: write a book review for the New York Times.
Under review by one Ethan Hawke is a novel in translation by the German author Wolf Wondratschek. And not only did Hawke go out of his comfort zone by writing a book review, he also agreed to review a book by an author he had never heard of. (We know this because the review opens with the line, "When I was asked to write this review, I had never heard of Wolf Wondratschek.) Hawke is brave and literary and brimming with adjectives.
We learn that the novel is set in Vienna, that it tells a story about music, and that it is nothing like the later works of Kerouac, which read "like a requiem for a lost art submerged in port wine." I appreciate that Hawke has given me enough information about this novel to let me know I probably would not enjoy it — helping me avoid yet another crisis over reading a book I can't get into. Thanks, Ethan Hawke!
All my celebrity crushes should review books now. Why not? I'm looking at you, Clive Owen.