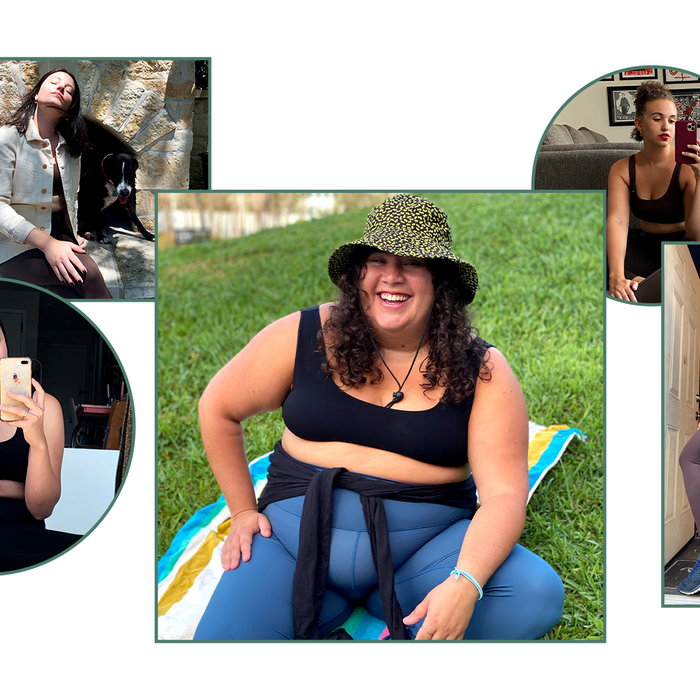 Photo: Courtesy of the talent
Like pretty much everything else, physical activity in 2020 looks a lot different than it used to. The boxing class that made you feel like you had a killer right hook, the cramped, candle-lit yoga studio where you dripped sweat and damn near reached enlightenment in Savasana — okay, those might be on hold for a while. But we're still finding ways to set the bar and challenge ourselves to move, breathe, and remember what endorphins feel like — whether that means a hike, lifting heavy at home, or just heading out for a 6pm stroll somewhere far beyond the reach of Slack notifications.
These days, many of our coworkers are doing all that in Everlane Perform Sets, the new workout tops and bottoms you can mix and match, starting at just $70. They're beloved around these parts because they're effortlessly cool and can stand up to the hardest HIIT session or play a low-key part of your WFH look.
We spoke to five members of our creative team about how they're keeping it moving these days, all the sneaky ways we're wearing athleisure on our Zoom meetings and errand runs, and why sometimes, a cute 'fit is exactly the lure they need to get on the mat or out the door.
Betsie Wilson, Brooklyn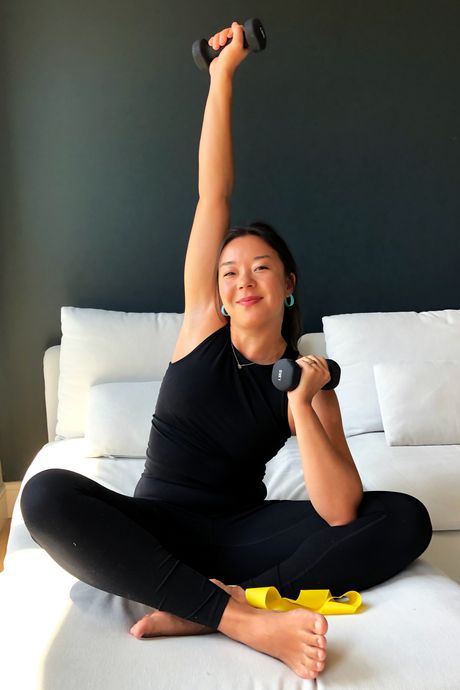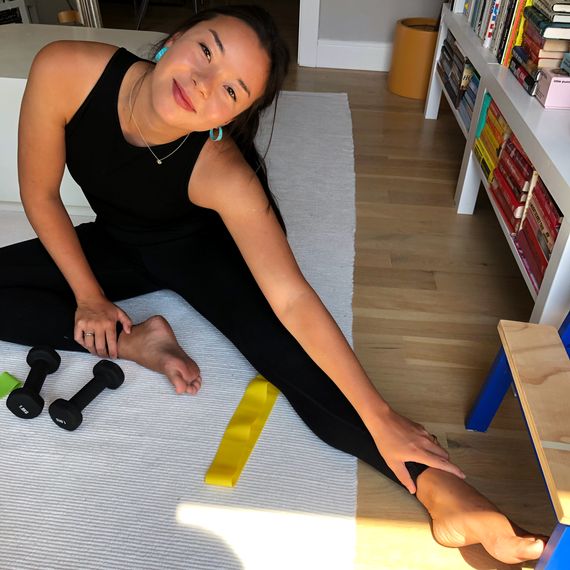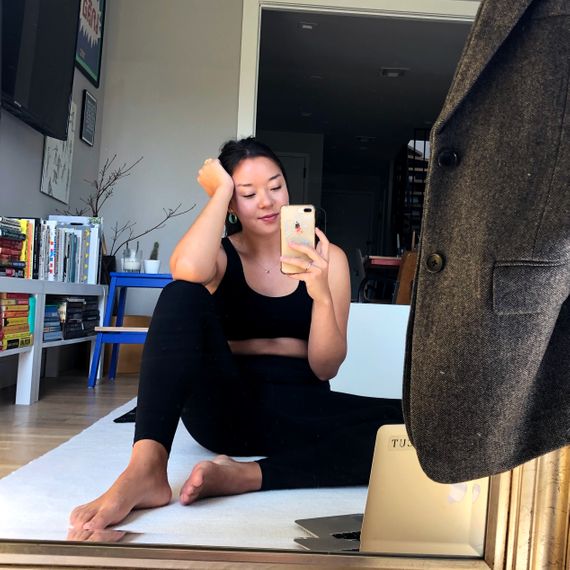 My typical (non-workout) style:
"Conceptually, I love the idea of outlandish clothing, but day-to-day I value comfort above all. I gravitate toward bold, structured outerwear like vintage menswear jackets, blazers, really anything with shoulder pads — paired with a reliable rotation of cotton T-shirts and jeans."
My favorite physical activity right now: 
"I promise I'm not, and have never been, a member of a fraternity house, but I'm obsessed with Spikeball. It's become a core summer activity for me and my friends to play in Central or Fort Greene Park over the past few years, and the pandemic has only intensified our love since it can be played outdoors with only four people."
What I need from my activewear:
"The perfect blend of stretch and hold. It has to be tight enough to stay on for the duration of my workout — nothing worse than pulling your leggings up every five minutes — but also let me move every which way."
What I like about my Everlane Perform Set:
"My usual workout look is an oversized T-shirt from a middle school sports team, but this tank top quickly became my unexpected favorite. The material is light, breathable, really comfortable, and stylish. I actually wore the tank top for days in a row after I received it, until my roommate eventually stole it."
How I wear my Perform Set:
"It's become part of my ideal WFH outfit topped with a Zoom-appropriate blazer. Staying active has been more of a challenge post-quarantine, so wearing the set helps me move around during the workday, whether that means standing and working from my bedroom dresser, or sitting in splits on the floor of my living room."
In my Perform Set, I can:
"Touch my toes…sometimes. I'm the least flexible person ever, but this set definitely inspires me to move and stretch more!"
Kat Gutierrez, Texas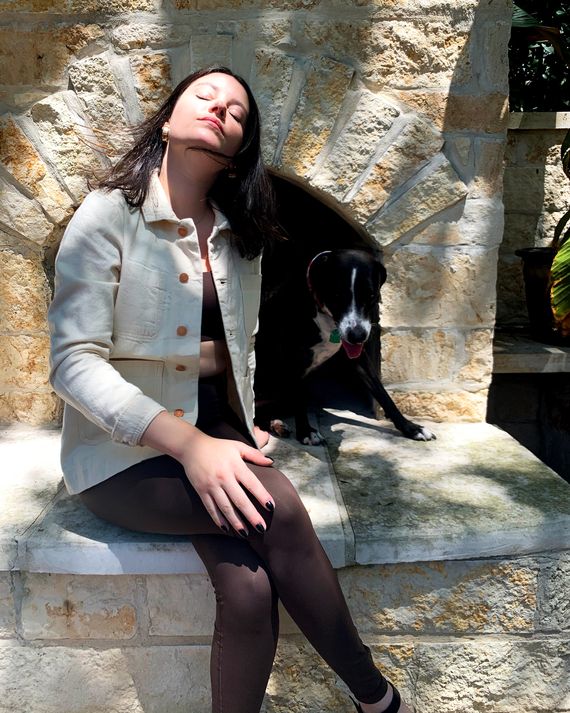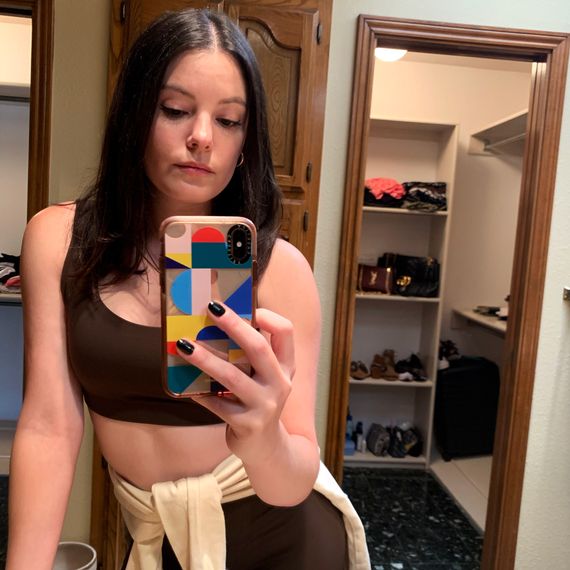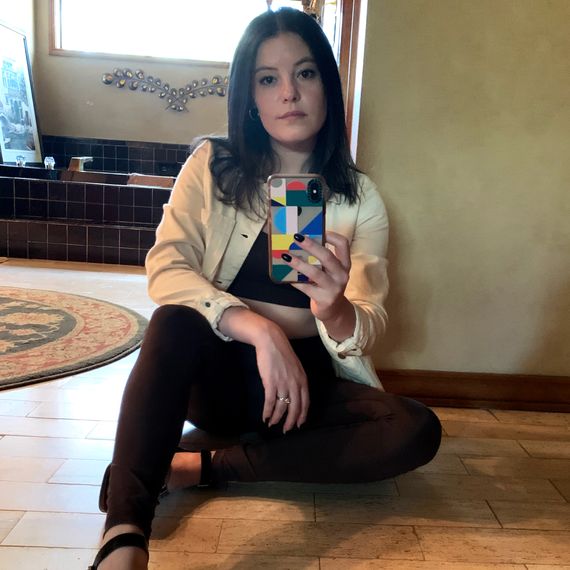 My typical (non-workout) style:
"Grown-up goth! My teenage goth phase definitely influenced my wardrobe into my early 20s. Now at 30, my style is sharper and more current, but still retains those dark influences. I'm making a conscious effort to expand my color palette, even if that just means switching from black to deep brown."
What physical activity means for me right now: 
"I used to love going to cycling and boxing classes which aren't currently an option, but I still try to find moments for myself within this new world of quarantine and social distancing. I work out in my makeshift at-home gym a few times a week, doing cardio and training circuits, and walk around the neighborhood after work — it's become my ritual for putting a cap on the work day."
What I most need from my activewear:
"Comfort and style — the Everlane set has both. I love the material. It's so soft and light, it feels like a second layer of skin. And the high waist on the leggings is so flattering. I definitely love the coordinated look. It's just so sleek, but easy. I feel like a fitness-fluencer."
How I wear my Perform Set:
"On its own for workouts, or styled with my Everlane white denim chore jacket for running errands — most of my errands are done in activewear! The jacket adds that effortless-cool vibe and elevates things a little."
In my Perform Set, I can:
"Feel free and be comfortable."
Shantae Howell, Chicago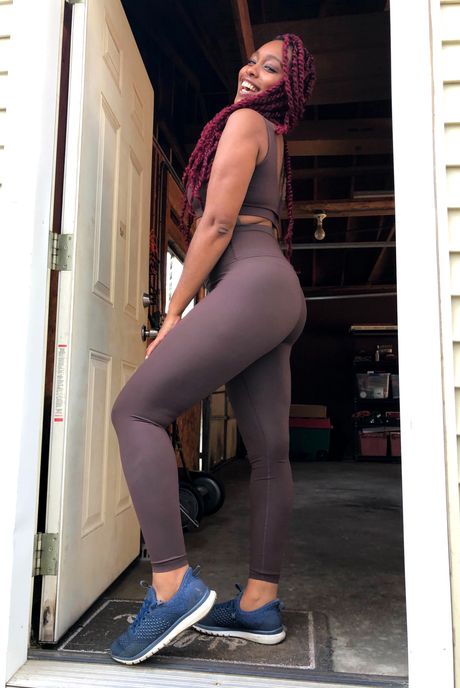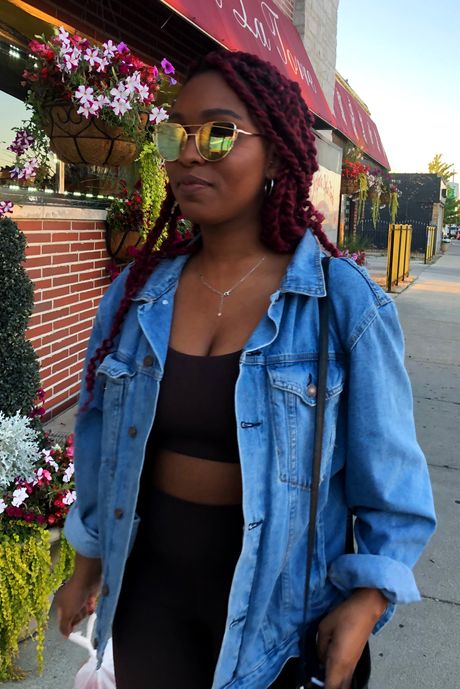 My typical (non-workout) style:
"I'm a big fan of the streetwear lewk. My standard uniform is high-waisted jeans, cropped hoodie, and heeled patent leather bootie. Nowadays, activewear is my everyday wear. I like comfortable pieces that let me transition from being on camera with coworkers, to heading to the grocery store or tennis court with my wife."
What physical activity means for me right now: 
"I never realized how much I'd miss my commute to the office — it gave me time to catch up with social media, podcasts, my mom, and played a big role in my daily movement. These days, it's about finding that balance between giving myself grace and prioritizing my mental and physical health. I usually look forward to playing tennis in the summer, and though I've definitely made my way to the court a few times, lately, I've been finding a lot of joy in playing backyard corn hole. I've spent so many post-work and weekend hours perfecting my toss that sometimes, I manage to win."
What I most need from my activewear:
"It needs to fit, breathe, and make me feel good. And ya girl runs hot even in the winter, so if it traps sweat, I can't do it."
What I like about my Everlane Perform Set:
"The bra is incredibly supportive and stylish, and the leggings stay right where they should — nothing worse than leggings that seem to fit but somehow need to be pulled up every other minute. And I'm just a fan of the matching set look. None of that awkward, close-but-no-cigar match situation — this just feels like a dream."
How I wear my Perform Set:
"Behold! Me heading out to go grocery shopping and grab tacos from my favorite spot after a long day of work. The set is great for the hot, summertime Chi ride to and from, but also just looks cool with the oversized denim jacket and mask I threw on indoors."
In my Perform Set, I can:
"Live my actual life."
Tori Young, Texas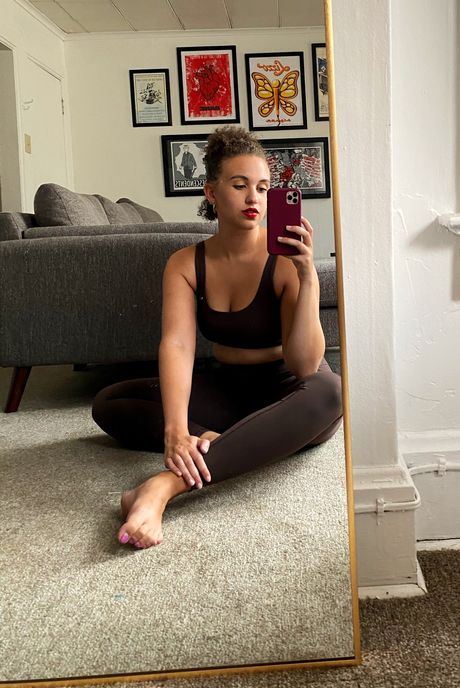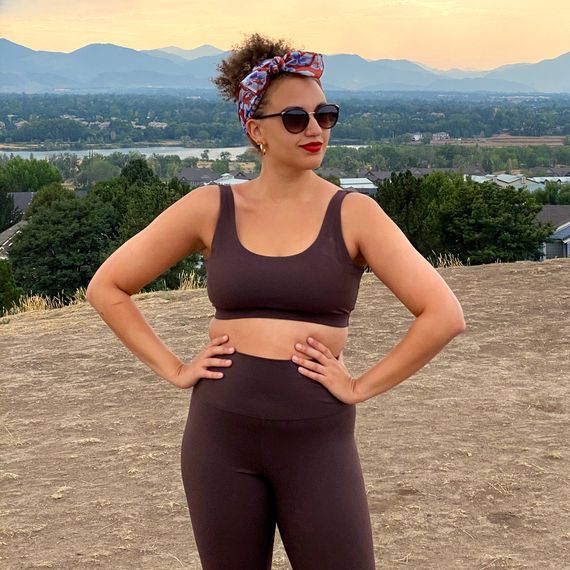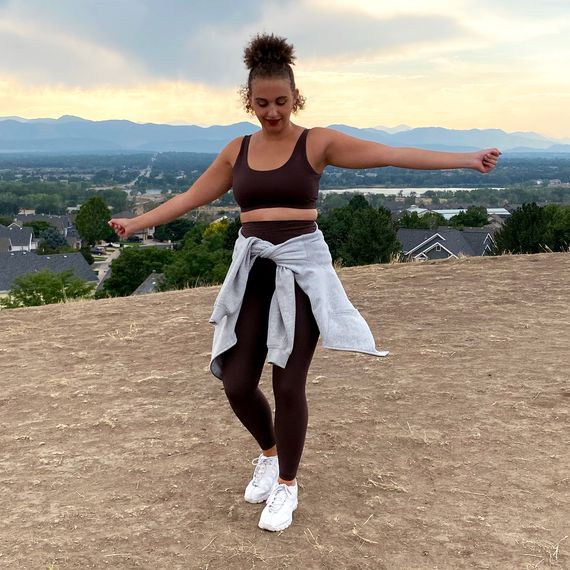 My typical (non-workout) style:
"I've been all over the place lately. My go-tos range from a boyfriend hoodie and bike shorts to high-waisted suit pants and a graphic tee. I love to mix and match styles — life is too short to be one thing! Sneakers are always beloved, but as autumn makes her way into the room I'm dying to pull out my black boots and turtlenecks."
What physical activity means for me right now: 
"Walking! Getting 10,000 steps in is like winning the lottery. I try to take breaks during work but it's easier to take a long walk in the evening, or dedicate my weekend to neighborhood explorations. I got into spin and HIIT last year, and still try to throw those into the mix, too. A HIIT workout puts me in a unique state of 'what have I done to myself' mixed with 'that was incredible.' I make sure to blast some raunchy rap music to fully get out of my head, and just do the thing for 20 minutes.
I'd say physical activity plays a smaller role in my day now than pre-quarantine, but it absolutely plays a bigger role emotionally. After a good workout, I feel like a superwoman."
What I most need from my activewear:
"I get red-hot the minute I get my body moving, and since I've been distancing in my Texas hometown, I need something light and heat-resistant. And of course, cut and style, because I am obsessed with athleisure mirror selfies."
What I like about my Everlane Perform Set:
"It fits perfectly, felt comfortable all day, and inspired many a compliment. The material slid on like butter. I prefer for my pants and leggings to hit right below my boobs, and this high waist did not disappoint. In general, I'm just a fan of the coordinated look. I don't even remember what we wore before cute activewear sets — dad's gym shirt? But I'm grateful for the chic, colorful options I can pull from whenever I'm feeling less-than-keen on myself. It's an automatic esteem-booster."
How I wear my Perform Set:
"My boyfriend and I are navigating long-distance, and we stepped out for a mild hiking moment during my recent visit. I slid on my Everlane set, white sneaks, packed my weekender bag and had a ball. The bag holds everything I could possibly need for the weekend, and the set keeps me moving and grooving."
In my Perform Set, I can:
"Climb a mountain, run a mile, or open a really tough jar of jalapeños — whichever needs to happen first."
Gaby Grossman, Los Angeles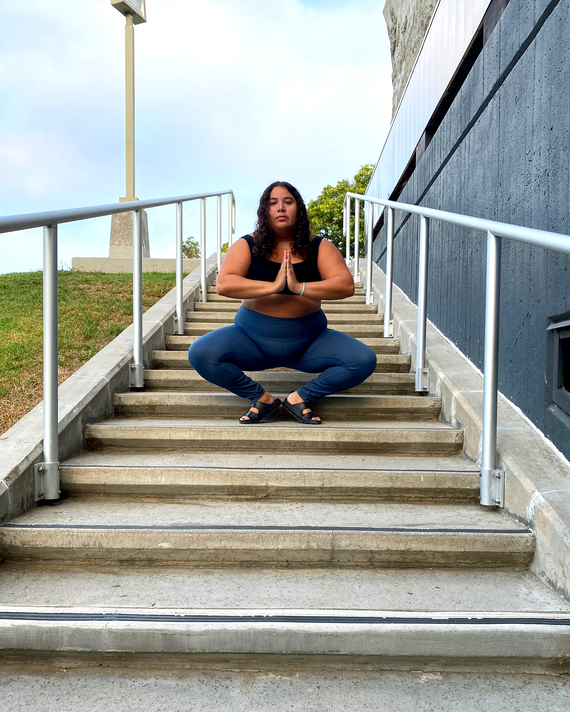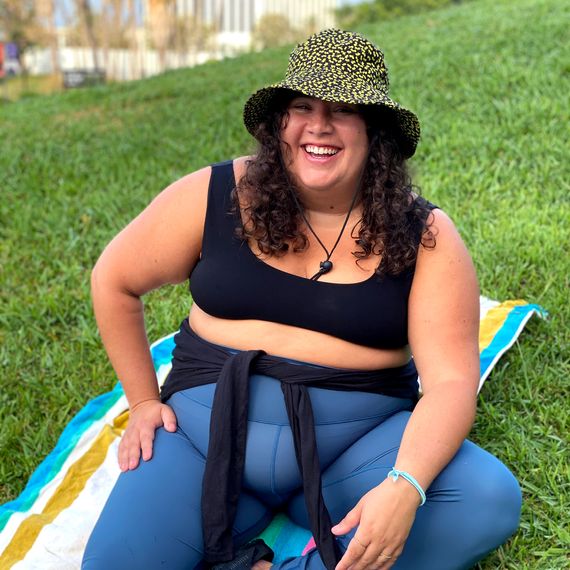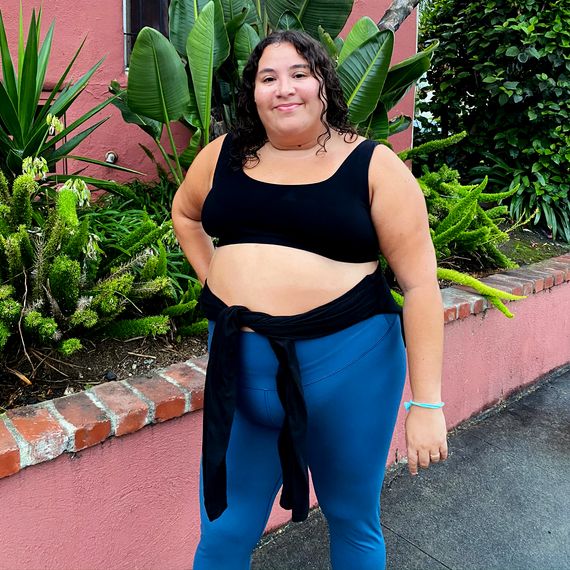 My typical (non-workout) style:
"Bright, colorful and casual. I love bold colors and prints, but also love a good pair of high waisted denim shorts and classics like white sneakers and denim jackets. Activewear is my lifeline these days — I wear it as soon as I wake up. To Zoom meetings, for yoga in the backyard, trips to the park, or just walking around my neighborhood."
What physical activity means for me right now: 
"The huge change is lack of external motivation — no more 11 a.m. Sunday yoga class where the teacher I love will notice if I'm not there, joining friends for a workout and brunch, or just running around the city and accidentally walking 10,000 steps. The best and worst part is that everything is now just up to me. Sometimes I realize it's 4 p.m. and I haven't even changed out of my PJs, let alone moved my body. I'm trying to combat that in a way that's kind and gentle to myself. If a walk around the block feels right, that's enough! If I feel like doing a full online yoga class, that's enough too! Sometimes on really stressful days, I pick one song and lift my three-pound weights for the duration of the song, and it always makes me feel better."
What I most need from my activewear:
"Comfort, stretch and versatility!"
What I like about my Everlane Perform Set:
"I just love the way I look and feel in this set. The bra fits perfectly, no digging into my skin, and the leggings are so comfortable that my first thought when I put them on was how perfect they'd be for a long flight — the highest possible praise for athleisure in my book. To be comfy and cute at the same time? Truly a luxury!"
How I wear my Perform Set:
"I love pairing my set with my bucket hat and Everlane jean jacket on a chilly early-morning stroll around my neighborhood in L.A., or on my way to do a little park yoga, one of my favorite outdoor activities these days. These pieces allowed me to pull together a whole look that felt like me!"
In my Perform Set, I can:
"Relax, be myself, look and feel my best."
This advertising content was produced in collaboration between Vox Creative and our sponsor, without involvement from Vox Media editorial staff.