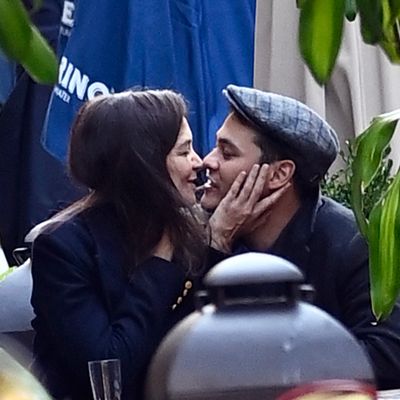 Katie Holmes and Emilio Vitolo.
Photo: Elder Ordonez / SplashNews.com
In recent years, Katie Holmes hasn't been one to frequently engage in gratuitous public displays of affection. Her six-year-long relationship with Jamie Foxx, which ended about a year ago, was so intensely private that on the rare occasion that they were spotted kissing on a yacht, we gawked at the photographs as we might a nature documentary.
Enter Emilio Vitolo Jr., chef and co-owner of New York City restaurant Emilio's Ballato. Since Holmes and the newsboy-cap-wearing pasta scion were first spotted together earlier this month, enjoying a little vino at a Mediterranean restaurant in Soho, the pair has been repeatedly photographed with their hands all over each other. "Page Six" went so far as to name Holmes the "queen of public makeouts."
Presumably, Vitolo and Holmes will continue to succumb to their horniness for each in public, wherever their libidos please. Here's everywhere they've been spotted so far, in what we'll call the PDA Tour: Katie Holmes and Pasta-Scion Boyfriend Edition.
Antique Garage in Soho
First up on the tour is Antique Garage, a restaurant in Soho where, on September 2, the couple was first photographed together. Here, they held hands across the table and shared a few laughs. An innocent beginning! (Although, maybe not so much: According to tabloids, Vitolo was recently engaged, and broke up with his fiancée around the time photos of himself and Holmes emerged. Yikes?)
Peasant restaurant in Nolita
Over Labor Day weekend, the couple shared their first public kiss. On September 6, Holmes and Vitolo snagged an outdoor table at Peasant restaurant, where Holmes climbed onto Vitolo's lap to make out, while he wore a beige newsboy hat and V-neck shirt. Per the Daily Mail, "loving gazes" were also exchanged. Oh là là.
Central Park
On September 17, after getting cozy during a ferry ride on the East River, Holmes and Vitolo got a bench all to themselves at Central Park, where they lowered their face masks and made out for "several minutes," according to People. The outlet also has photos of the date, in which Vitolo can be seen wearing what appears to be his signature beige newsboy cap.
Outside Emilio's Ballato
Vitolo's family's restaurant has emerged as one of the couple's favorite places to go at it, where they locked lips on September 8, September 18, and probably some other times we're forgetting.
Wall Street
Following some hand-holding on Wall Street, on September 21, the couple snagged an outdoor table at an unidentified Manhattan restaurant, where they yet again held each other's faces and kissed. Notably, Vitolo was photographed wearing a different newsboy cap — this one, checkered — meaning he is the owner of at least two newsboy caps.
If only everyone could find a quarantine romance this fruitful.