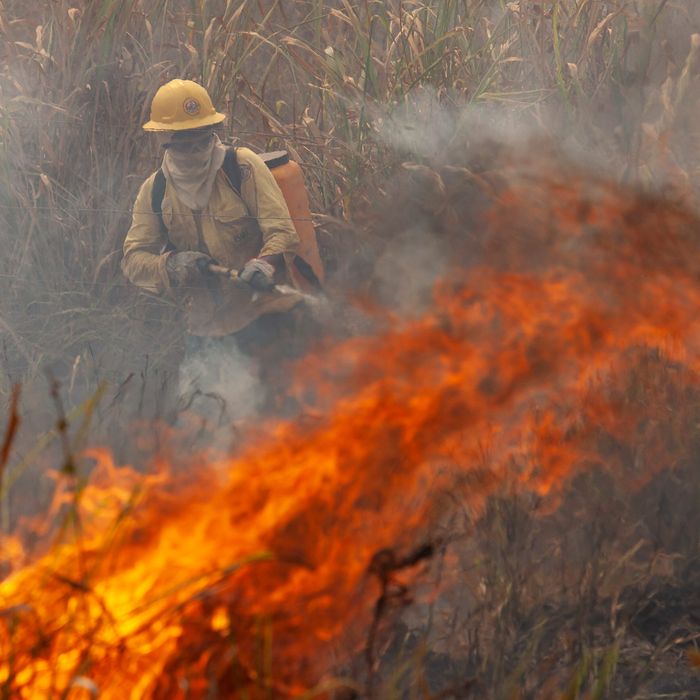 Brazil fires.
Photo: Ernesto Carriço/NurPhoto via Getty Images
In 2019, Brazil sustained historic, irreversible damage due to deforestation-related fires. Over the course of a year, more than 80,000 fires tore through the country at alarming speed, ravaging large swaths of the Amazon rain forest, the most diverse ecosystem in the world. Indigenous communities watched their territories burn to the ground. Countless habitats were destroyed and animals displaced. More than 2,000 people were hospitalized with respiratory illnesses caused by exposure to the air pollution. By the end of the year, the fires had destroyed 28,000 square miles of tree cover.
Now, Brazil has yet again been consumed by flames — this time without the same level of international attention. Yet the fires look just as bad as last year's: According to preliminary reports from Brazil's National Institute for Space Research, blazes have charred more than 13,200 square miles of the Amazon's tree cover, and now, the Pantanal, the world's largest tropical wetland, spanning 42 million acres across Brazil, Bolivia, and Paraguay, is also aflame. According to satellite data from NASA analyzed by the New York Times, fires have charred an estimated 7,861 square miles — about 10 percent of the wetland region — since January. In an interview with the Times, Douglas Morton, the chief of the Biospheric Sciences Laboratory at NASA's Goddard Space Flight Center, called the fires "unprecedented." Manuel Costa, a park ranger who has fought against the fires in the Pantanal, said they were "almost impossible to fight."
Like the fires that ravaged the Amazon last year, this year's blazes can be linked to farmers and ranchers, who intentionally set the fires to clear land for cattle. According to Yale University's Global Forest Atlas, this activity accounts for 80 percent of deforestation in all Amazon countries.
During his tenure, Brazil's far-right president, Jair Bolsonaro, has blatantly pursued business interests at the expense of environmental and indigenous protections. As one former top official for Brazil's environmental agency told the Guardian, under Bolsonaro's administration, the "Amazon is condemned to destruction." After facing international condemnation and boycott threats over his negligent response to last year's fires, Bolsonaro this past July issued a 120-day ban on fires in the Amazon and Pantanal, which has been experiencing a dangerous confluence of climate conditions: drought, low rainfall, and record-high temperatures. But according to the Times, experts see Bolsonaro's actions as little more than a public-relations stunt, and they claim they have been widely ignored. "Most fires we've seen in 2020 were started after the moratorium went into effect," Morton told the Times. Meanwhile, Bolsonaro — who has not prosecuted those who have driven illegal deforestation efforts — has responded defensively to recent reports of fires in the Amazon, disputing them as a "lie." In some cases, he has attempted to argue that the blazes, which were captured via satellite imagery, were campfires.
"There's a sense that environmental laws can be ignored with impunity," Ane Alencar, the science director at the Amazon Environmental Research Institute in Brazil, told the Times. "That's largely a result of how the government has been handling these issues."