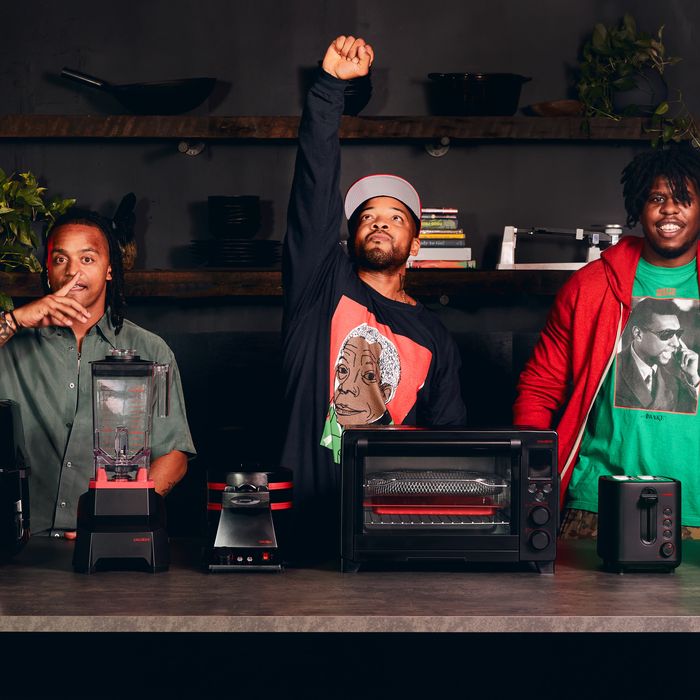 It's been a big month for unexpected collaborations in fashion, so perhaps it's inevitable that they've come to the food industry. Ghetto Gastro, a Bronx-born culinary collective, and the kitchenware brand Crux have announced the launch of a line of kitchen appliances with Williams Sonoma.
The chefs behind Ghetto Gastro are Jon Gray, Lester Walker, and Pierre Serrao. Last year, Gray told the Cut that the collective "operates at the intersection of design, art, social activism, and community empowerment." This collaboration is a natural extension of their mission to promote creativity in the kitchen and spark larger conversations around race and inclusion.
"I'm Korean American and always felt like no brand in our category truly connected with me, so I created one inspired by the city's diversity, resilience, and attitude," said Crux founder and CEO Shae Hong. "It was important that we create a brand that stood for more than just selling products. We want to empower people to get creative in the kitchen, express themselves and then take that outside of the kitchen and mix things up, create something new, and promote good in the world."
The full collection will launch on September 29 and includes a blender, coffee-maker, pressure-cooker–air-fryer combo, bread-maker, slice toaster, and toaster oven, all in sleek matte black with red accents. Hong and the guys at Ghetto Gastro see the products as conversation starters to leave on your countertop — objets d'art that tell a story and have a purpose beyond just helping you make good food.
And it's all for a good cause: Through October, 100 percent of the proceeds from the collaboration will be donated to the ACLU's Know Your Rights Camp, which aids in the fight to end police brutality, demand racial justice, and defend the right to protest.
To whet your appetite now, Williams Sonoma is offering a teaser in the form of the TRNR, a rotating double waffle-maker. Shop it below.