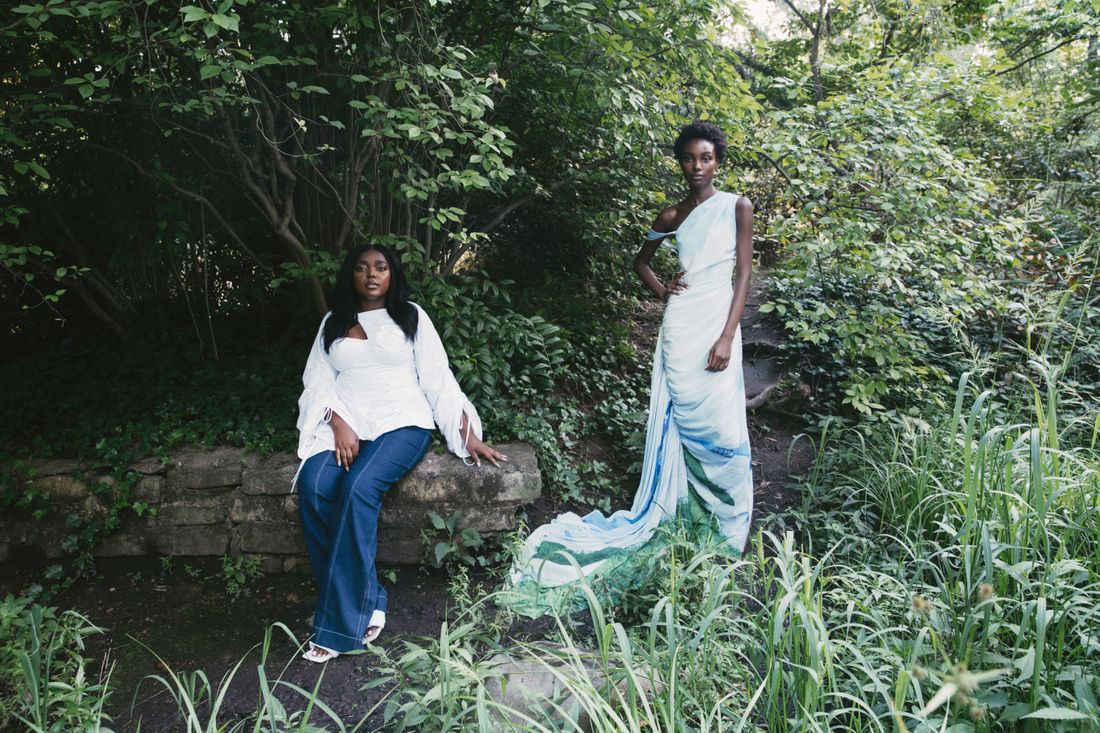 While stuck inside during quarantine this past spring, designer Anifa Mvuemba began playing around with 3-D technology. Soon, an idea struck: What if she held a virtual fashion show in which her feminine, curve-friendly designs glided along on invisible models? She'd been working on her line Hanifa for eight years but had never held a runway show — maybe it was time.
On May 22, she premiered the collection, called Pink Label Congo, on Instagram Live. The digital runway show featured ghostlike 3-D figures strutting sinuously down the runway in the collection. The way the clothes moved and fit on the invisible model took the online universe by storm; it was breathtaking and innovative. ELLE said, "Hanifa's 3D Fashion Show Sets the Pace for the Future of the Runway," and Essence called the show a "cultural reset on the fashion industry."
Growing up in Maryland, Mvuemba began sketching at a young age, but she didn't know she wanted to be a fashion designer until her junior year of high school, when she took a design class that sparked her interest. She attended Morgan State University for college and studied the only fashion program on offer — Fashion Merchandising — before deciding to drop out and figure out how to build her brand on her own.
Mvuemba has always found inspiration and success on Instagram. Back in 2012, when she turned 21, she posted a picture of the dress she'd made for her birthday party. The response, she says, was "crazy" — the post only got 40 likes, but all of her followers began asking her to make custom pieces for their own special occasions. "Before I knew it, I was designing and sewing over 30 orders per week on my own. It made me feel inspired, knowing that people like my work and wanted to actually wear it," says Mvuemba.
After the dress took off, she launched Hanifa as a "chic, contemporary, and timeless brand for women without limits," releasing her first collection in the summer of 2012. The name is Arabic for "true believer," and it's no coincidence that it's only one letter off from Anifa, her first name — the two are variants of the same word. Mvuemba feels the name "really speaks to the essence of the brand, and my belief in God to guide me and create collections that go beyond the clothing."
Mvuemba's inspiration for her latest collection, Pink Label Congo, came from her family's home country, the Democratic Republic of the Congo. She says she's always been inspired by her roots, but this is the first time she's been explicit about it. "I had the option of being known as an African designer, but I wanted to be known as a designer," says Mvuemba. "I feel like a lot of times when you're African and you're a designer, you are placed in this box or category and you stay there. I wanted to build my name up and become reputable and respected, so I told myself when the time is right, I will do a collection inspired by Congo."
Through shape, style, and custom-made fabric prints, the Pink Label Congo collection references the country's stunning geography, the ethical and environmental concerns around its mining sites, and her own family history. Furthering the theme, she kicked off her virtual fashion show with a two-minute introduction mashing together video news clips from YouTube that showcase Congo's natural beauty and painful reality.
The Kinshasa Backless Mini Dress, which Zendaya wore in the September 2020 issue of InStyle, honors the colors of Congo's flag; the pleated design represents the strength of its people and its past. The Mai Maxi Dress references the Congo River, "where the Atlantic Ocean kisses the land," she says. The Orelie Top and Orelie Skirt (which Mvuemba wears in the image below) "pay homage to the women who sacrificed their hopes and dreams to pave the way for us today."
Hanifa is only an eight-year-old company, but Mvuemba feels the design aesthetic is constantly changing. Right now, the brand is focusing on expanding from ready-to-wear to swimwear and shapewear. What remains the same is her mission: designing feminine clothing for women of different shapes and sizes, women who work in a range of careers and come from all over the world.
"I've just been doing my own thing, doing things the way that I want to do them, as opposed to how it's written in books," she says. "They say you're supposed to shoot like this, your modes are supposed to look like this, and your website is supposed to look like this. I'm just here to do me and, you know, share my talent with the world."