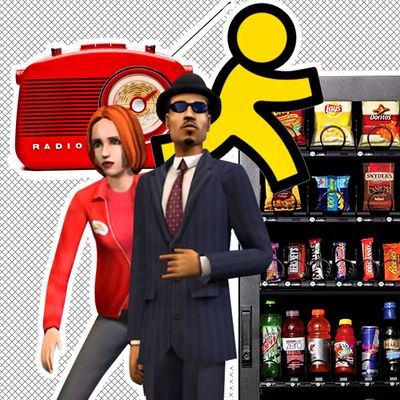 All our beloved middle-school activities.
Photo: Getty Images, EA Games, AOL, Amazon
In 2020, and in real life, Dylan Gage is a 14-year-old boy. But in the Hulu coming-of-age comedy PEN15, Gage is a 13-year-old boy named Gabe who's questioning his sexuality in the year 2000. In a recent interview with the Daily Beast, Gage was asked to reflect on what he sees as the biggest difference between being a teenager today versus 20 years ago. First, he laughed. Then, he vocalized a thought that I'm certain is widely held by teens today.
"I think the craziest thing is just like what they did all day," he said. "Like they didn't have YouTube back then. They didn't have memes to share. The video games that they had were, like, Nintendo 64 and stuff. So I genuinely don't know what they did all day."
It's a fair point, and the Cut staff found ourselves pondering the same question: Literally what did we do all day when we were 13?
We thought back to those miserable years we had long repressed, scavenging our brains for memories of us doing literally anything during our middle-school years. While our ages range from mid-20s to mid-40s, a few common pastimes emerged: catfishing people in AIM chat rooms, "woohooing" and furiously typing "rosebud" on The Sims, listening to the radio.
But we all also developed our own unique interests. For example, in middle school, writer Bridget Read could frequently be found posted up by the vending machines, "trying to meet boys." When she wasn't roller-blading, senior writer Madeleine Aggeler liked to play Meerka Chase on Neopets, and spent at least "a few dozen hours" preparing for her first kiss by "smushing the skin of your knee together so it looks like two lips, and kissing that." Culture editor Kerensa Cadenas's main middle-school hobby was posting photos of her OOTD on AOL fashion message boards, but "feeling very inadequate because [she] didn't have a Michael Stars T-shirt." And it was during her teenage years that writer Claire Lampen developed a passion for the cinematic masterpiece that is Lord of the Rings.
Indeed, the technological landscape has changed significantly since our middle-school days, but that doesn't mean we spent our time twiddling our thumbs. I taught myself basic coding so I could regularly change my Xanga layout to match the season — sometimes even the holiday — on top of designing a new AIM bio every single week. Does that count for nothing?