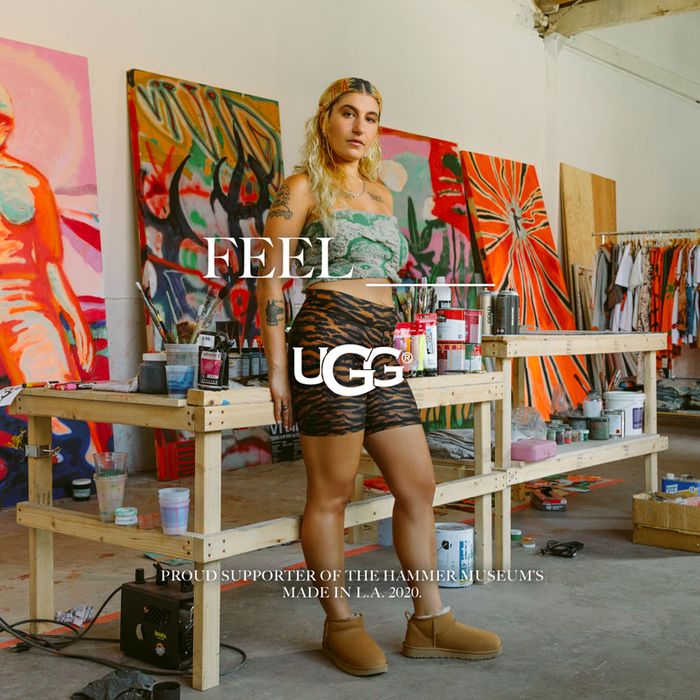 UGG is celebrating its California roots, freedom of expression, and the arts in a new partnership with the Hammer Museum. The global lifestyle brand will sponsor the opening weekend of the Hammer's Made in L.A. 2020 exhibition series later this fall. Presented in partnership with the Huntington, the fifth iteration of the acclaimed biennial will run through the end of the year, with new installations, videos, films, sculptures, performances, and paintings from 30 Los Angeles–based emerging artists.
"We are really proud to partner with the Hammer. They are one of the foremost museums in the country and are known for their belief that art and ideas illuminate our lives and build a more just world," says Andrea O'Donnell, president of fashion lifestyle at Decker Brands, UGG's parent company.
In honor of the partnership, UGG is launching their new brand platform, the FEEL. for autumn/winter 2020 and beyond. With the first theme of the series being FEEL ____, UGG showcases two Made in L.A. 2020 artists, Fulton Leroy Washington (a.k.a. MR. WASH) and Sonya Sombreuil, in powerful short films that celebrate how the California artists express their creativity through their particular mediums: drawing, painting, and fashion design. Both films, shot by Kauai Moliterno and Michael Barth, show the artists in their studios narrating personal stories about their lives, their work, and what fuels their creativity, all while wearing a pair of UGG boots.
"They are the perfect partner to launch our Autumn/Winter season and FEEL.," says O'Donnell. "UGG has always been an emotional brand and we believe that the personal stories of MR. WASH and Sonya Sombreuil are important reflections of what it means to be a human being today."
In addition to the launch of the FEEL. platform, UGG will be debuting two limited-edition T-shirts featuring MR. WASH and Sonya Sombreuil's Made in L.A. contributions to commemorate the sponsorship. The merchandise will be available at the Hammer gift shop and online at UGG.com with 100 percent of the proceeds going back to the museum and the Equal Justice Initiative.
For the next theme of the series, FEEL YOU, UGG will feature a multitude of artists, creatives, designers, and activists from around the world in an unapologetic celebration of individuality and style. Scroll down to watch FEEL ____ featuring MR. WASH and Sonya Sombreuil.