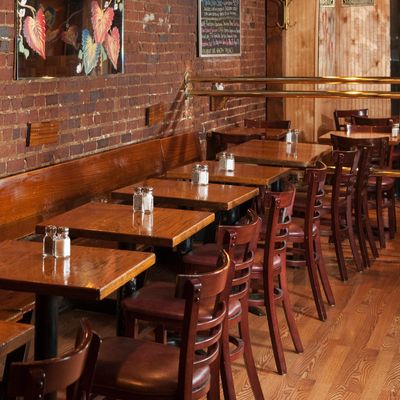 Photo: Getty Images/Tetra images RF
In most of the country, indoor dining — at limited capacity, with restrictions — has resumed. With each state's or city's announcement, the public reaction is varied: While many people feel it's time, or well beyond it, others see restaurant reopenings as a clear harbinger of doom.
Now it's New York City's turn. Earlier this month, Governor Andrew Cuomo announced that New York will allow indoor dining — at 25 percent capacity — starting on September 30, ending the city's status as one of the very few places in the country where indoor dining is banned outright. (Elsewhere in New York State, restaurants can reopen at 50 percent capacity.) The decision comes as the city has managed to keep its COVID-19 infection rate below one percent for a full month, and the governor framed the dining decision as a reward for good behavior, saying, "Because compliance is better, we can now take the next step."
Outdoor dining is unanimously considered safer for diners thanks to natural air ventilation, though that benefit isn't necessarily shared equally by a restaurant's patrons, who remain outdoors, and its workers, who may still need to share cramped indoor space. Moving everyone indoors adds risk, but how much? Most places in the United States require restaurant workers to wear masks, but many diners aren't required to wear masks while seated.
This disparity would seem especially concerning in New York, where many restaurants are small and force closer contact, but Dr. Jennifer Lighter, an associate professor of pediatrics at NYU Langone and a hospital epidemiologist, says she actually considers New York better poised than most places to manage indoor dining. Because the city suffered so much early on, she says, the culture shifted dramatically, and the vast majority of New Yorkers are COVID-compliant. As a result, infection rates have dropped and remained very low. "It's actually very safe in NYC, and what's remarkable to me as an epidemiologist is that [the infection rate] has remained this low for a couple months," she says. "We could've opened up earlier."
Dr. Manisha Juthani, an associate professor and specialist in infectious diseases at Yale School of Medicine, agrees that New York's move toward indoor dining is the right one. "It's reasonable to try limited-capacity indoor dining," she says. "In Connecticut, we have had 50 percent–capacity indoor dining for some time, and it seems to be working for now." If cases climb as a result of reopening, says Juthani-Mehta, the decision may need to be reversed.
Because New York City was so badly hit, it most likely has a higher degree of immunity than anywhere else in the country. "A third of people in NYC have already been infected with COVID," says Lighter. "We don't know for sure, but most infectious-disease specialists think you get a couple years of immunity after an infection if the person's immune competent."
For this reason, and because transmission in New York remains so low, Lighter doesn't consider indoor dining a major risk to restaurant workers' health — even if patrons are maskless while seated. The CDC defines "close contact" as being within six feet of another person for more than 15 minutes; most interactions between customers and servers will be much shorter than that. "It could be polite to put your face mask on while you're giving your order, but I don't think it would make much difference in reality," says Lighter.
Juthani agrees that the risk servers face isn't particularly high, but it may actually be higher for patrons, largely because the former are required to wear masks. More concerning to her is the risk among members of the same dining party — if they don't already live or "bubble" together — who spend more than 15 minutes within six feet of each other by design. "The risk is greatest among members of the same party sitting in close proximity to each other at the table without masks," she says.
Infectious-disease specialists seem to agree that bars are far riskier than seated indoor dining. "With a bar, people are very tightly packed together, and they talk very loudly so you have increased viral volume," says Lighter. In Michigan, a COVID outbreak of more than 100 cases was traced to Harper's Restaurant & Brew Pub, and in Louisiana, the Department of Health traced 464 cases to 41 bars across the state. After a recent bar outbreak in Juneau, Alaska, the city issued an emergency order closing all bars.
There are, of course, legitimate concerns expressed by restaurant workers and prospective diners alike. Anecdotally, I have friends who are thrilled at the prospect of eating inside a restaurant for the first time in more than six months, and I have friends who won't think of doing it until there's a vaccine. I am somewhere in the middle — I have no interest in putting myself or others unnecessarily at risk, but I would maybe, maybe consider it if the circumstances felt safe enough. Those circumstances may vary widely across the country and even between restaurants in the same area. For those who do decide to take the risk, generous tipping is the least we can do.