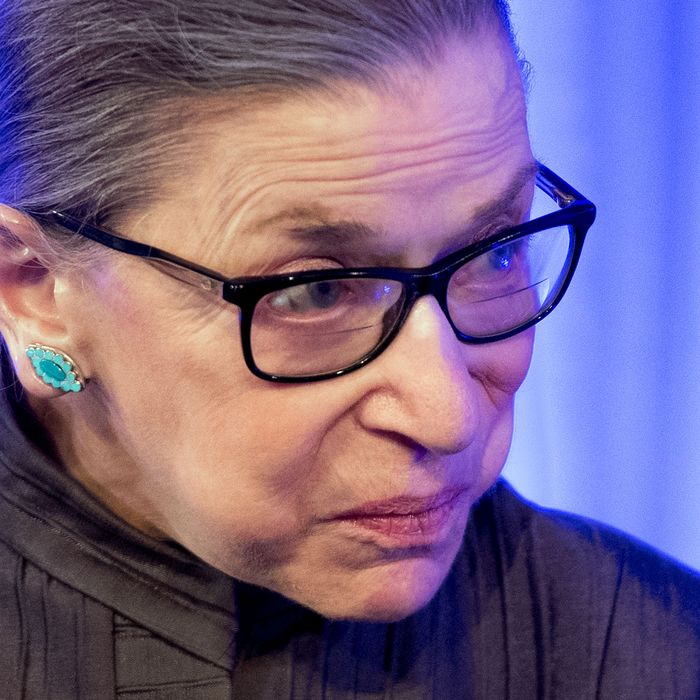 Ruth Bader Ginsburg.
Photo: JIM WATSON/AFP via Getty Images
Ruth Bader Ginsburg, the inimitable Supreme Court justice and revered feminist icon, died Friday night of complications from metastatic pancreatic cancer. Her passing, at age 87, was a blow: As former president Barack Obama observed, Ginsburg was "a warrior for gender justice" and a sharp legal mind. But she also stood as a defense against the court's increasingly conservative majority, reliably offering a strong dissent in decisions that advanced a right-wing agenda — decisions that challenged the terms of Roe v. Wade, for example, and chipped away at voting rights. With her seat on the nation's highest bench open, Senate Majority Leader Mitch McConnell instantly locked eyes on her expedient replacement, vowing (in a statement issued immediately after RBG's death) that "President Trump's nominee will receive a vote on the floor of the United States Senate."
Throughout his presidency, Donald Trump has leaned hard on the courts to push a right-wing agenda and cement his legacy. With just over a month to go before the 2020 election, he has already drawn up a list of Supreme Court nominees, united in their hostility to issues like abortion and immigration rights. Republicans will likely try to jam through Trump's pick before November 3 — and it's unfortunately possible that they'll succeed.
With that in mind, many people are feeling afraid, even helpless, in the wake of Ginsburg's death. But to borrow from Rep. Alexandria Ocasio-Cortez, "This moment is not the time for despair." You can honor Ginsburg's memory by pushing back against lawmakers who act with impunity. Here's how.
Vote
Trump has been hell-bent on securing a decisive conservative majority on the court, swaying it in the right's favor for a generation to come and (to his mind) strengthening his case for a second term. Protecting the court's relative ideological balance therefore relies on electing lawmakers, and an executive, who will not attempt to weaponize an institution that was never meant to be political. As AOC explained yesterday: "Voting for Joe Biden is not about whether you agree with him. It's a vote to let our democracy live another day."
Voting in 2020 presents niche challenges, and requires that everyone make a plan early. People in a high coronavirus risk bracket might consider voting by mail — in which case, they should request their ballots ASAP, and according to the USPS, return them by October 27, to best account for delivery time — or voting early, in person. If you opt to vote by mail, know that most states have some sort of ballot tracking system in place; some will even alert you to any disqualifying errors that may preclude your vote from being counted, so you can fix them before the deadline. Make use of this feature: as far as possible, keep tabs on your ballot until you know it's been accepted.
People who plan to vote in person on Election Day should research their polling places now, and understanding that the pandemic necessitates logistical changes to the typical protocol, budget extra time for long lines. You can register to vote, check your voter registration status, find your polling place, and get more information about absentee voting here.
Support these down-ballot Congressional campaigns
Given that the Senate confirms a president's Supreme Court nominees, and that Congress is supposed to provide a check on the president's power generally speaking, it's crucial for Democrats to flip the Senate and secure the House regardless of who takes office in 2021.
The November election presents several opportunities to do just that: We've compiled a list of tight, down-ballot races that could use your support and donations. It's not exhaustive, though — do some digging on the contests in your area, and if your legislators have evinced a preference for political opportunism over doing their jobs, consider spending whatever time or money you might be able to spare on electing a suitable replacement.
And keeping in mind that a Republican-held Senate would hamstring a Democratic president even if Biden does manage to unseat Trump, you can also consider a donation to:
• Flip the Senate
• The Progressive Turnout Project
• The Senate Majority PAC's Flip the Senate initiative
Call your representatives — relentlessly
Some Republican senators, such as Alaska's Lisa Murkowski and Maine's Susan Collins, have suggested that they will not vote on a Supreme Court nominee in 2020. Hold them to that. Demand that they stand by their word, and that they honor Ginsburg's final wish — that she "not be replaced until a new president is installed."
It's worth making your feelings known to your representatives regardless of their party. And if you happen to be represented by one of the Senators who've either stated or intimated that they would not comply with the president's expedited nominations process, here's their contact info:
• Lisa Murkowski (R-Alaska): Before RBG died, Murkowski said in an interview that she "would not vote to confirm a Supreme Court nominee. We are 50 some days away from an election." It's not the first time she's outlined that position. You can find phone and fax numbers for her D.C. and state offices here, and send her an email via this form.
• Susan Collins (R-Maine): Collins bills herself as an advocate for reproductive rights, and took heat for her support of Brett Kavanaugh's nomination to the Supreme Court, given his opposition to abortion. Collins told the New York Times that she would not vote on a new justice in October, explaining: "I think it's too close, I really do." Full contact information, including email, for her D.C. and state offices is available here.
• Mitt Romney (R-Utah): Romney has demonstrated some willingness to oppose Trump, although he has not said anything about his position on pushing through a SCOTUS nominee. Contact info for his D.C. and state offices is available here, and you can find a form to email him here.
• Lindsey Graham (R-South Carolina): Graham has repeatedly stated that he would not fill a vacancy on the Supreme Court during an election year. He now appears to be softening on what seemed like a hard line, despite his 2016 invitation to you, the voter: "You could use my words against me, and you'd be absolutely right." Here's how to do that, by email and by phone.
• Chuck Grassley (R-Iowa): Defending Republicans' 2016 block of Obama's Scalia replacement, Grassley has said: "It was very legitimate that you can't have one rule for Democratic presidents and another rule for Republican presidents." You can find all the info you need to contact him here.
• Cory Gardner (R-Colorado): In 2016, similarly Gardner opposed a vote on Scalia's replacement, saying, "I think we're too close to the election. The president who is elected in November should be the one who makes this decision." You can find email info for Gardner here, and contact info for his D.C. and state offices here.
• Joni Ernst (R-Iowa): Despite publicly agreeing with Grassley's 2016 stance that the next president should choose Scalia's replacement, Ernst is now saying: "If it comes to an appointment prior to the end of the year, I would be supportive of that." As the Washington Post points out, she's "also facing a tough reelection battle this year" — hold her feet to the fire via email and/or phone.
And while you're making calls, maybe save some choice words for McConnell, who can be reached via this email form or his offices.
Donate to safeguard abortion access
One major concern around Trump's SCOTUS wishlist is how strongly it underscores a commitment to unraveling Roe v. Wade. Trump has always vowed that he would pack the Supreme Court with anti-choice justices if given the chance, with an eye toward his vice-president's desire to consign Roe to the "ash heap of American history." But even as the decision stands, aggressive state-level restrictions have placed abortion out of reach for anyone who lacks the considerable time, money, and travel resources accessing the procedure often demands.
A few suggestions for organizations that help safeguard access:
• Donate to an abortion fund: Abortion funds pool money to help patients cover the cost of the procedure, and potentially also things like transportation, housing, and child care. The National Network of Abortion funds can help you find one in your area, or you can target your donations toward states where TRAP laws have winnowed the number of available clinics. The Mississippi Reproductive Freedom Fund, Alabama's Yellowhammer Fund — which also ships emergency contraception, overnight and for free, to Alabama, Mississippi, and the Florida panhandle — and Indigenous Women Rising are good places to start.
• Look specifically for groups that provide reproductive health care for LGBTQ patients: Transgender and nonbinary people also require abortion services, alongside standard reproductive care, and face higher access barriers from the Trump administration. Consider donations to organizations like the Magic City Acceptance Center in Birmingham, Alabama, Medical Students for Choice, and the National Center for Transgender Equality that promote trans-inclusive health care.
• Prioritize organizations led by BIPOC: Abortion restrictions have the most dire implications for people of color, and as we have seen throughout the coronavirus pandemic, systemic racism makes it harder for Black and brown people to access even basic health care. So if you are making decisions about where to direct your dollars, consider moving organizations led by BIPOC to the top of your list. SisterLove Atlanta, the National Latina Institute for Reproductive Justice, SisterSong, Unite for Reproductive & Gender Equity (URGE), and the Native Youth Sexual Health Network are just a few options.
• Donate to organizations that can help with legal battles: Regardless of the president or the makeup of the Supreme Court, the state-level legal challenges to abortion won't slow anytime soon. You might consider supporting organizations like the ACLU, Lambda Legal, the Center for Reproductive Rights, and the National Women's Law Center.
Up your civic engagement
"It's always going to hurt to have things be illegal," Robin Marty, activist and author of The End of Roe v. Wade and A Handbook for a Post-Roe America, tells the Cut. "But if we're relying completely on the government in order to help us, then we're always going to be stuck in this idea of, What can an election win? rather than, What do people deserve?" To secure for the people what they deserve, Marty notes, "It's all about local power … We need to invest in the people on the ground, invest in mutual aid, make sure that every group is supported."
To that end, get involved in your community. Join a protest and keep showing up for as long as it takes to get lawmakers' attention. Volunteer to phone bank ahead of the election. Sign up to be a poll worker, or if you have a car, to help transport people to voting sites on election day. Accept AOC's assignment: Draw up a list of five people you know to be ambivalent about voting in November, or plan to vote for Trump, or need help accessing the polls. Engage with them. Explain, without anger or condescension, what they risk in casting their ballot for Trump, or sitting out the vote. "Get through to that person that only you can get through to," AOC instructed. "If Mitch McConnell is not going to honor RBG's final wish, we will."