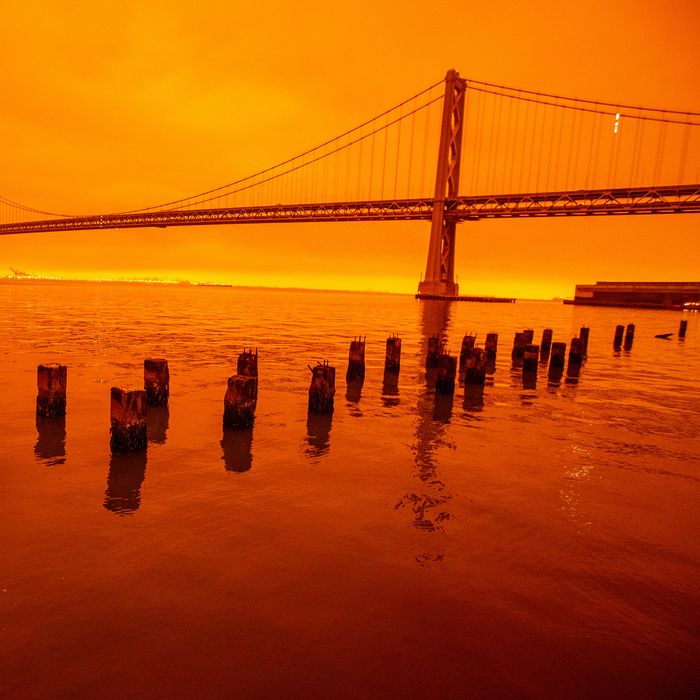 Photo: The Mercury News/MediaNews Group via Getty Images
Massive wildfires are tearing across the western United States once again. In California, where smoke from the fires turned the skies over San Francisco a hellish, dark orange on Wednesday, over 3 million acres have burned, with six of the state's 20 largest wildfires in history occurring this year alone. Authorities estimate that in Oregon roughly 500,000 people — over 10 percent of the state's entire population — have been forced to flee their homes as a result of the blazes. "This could be the greatest loss of human lives and property due to wildfires in our state's history," said Oregon governor Kate Brown. In Washington, Governor Jay Inslee called the fires "cataclysmic."
Across the region, fires have consumed entire towns, forced over a million people to flee their homes, and killed at least 15. Rolling blackouts left hundreds of thousands without power in the middle of a historic heat wave, and smoke has poisoned the air in the middle of a global pandemic that has already threatened people's respiratory health.
The scale of the destruction would be unimaginable if it weren't all too real and the impact all too tangible for those affected by the disaster. Below, some ways you can help, if you're financially able.
The Red Cross
The Red Cross is working across the region to provide shelter, meals, medical support, and relief supplies to those affected by the fires. You can donate to support its disaster relief efforts here, and find a list of open shelters in the region here.
The California Fire Foundation's Supplying Aid to Victims of Emergency (SAVE) program
The California Fire Foundation's SAVE program is accepting donations to provide $250 gift cards to victims of the fires in order to purchase clothes, food, medicine, or other necessities.
GoFundMe's Wildfire Relief Fund
The fund, which is being organized by GoFundMe, is supporting victims in all states affected by the fires, and will be issuing individual grants to those affected. You can donate here.
The United Way
The United Way of Northern California, which was already providing cash grants to those whose homes were ravaged by the region's terrible 2018 fires, is also accepting donations to help provide relief and recovery to those affected by this summer's fires.
The United Way in Whitman County, Washington, is also accepting donations, and notes that while this is a developing situation, "funding will be prioritized supporting the families and individuals displaced by the fires," and the organization will "manage this fund and disbursements with zero administrative fees."
In Oregon, the United Way of Mid-Willamette Valley is accepting cash donations to provide relief and basic necessities to those who have been displaced.
Food banks
Food banks across California are requesting financial assistance, as well as donations of food, hygiene supplies, and volunteers. You can find a list of different food banks in the state and their specific requests here.
The Center for Disaster Philanthropy
The Center for Disaster Philanthropy focuses on medium- and long-term recovery after a disaster, by providing grants to help California communities rebuild. The organization works with local nonprofits, stakeholders, and community groups to identify where its grants will be the most helpful, with a particular focus on vulnerable populations. It is accepting donations here.