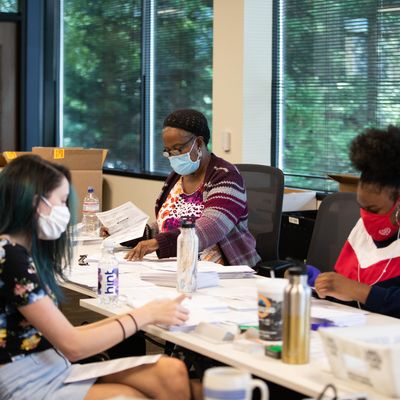 Nationwide, we're facing a shortage of workers to staff voting sites in the upcoming election. Here's how to help.
Photo: LOGAN CYRUS/AFP via Getty Images
In perhaps no other presidential election has it been so crucial to vote, yet so logistically tricky to do so. Due to the coronavirus pandemic, health authorities largely discourage us from doing anything indoors and en masse, complicating in-person voting. But mail-in or absentee voting presents difficulties, too: The USPS has already warned that 46 states and D.C. have set unrealistic ballot request and return deadlines, and it cannot guarantee that ballots will make it back to election officials on time.
"Even under the best of circumstances, there are going to be things that go wrong" on Election Day, explains Myrna Pérez, director of the Brennan Center for Justice's Voting Rights and Elections Program. This year, of course, poses new issues — including a critical shortage of poll workers in some locations.
Most people will associate poll workers with the check-in table at their voting site; they're the people who hand out ballots and generally keep Election Day operations running smoothly. Unfortunately, though, they also tend to fall into the 60-plus age bracket, a group that faces an elevated risk of coronavirus hospitalization. In Florida's primary, for example, 30 percent of Seminole County's core poll workers did not return; as of June, roughly 95 percent of regular election workers in Anchorage, Alaska, had declined to participate in 2020.
"We are really facing some major challenges right now as a country," says Pérez. "And if we have any hopes of getting out of them, it's going to be because we were able to leverage everyone's experience and expertise."
Meaning that on and leading up to November 3, voters must make use of every avenue available to them. This year, election officials need young people to step in. If you're interested in helping, here's everything you need to know.
First of all, what do poll workers do?
"Poll workers troubleshoot on Election Day," says Pérez. "They help people sign in, they help explain the process, they work to try and resolve issues, they keep order at the polling places. They're supposed to be making people feel good about the democratic process, and making people feel welcome when voting, and making sure that our robust and participatory democracy sets a welcome mat [out] for everybody eligible."
The specifics of the job will vary by location, but in general, poll workers might help process absentee ballots; they might help set up polling places, check in voters, assist people with the voting machines, help collect and tabulate ballots, and break down polling sites at the end of the day. They answer questions and help people navigate the process. They'll step in and help in the event of a technical difficulty — take, for instance, the 2018 midterm elections in New York City, where rain and high humidity engorged that year's extra-long ballot, causing some rickety old scanners to jam, and leading to overcrowding and hours-long lines at the polls. NYC's poll workers were critical to keeping voters moving along, collecting unscannable ballots in emergency ballot boxes — either feeding them through the machines once they had been fixed, or making sure they were included in a manual tally.
The actual terms of the job will differ from city to city and state to state. Check with your local Board of Elections to confirm what your potential poll-worker duties might be. In New York, for example, you might be responsible for sanitizing the equipment, or canvassing and reporting the results; in Wisconsin, you might be assigned the job of greeting voters. According to Lonna Atkeson, director of the University of New Mexico's Center for the Study of Voting, Elections, and Democracy, many states also rely on poll workers to qualify absentee ballots, making them instrumental to successful voting by mail, too.
Why is it so important for lots of young people to sign up?
Even before the pandemic began, election officials had a hard time finding people to work the polls. The Pew Research Center reports that two-thirds of voting districts struggled to enlist enough staff in 2016, compared to less than half of districts in both 2012 and 2008. And generally speaking, poll workers skew older: According to the U.S. Election Assistance Commission, 58 percent of poll workers in the 2018 midterms were over the age of 60, which is to say, in a higher-risk group for more severe coronavirus infections. (Although coronavirus infection rates did begin to rise in 20-, 30-, and 40-somethings as indoor bars and restaurants reopened in some states earlier this summer, elderly people do seem to be more likely to come down with serious cases.)
In recent primaries, health concerns dampened poll-worker participation. In July, for example, Maryland officials announced they were short 14,000 election workers, while Wisconsin governor Tony Evers dispatched 700 National Guard members to help with the state's congressional primary in August. Reductions like these pose practical problems for voters.
"In many states, there is a statutory or legal minimum of poll workers to have in each location, and if that number is not met, polling places need to be combined or consolidated," Chelsey Davidson, a third-year Stanford Law student and a manager of the Stanford-MIT Healthy Elections Project, explains. During the primaries, understaffing shuttered polling sites in some areas. Milwaukee, for example, slashed the number of voting places from its traditional 180 to five, allegedly because there were not enough people to run them. In Nevada, Georgia, Kentucky, and many other states, too, understaffing led to truncated hours and extended wait times. In Detroit, multiple polling places opened late as workers failed to show up. "We have to believe it's because of COVID," a city clerk told the Detroit Free Press.
"Not having enough poll workers means closed polling locations and longer lines, and further to travel," says Erika Soto Lamb, vice-president of social impact strategy for Comedy Central and MTV and a co-founder of Power the Polls. "The effect is voter disenfranchisement, and the people who are disenfranchised the most are those who can't afford to wait … younger people … people from marginalized communities of color, and also low-income voters."
Are poll workers paid?
Yes, although the rate will (again) depend on your location. In Los Angeles, an election inspector — a person who oversees polling-place operations, and is also responsible for preelection supply runs and transporting ballots after polls close — might earn as much as $175 for the day and some preparation leading up to it; a clerk could take home up to $105 for working election day. In New York City, the Board of Elections advertises a wage of up to $2,800 for ten days of work, at the highest end.
What qualifications are needed to become a poll worker?
Requirements also vary state to state: The U.S. Election Assistance Committee has a guide (albeit from 2016) to all of them. In general, you might expect to see an age threshold, although some areas have lately found it helpful to enlist high schoolers. It's possible voter registration in the area will also be required.
What kind of time commitment am I looking at here?
A poll worker's shift is long: NYC advises interested parties to prepare for a 16-plus-hour day on November 3, when polls open at 5 a.m. and close at 9 p.m. You can also expect to undergo a training session, and perhaps to fill multiple shifts if you're helping out with early voting. "It can be a long day," Soto Lamb says, "but it's a gratifying one in which your job is to help ensure a safe and fair election for everybody this year."
Plus, you will be in good company. Ava DuVernay has signed up to work the polls:
Okay, great. Let me at those polls. How do I sign up to become a poll worker?
If you're interested in working the polls, you can visit the USEAC or National Association of Secretaries of State for more info, but do so as soon as possible. New people need to be trained, requiring time, resources, and help from seasoned poll workers. "People forget the cost and the resources of managing a volunteer force," the Brennan Center's Pérez notes.
Election administrators have to sort through all the forms, call back prospective workers, answer questions, organize trainings, "and election offices are really, really lean," she adds. "Be patient and get in there as quickly as you can."
What kind of precautions should poll workers take on Election Day?
If, come Election Day, you find out you recently came in contact with someone who tested positive for the coronavirus, or if you develop any suspicious symptoms, the best thing you can do for everyone is to stay home.
Still, it's worth doing research on what your local polling sites will provide on Election Day. During the primaries, some state and local governments pitched in PPE for workers. Election officials might set up plastic shields at the tables to help separate voters' respiratory droplets from yours; they might provide hand sanitizer, in line with CDC recommendations. No matter what, wear a mask.  Thirty-four states and the District of Columbia require some form of face coverings in public, and regardless of laws on the ground, research and anecdotal evidence have repeatedly confirmed that wearing a mask is the most effective way to keep others safe. (Here's what we know about the models that work best.) A face shield might be worth considering as an added layer of protection over your mask.
The Stanford-MIT Healthy Elections Project has also compiled extensive resources to promote safety at polling places and throughout the election process.
If you want to get tested before and after, here's a helpful guide — and keep in mind, the coronavirus may not show up on a test immediately after exposure, so it may be advisable to wait at least five days before you get swabbed.
Regardless of how you opt to cast your ballot, make your voting plan now.
Every expert interviewed for this article agreed that there is no single best way to vote, and however you decide to do it, you need to make a detailed plan now. "The best way a voter can protect themselves is by looking at their risk profile, looking at their risk tolerance, and whatever way they choose to vote, whether that be in-person or through the mail, doing so as early as possible," Pérez recommends.
If you plan to vote by mail, request your ballot ASAP and familiarize yourself with your state's deadlines, keeping in mind the USPS's recommendation that ballots be mailed back by October 27 in order to best ensure they'll be counted. "The main reason why absentee ballots are disqualified, just so we're clear, is because of lateness," says Nathaniel Persily, the James B. McClatchy Professor of Law at Stanford Law School and co-director of the Stanford-MIT Healthy Elections Project. "It doesn't matter how much mail there is, if it takes a week or more for the mail to get from one place or another, that just ends up being the constraint on the system."
Voters who've never used an absentee ballot before might want to send theirs in with extra lead time. As Atkeson explains, you want to give yourself some cushion to (if possible) correct any potentially disqualifying ballot errors, something many states permit voters to do. The pandemic has also given rise to ballot-tracking systems that allow you to see whether or not your ballot reached its destination, and in some cases, whether or not it was accepted. And although "the mail is mostly reliable," Atkeson says, "mostly is not 100 percent." There's always some degree of "uncertainty when we're dealing with an institution that is really not about the election process per se," she continues. "If you want to be certain, you either drop it in a drop box, you hand deliver it, or you vote in person."
If you plan to vote in person, Pérez recommends checking your state and county websites to ensure their information on polling sites matches up. If your state offers early voting, consider taking advantage of that; if you plan to vote on Election Day, consider lining up as early as possible. Figure out where you're going and how you're getting there well ahead of time.
"This is your vote," Pérez emphasizes, noting that it's "counterproductive" not to cast it "when we know that part of the reason we're having trouble is because of who we have in office."
"We should be getting back to basics, to the idea that Americans want free, fair elections, and we should demand that our politicians listen to us when we insist upon that," she adds. "And one way to do that is by going to the polls and letting people know that voters care about voting."