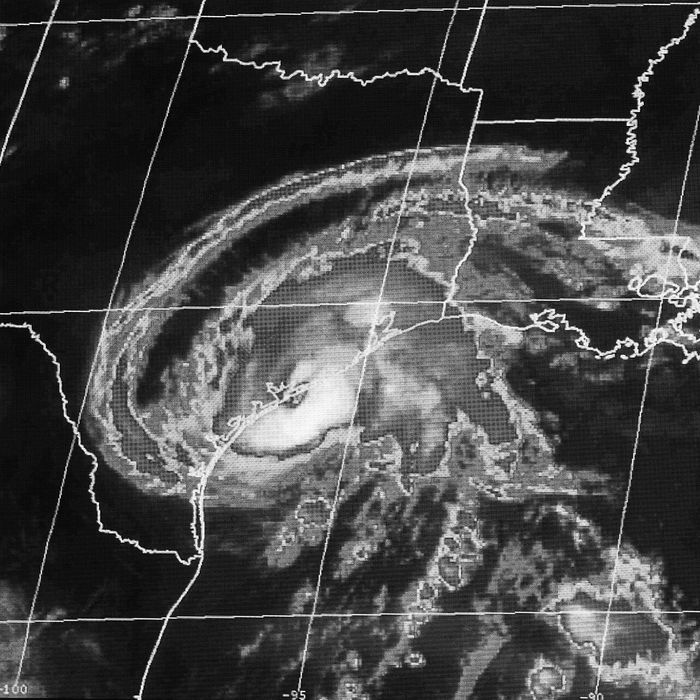 Photo: Joe Raedle/Getty Images
Next up in 2020: hurricanes named using the Greek alphabet. No, really. The Atlantic hurricane season has been so unrelenting that we've already cycled through all the names in the year's Atlantic-hurricane-season list, prompting meteorologists to name storms using Greek letters, which has only happened once before.
Two bleak records were broken on Friday. First, Tropical Storm Wilfred formed in the Atlantic, becoming the earliest storm with a W name on record. Wilfred was also the last remaining name on the World Meteorological Organization's preapproved list of 21 names for Atlantic storms for this year. Shortly thereafter, Subtropical Storm Alpha manifested off the coast of Portugal, marking our official transition to using Greek names.
Only once before have meteorologists resorted to naming storms using the Greek alphabet. In 2005 — the year that saw Hurricanes Katrina, Rita, and Wilma — the season was among the worst ever due to unusually high temperatures on the ocean's surface. That year saw six storms with Greek names: Tropical Storm Alpha, Hurricane Beta, Tropical Storm Gamma, Tropical Storm Delta, Hurricane Epsilon, and Tropical Storm Zeta.
As a result of warmer ocean waters caused by climate change, we're currently in the midst of what is shaping up to be the worst hurricane season in history. And many storms this year have broken records for occurring so early in the season. In 2005, Hurricane Wilma — the last storm before meteorologists had to switch to Greek names — made landfall on Cozumel on October 21.
It's still only September — and the Atlantic hurricane season lasts until November 30.
This post has been updated.