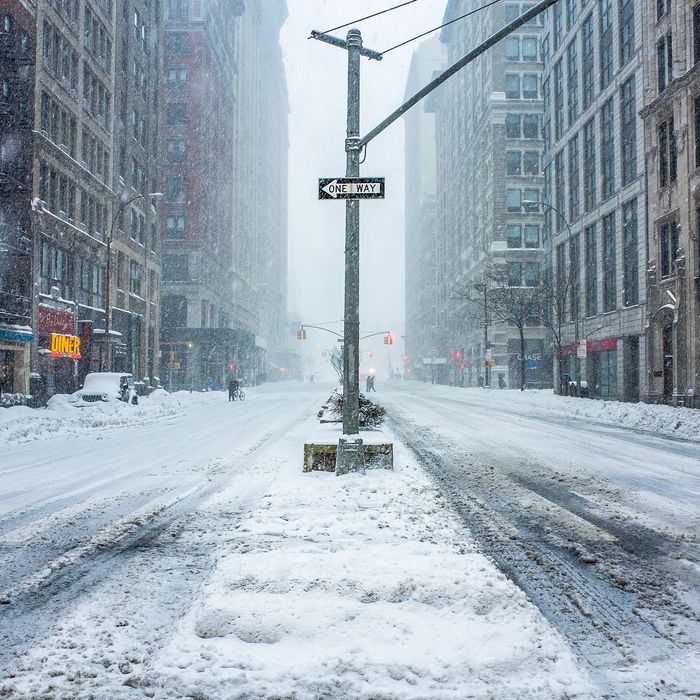 Photo: Getty Images/EyeEm
Probably the happiest I've felt all summer was while holding a to-go Negroni and dancing to house music at a nightly block party near my Brooklyn apartment. It was mid-June, and what had started as a 7 p.m. cheer for essential workers morphed into a gathering of more than 50 people that involved music blasting from multiple speakers, embarrassed teens watching their moms dance, and, on some nights, a bubble machine. (The New York Post called it the best and possibly only party in town.)
Being there helped me get outside my own head — a dungeon of anxiety about work, relationships, and the world — and feel joy during a period when I rarely left my house or saw anyone other than my partner. That night, though we'd had only a few sips of our cocktails, my friends and I felt high off the novelty of bobbing among a group of people who were smiling and moving their bodies despite so much loss. It was like taking MDMA but even better, since we'd been so starved for stimulus and knew the natural dopamine rush wouldn't end in a harsh comedown.
This was a good memory during a summer marked by upheaval. And it's a reminder that I've survived the past six months of quarantines and phased openings by going outside. Bike rides, stoop drinks, and park hangs have become a lifeline in a hamstrung world where being together indoors is either not possible or comes with the risk of spreading a life-threatening disease. The cliché of how hard times create community has been on full display: The park near my house became an outdoor gym, my block association organized stoop gatherings and a group text thread, and thousands of people took to the streets to protest police brutality. While I canceled trips and missed out on weddings and births, I've felt swathed in the feeling of getting through it together. The biggest enemy is the rain, but even then, people eat under umbrellas mid-downpour just to be with one another. But now that the air has some teeth, I'm dreading a return to the loneliness that marked the early days of lockdown.
The end of August is always a sad time, but the loss of summer is usually buffered by the pretty leaves, sweater weather, and the metronomic back-to-school rhythms of fall. I'm looking forward to throwing on a chunky turtleneck as much as the next person, but the normalcy of stepping back into routines or the comfort of transitioning from outdoor patios to cozy bars and crowded movie theaters doesn't exist. As winter approaches, instead of picturing myself snuggled between a gaggle of friends while cradling a hot mug of cocoa, I have visions of scrolling through Netflix dead-eyed, willing a new show to appear, or coughing up hairballs from my wool mask while frozen globules of hand sanitizer cover my fingers.
The hope that things would get better by 2021 now seems like a cruel joke. Many kids won't be in school (and those who are will be sent home at the first sign of an outbreak), and many people don't have jobs or even enough money to pay rent. It's true that infection rates have stabilized in the U.S., but the roughly 30,000 new daily cases are "good news" only relative to how bad things are. And we're now barreling toward 300,000 deaths before Christmas without a vaccine, which means our pandemic-shaped half-lives will continue, except with all the misery of winter and none of the usual solace.
Do you normally get through the god-awful season by seeing friends or family for the holidays or taking a vacation? Me too. Will we be able to do that safely this year without having to quarantine on either end of a trip or worrying about killing our last surviving grandparent in the process? Probably not! Travel restrictions are still in effect, and the news is filled with examples of weddings, conferences, and choir practices that turned into super-spreader events. I'm bracing for holiday cards with photos of masked family members giving cheery yuletide updates like: Cousin Jerry moved back home after being laid off, Aunt Barbara still hasn't regained her sense of smell, and your newborn nephew you still haven't met is growing so fast. Mazel!
Winter 2021 is a dark vision indeed, and it seems best to approach the coming months with clear eyes and low expectations. Maybe it will be a relief to lean into our worst winter selves, never leaving the house and turning into human butterballs that roll around from room to room until it's time to sleep. Or maybe, somewhere in the frozen wreckage of every tradition and routine, new ones will emerge as they did in the summer. Instead of toilet paper, we may start hoarding those little hot-pocket hand warmers or become experts at layering so we can drink mulled wine from thermoses in the park. Maybe on the coldest days, people will hang out with that upstairs neighbor they've only mumbled "hello" to or form a weekly casserole-themed dinner-party bubble so regular human interaction and cheese are baked into their schedules.
Listen, I'm just as cynical as anyone about this impending frosty hell of a winter pandemic. But since I never thought an outdoor neighborhood rave would be a part of my lockdown life, I'm ready to be surprised.