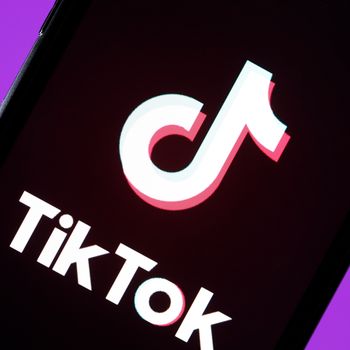 TikTok, the Chinese-owned social-media video app that (by its own metrics) is used by 100 million Americans and is particularly popular with young people, has long been besieged by privacy concerns. Last month, President Trump threatened to ban its use in the U.S. A few days later, though, he reversed course, saying the app would not be blocked so long as a "very American" company purchased it by September 15. Next came the executive order, banning the app from the U.S. unless the parent company sells it within 45 days. In late August, TikTok filed a lawsuit against the U.S. government in an effort to challenge the ban.
Earlier this week, it seemed like TikTok was in safe waters following reports that software company Oracle — which has deep ties to the Trump administration — had won out against Microsoft and other tech companies to reach a deal to acquire TikTok. However, it appears that the companies have yet to reach a deal to Trump's liking, and, this morning, the U.S. Department of Commerce announced that TikTok will be banned from the App Store starting this Sunday and that it will be fully banned on November 12.
Wait, so does this mean that people in the U.S. will actually have to stop using TikTok? Here's what we know.
Privacy concerns about TikTok user data have been raised for some time.
Back in November 2019, The Wall Street Journal reported that the United States had begun a national security review of TikTok. A month earlier, Senator Marco Rubio (R-Fla.) had sent a letter to the Treasury Department calling for the review, claiming there was "growing evidence" that TikTok had censored content that was unsympathetic toward the Chinese government. The investigation was prompted in part by a report in the Guardian, which revealed leaked documents indicating that TikTok moderators are explicitly told to censor videos that are unflattering toward the Chinese government.
Last month, Secretary of State Mike Pompeo went on Fox News and said the U.S. government was considering banning the app because of security concerns, implying that American user data could fall into the "hands of the Chinese Communist party." This prompted TikTok to release a statement saying: "TikTok is led by an American CEO, with hundreds of employees and key leaders across safety, security, product, and public policy here in the U.S…. We have never provided user data to the Chinese government nor would we do so if asked." TikTok has also said that its data on American users is stored in the U.S.
Microsoft announced it was thinking of buying TikTok, and Trump called for a ban.
On July 31, The Wall Street Journal reported that Microsoft was in talks to acquire U.S. operations of TikTok, likely for billions of dollars. The proposition seemed like a win-win, even for the Trump administration as, according to the Journal, such a sale would "eliminate potential legal challenges — and backlash — that could have occurred if the wildly popular app was forced off millions of American smartphones." In response, Trump said that he not only wanted the TikTok deal to go through — he also wanted to ban the app in the U.S.
Then, Trump said the deal could go forward, but only if the U.S. government got a cut.
A few days later, though, Trump reversed his position, saying he'd now allow an American company to buy TikTok if the video app could find a U.S. buyer by September 15. If a buyer is not found before then, Trump said, TikTok would be disabled across the country. Trump also added the stipulation that the acquisition would need to entail "substantial" cash flow to the U.S. Treasury.
When asked whether the Treasury money should come from Microsoft or from the video platform's parent company ByteDance, Trump responded that "either way" the U.S. "should get a very large percentage of that price." Trump said that what he is aiming for is ultimately something like the relationship between a landlord and a tenant. Financial experts have noted that it would be unprecedented for the U.S. government to pocket a cut of a private corporate transaction.
Then, Trump issued an executive order banning the app, prompting TikTok to sue.
On August 6, Trump issued an executive order banning TikTok from operating in the U.S. within 45 days, unless its parent company sells it off. The app, the order claims, "captures vast swaths of information from its users," which "threatens to allow the Chinese Communist Party access to Americans' personal and proprietary information — potentially allowing China to track the locations of Federal employees and contractors, build dossiers of personal information for blackmail, and conduct corporate espionage." (Trump also issued a similar order banning WeChat, a major messaging app owned by the Chinese company Tencent Holdings Ltd.)
On August 7, TikTok decried the order in a statement, saying that it "sets dangerous precedent," and promised to pursue legal action. On August 24, TikTok sued the U.S. government — a decision the company did not take "lightly." The company argued in a blog post that the ban violates its Fifth Amendment right to due process and doesn't take into consideration TikTok's efforts to demonstrate, with data, that it doesn't share U.S. user information with the Chinese government.
Software company Oracle expressed interest in the app.
On September 13, The Wall Street Journal reported that software company Oracle had emerged victorious in the bidding war to oversee TikTok's operations in the United States, winning out over Microsoft, which had publicly discussed its interest in the social-media platform for months. This seemed like promising news for the app: Oracle submitted an official proposal to the Treasury Department to become TikTok's business partner in the U.S., and the Journal reported that parties to the deal were optimistic that their terms would satisfy the government concerns about U.S. users' privacy. Additionally, both Oracle's billionaire CEO and founder have lent support to Trump, and this past August, Trump called Oracle a "great company" that could "handle" operating TikTok.
Trump is yet again threatening to ban the app in an attempt to pressure potential buyers to reach a deal to his liking.
It seems that Trump wasn't a fan of Oracle's original proposal, which would've kept ByteDance as TikTok's majority shareholder. "Conceptually, I can tell you I don't like that," Trump said in response to the plan earlier this week. On Friday, the U.S. Department of Commerce announced that TikTok will be banned from U.S. app stores as of September 20 and that the app will effectively stop functioning on November 12, unless TikTok and a U.S. company reach a deal that alleviates the administration's national-security concerns. In response, a TikTok spokesperson said in a statement that the company is disappointed by the actions and reasserted its commitment to fighting the "unjust executive order."
Just tell me: Will TikTok actually be banned?
While predicting the actions of the Trump administration is a fool's errand, it appears TikTok still has a chance. In an interview on Fox Business News this morning, Commerce Secretary Wilbur Ross clarified that the new November deadline is an extension of deadlines outlined in the administration's August executive orders and is "separate" from ongoing discussions between potential U.S. buyers and TikTok.
Meanwhile, according to the The Wall Street Journal, Oracle has reportedly put forward a new proposal with Walmart, which could put a majority ownership in the hands of U.S. businesses. But still, as CNN reports, "the saga is far from over."
This post has been updated.