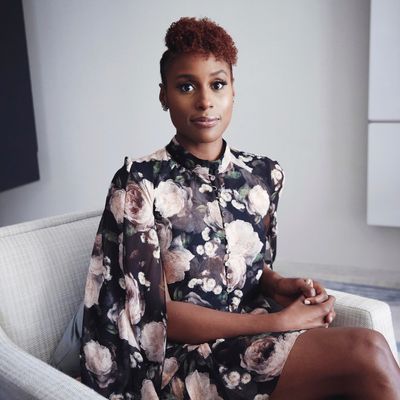 Issa Rae.
Photo: Courtesy of Sienna Naturals
Hark! Another celebrity has acquired a beauty brand! This time, it's actress, writer, and producer Issa Rae, who is the new co-owner and the new face of clean, natural hair-care brand Sienna Naturals. Rae will be joining founder and CEO Hannah Diop in her new ownership role of the line for textured hair.
"I've known Hannah for a long time, and I got to see the brand evolve from her home. It's expanded so much beyond that. The care and the research that has gone into this natural, safe, healthy brand, I knew that I wanted to be involved," Rae said in a statement. "We get coerced into manipulating our hair into styles not right for us, or using damaging products. I have an opportunity to make hair care digestible via my sense of humor, my openness to my own hair struggle journey."
Unlike styling products that are designed to tame or control textured hair, Sienna Naturals avoids synthetics, chemicals, and heavy oils, and focuses on hair and scalp health, likening itself to a clean skin-care regimen for textured hair. "Sienna Naturals is not a company that is telling you how to wear your hair. We believe in empowering our customers to be who they really are and have a product that supports them," said Diop. Rae, who regularly celebrates the versatility of natural hair — as onscreen Issa on Insecure and as real-life Issa on a football field at the Emmys — couldn't be a better support system.
In addition to gaining Rae as face and co-owner, the entire line is also getting a makeover to celebrate, complete with new packaging, larger product sizes, more accessible pricing, and a convenient Salon In a Box kit for less distressing wash days. You can sign up for the prelaunch wait list here in the meantime.