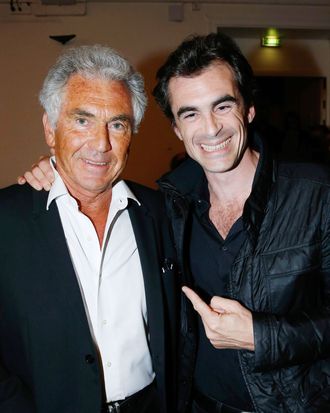 Jean-Paul Enthoven and son, Raphaël.
Photo: Bertrand Rindoff Petroff/Getty Images
Voici, mes amis, an exquisitely French familial drama that goes down like a nice glass of Bordeaux, or the post-coital cigarette you drag on lethargically while your partner dresses to go home to his wife and children. Smooth. Rich. Complex. Magnifique.
On Wednesday, the Guardian detailed the recent schism between famed French philosopher and former boyfriend to model Carla Bruni, Jean-Paul Enthoven, 71, and his son, famed French philosopher and former boyfriend to model Carla Bruni, Raphaël Enthoven, 44.
The Enthovens' clash had nothing to do with Bruni, though, whom Jean-Paul had briefly dated before Raphaël fathered a child with her in 2001. (After she and Raphaël separated in 2007, Bruni would go on to marry French president Nicolas Sarkozy in 2008.) Rather, it was about Raphaël's latest autobiographical novel, Le Temps gagné (Time Saved), in which he describes in less-than-flattering terms a number of prominent and recognizable French personalities, including Justine Lévy, his ex-wife whom he left for Bruni; her father, philosopher Bernard-Henri Lévy; and of course, his father, Jean-Paul.
"I don't like people's private lives to be unpacked like this in public," Jean-Paul told the French outlet Le Figaro on Tuesday. "Why should I and my loved ones be subjected to this treatment based on prying eyes and denigration. Does someone have the right to tear off the masks that each of us may have needed during our lives without our consent and for their own pleasure."
He added: "As Camus, who my son is so fond of quoting, said: 'A man should restrain himself'."
The elder Enthoven, who also recently released a novel, told Le Figaro that after reading Le Temps gagné, he texted his son to let him know that he would be cutting off all communication with him going forward.
"I am in mourning," Jean-Paul went on. "My heart is broken. It's a terrible book for those, like me and others, who have loved Raphaël and who find themselves drowning in an ocean of ingratitude."
All in all, some pretty brutal early reviews of the book, if you ask me.