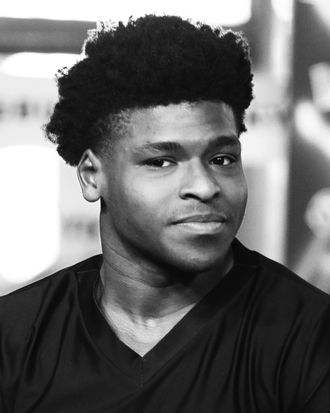 Jerry Harris.
Photo: Jim Spellman/Getty Images
Jerry Harris, a star of the breakout Netflix show Cheer, has been arrested on suspicion of producing child pornography, BuzzFeed News reports. The arrest, confirmed by the U.S. Attorney's Office, comes several days after two teenage boys accused Harris of sexual misconduct, prompting an FBI investigation into the claims.
According to the lawsuit, which was filed on Monday in a Texas court, Harris used a "position of authority and prominence" to solicit sex and nude pictures from "starstruck" twin brothers he met at a national cheer competition in 2018, when they were around 13 and he was 19. Soon after they met, Harris began asking the boys to send him sexually explicit photos of themselves over Snapchat. He would also send the boys photos of his "penis and body, as well as videos of [him] masturbating himself," the suit claims. Per the complaint, Harris also asked the boys to meet at "secluded locations at various competitions, soliciting sexual conduct with these boys," and in one instance, allegedly lured one of the boys into a bathroom stall and begged him to perform oral sex. The alleged misconduct spanned from December 2018 through March 2020.
While the civil lawsuit does not identify the plaintiffs, the two boys identified themselves as Charlie and Sam to USA Today, the first outlet to report their allegations. According to the suit, Harris "has multiple victims of his sexual exploitations throughout the cheer community."
On Monday, FBI agents searched Harris's home in Naperville, Illinois. In response to the allegations, a spokesperson for Harris said, "We categorically dispute the claims made against Jerry Harris, which are alleged to have occurred when he was a teenager." However, according to a criminal complaint filed in Chicago federal court, Harris admitted to sending and soliciting sexually explicit photos from the two minors, as well as the alleged bathroom-stall incident, in an interview with law enforcement earlier this week. Per the complaint, he also admitted to "soliciting and receiving child pornography on Snapchat from at least between 10 to 15 other individuals he knew were minors" and "engaging in anal and oral sex with a 15 year old minor (Minor 3) at a cheer event in 2019." He is currently facing one charge of production of child pornography.
The response to Harris's arrest has been one of shock and disappointment. In a statement, Netflix said, "Like everyone we are shocked by this news. Any abuse of minors is a terrible crime and we respect the legal process." In an Instagram post this morning, Cheer coach Monica Aldama wrote that her "heart is shattered into a million pieces" by "this shocking, unexpected news." She continued: "Our children must be protected from abuse and exploitation, and I'm praying hard for the victims and everyone affected. Please respect our privacy as our family mourns during this heartbreaking time."
This post has been updated.