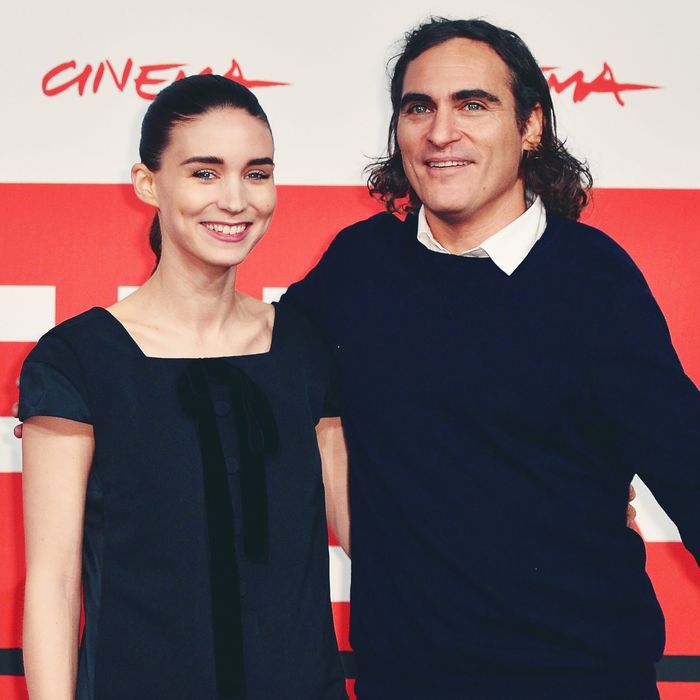 Photo: Tullio M. Puglia/Getty Images
Affianced actor couple Rooney Mara and Joaquin Phoenix have reportedly had their first child together, a baby boy. The baby is named River, after Phoenix's late brother, who died in 1993.
Director Victor Kossakovsky announced the news at the Zurich Film Festival on Sunday during a Q&A that followed a screening of the film Gunda (a black-and-white documentary about farm animals), which Phoenix, an environmental activist (as is Mara), executive produced. When asked about Phoenix's involvement in the film, Kossakovsky explained "He just got a baby, by the way, his name was … a beautiful son called River, so he cannot promote now."
Joaquin's big brother River Phoenix, an accomplished actor known for such films as My Own Private Idaho and Running on Empty, died of an accidental drug overdose when he was 23 years old. Joaquin referenced River in his Academy Award acceptance speech (for his starring turn in The Joker) earlier this year, saying, "When he was 17, my brother wrote this lyric. He said, 'Run to the rescue with love, and peace will follow.'"
Tabloids reported that Mara, 35, and Phoenix, 45, were expecting a baby in May, nearly a year after it was reported that the couple was engaged. Rumors of the couple's romance first cropped up in 2016 while the actors were working on the film Mary Magdalene together. The couple has avoided discussing their relationship with the press. Neither actor has confirmed the baby news or commented on the pregnancy publicly.