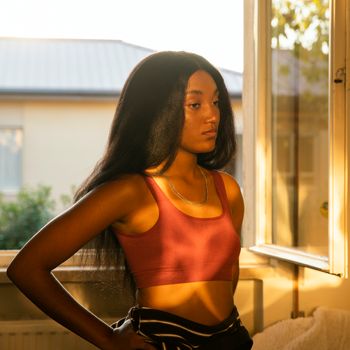 Photo: Yannis Drakoulidis/HBO
You know when you finish something so so so good, it just gets stuck in your brain? Maybe you go to bed thinking about it, and then you dream about it, and then it's still there when you're brushing your teeth the next morning? I hadn't had that feeling for awhile, but then I watched We Are Who We Are, Luca Guadagnino's eight-episode HBO series that follows a group of American teens coming of age on an Italian military base (spoilers ahead).
While the show follows a cast of characters, most of them exist in the eclipse of the show's leads: 14-year-old Fraser (Jack Dylan Grazer), an antisocial "fashion victim from New York," whose mom, Sarah (Chloë Sevigny), is the new base leader, and Caitlin (Jordan Kristine Seamón), the daughter of an ultraconservative soldier (Scott Mescudi, a.k.a Kid Cudi).
Caitlin and Fraser have a magnetic, intimate friendship that feels electric on screen, and their natural chemistry deepens when they learn that they share a not-so-secret: They're both queer, but they're not sure what that means or what to do about. What they know is that they love and trust each other deeply, and their friendship is the show's backbone and source of its most beautiful moments.
This is Seamón's debut role, and for a newcomer she's astonishing. Her acting experience before We Are Who We Are consisted of school plays in her hometown of Philadelphia, though her talent even in those grainy clips is clear. When her mom found the HBO role online, Seamón "thought Caitlin sounded really cool," so they took a gamble and shot an audition tape in her bathroom. The Cut spoke with her over video a few weeks ago about working with big stars and a hotshot director, and what it's like being a teen real life and having to act as one behind the camera.
The show has a lot of intense scenes, especially when it comes to you exploring your identity or your relationship with your dad, which gets contentious. Were there any scenes in particular that were difficult to film? 
The haircutting scene. It was the first scene I had ever shot, and I had just met Jack a month ago. It was also weird to see myself in short hair because I've never had it short before. What the camera captured was my natural reaction to getting my head shaved on camera — that's not something you can really fake, which is why I think Luca made it our first scene. You can see how hard I'm holding onto Jack; afterwards he was like, "Are you okay? You're breathing really heavily. I'm going to go grab your mom for you."
Do you feel you have anything in common with Caitlin, or was she difficult to pin down, even though you're at a similar life stage?
One of the big things that attracted me to the role was the relationship Caitlin has with her father. I have a really good relationship with my dad, and playing a daughter felt so natural. People want to see drama, but it's really nice to just see a parent and child have a beautiful bond.
There's also the way she carries herself. She's a strong, independent, and hardworking person. She doesn't want people to limit her because of her gender, and that was the mindset that I grew up with. I did all types of stuff. I did swimming, archery, and tennis. I did boxing to prepare for the role. I learned several languages. You know, I was always doing things that could be considered unconventional.
Kid Cudi plays your dad in the show. What was it like working with him? 
I knew of Kid Cudi, but I had never seen his face. If Scott walked past me on the street, I would have no idea what he looked like, but he was just the sweetest guy in the world. I know like he's this big rap star, and I'm playing his child, but he actually has a child and it was cool to talk about that relationship and apply it to the scenes.
Caitlin is in a period of exploration when it comes to gender, and considers transitioning at one point. How did you prepare for that?
I did as much research as I could. I watched videos, and talked to friends and people that I knew who had questioned their gender identity. I asked them questions: What was going through your mind at this point in your life? What were you feeling? How did you handle everything? Were your parents supportive? I was able to get a diversity of perspectives — some people had really good experiences, and for some it was more difficult.
And I think every person really goes through a period in their life where they're just questioning and trying to figure themselves out, so the other part was just a natural curiosity. I'm still young, so I'm still always going to be curious about and interested in new things, and I think that curiosity just flowed into Caitlin.